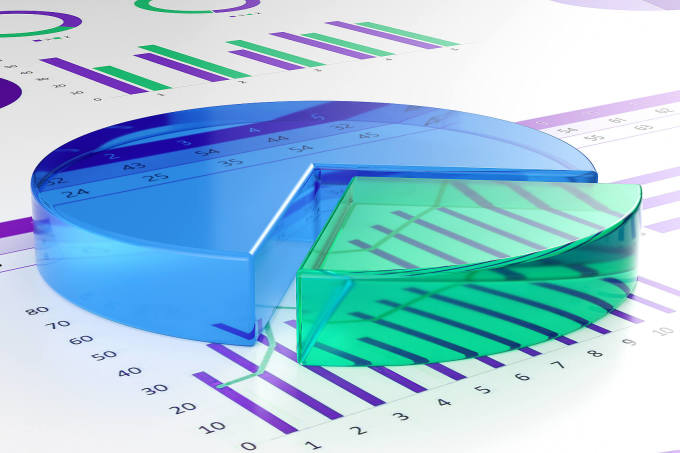 Gathering information about stock performance provides you with valuable insight about making trades. You can use factual data to make informed purchases and sales rather than relying on instinct.
While no strategy provides a guaranteed outcome, knowing how to analyze different types of stock charts can help you better understand trends and the opportune times to buy and sell particular stocks in order to profit from the stock market.
Understanding buying and selling pressure
When looking at the stock market, you will quickly realize that stock prices do not move in a straight line. There will be different entry points for a given trend with each stock, and these buying and selling pressures indicate how people view and trade a particular stock, as well as where it may go in the future. Knowing how to identify the key buying and selling times for stocks can help you maximize your profits and your opportunities to generate income.
Four key stock indicators to follow
There are four key charts that you can incorporate into your technical investment strategy. These four indicators can offer insight to better understand stock buying and selling pressure and make decisions confidently.
Moving Average Convergence Divergence (MACD)
The first indicator is the Moving Average Convergence Divergence, also known as the MACD. It is a technical indicator that presents the relationship between two moving averages of a security's price. This indicator follows both trends within a particular stock's direction, and the momentum of a particular stock.
MACD is calculated by subtracting the long-term 26-period Exponential Moving Average (EMA) from the short-term 12-period EMA. A nine-day EMA called the "signal line," is then plotted on the graph together with the MACD line. The signal line serves as a trigger for buy and sell signals.
The MACD works as an oscillating indicator, with a band that goes above or below the centerline.
When MACD and signal lines are greater than zero and move upward, it indicates an upward trend. Meanwhile, if the lines shift to less than zero with downward movement, it generally indicates a downtrend.

When the MACD line is greater than 0 but moves downward, it is generally a negative signal that the market trend is turning downward. On the contrary, when the MACD line is less than 0 but moves up, it indicates that the market trend is turning upward.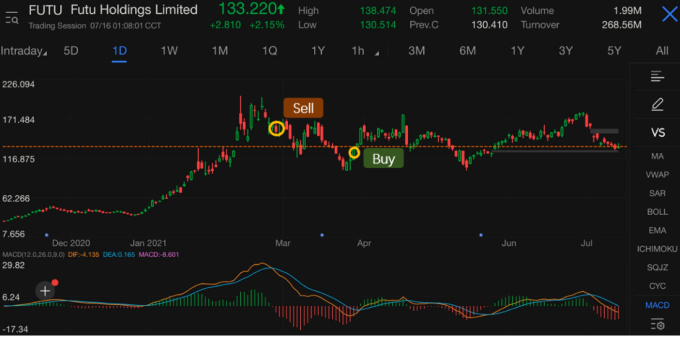 Images provided are not current and any securities are shown for illustrative purposes only.
The MACD also includes a fast line and a slow line. When the fast line crosses the slow line and goes above it, you can use this information to indicate when to buy. The reverse is also true; if the fast line crosses through the slow line and heads downwards, it can help to show a time to sell.
Traders will often utilize this indicator with the relative strength index (RSI) or other technical indicators to verify their judgments on overbought or oversold stocks.
Relative Strength Index (RSI)
The Relative Strength Index (RSI) can give you a different perspective than the MACD. With this indicator, the line will need to stay between zero and 100. The focus lies in seeing whether a particular stock is overbought or oversold.
If the indicator goes below 30, many traders will view it as due for a bounce. Equally, if the indicator is above 70, you may see this as a sign the stock is likely overbought and, therefore, due for a correction.
You can then use the information from this chart in a few different ways. Two of the most popular would be to find opportunities to buy or sell — looking to buy before stocks are likely to rise or to short stocks before a fall. The best stocks for shorting will likely be those with a high indicator that the stock will decrease soon.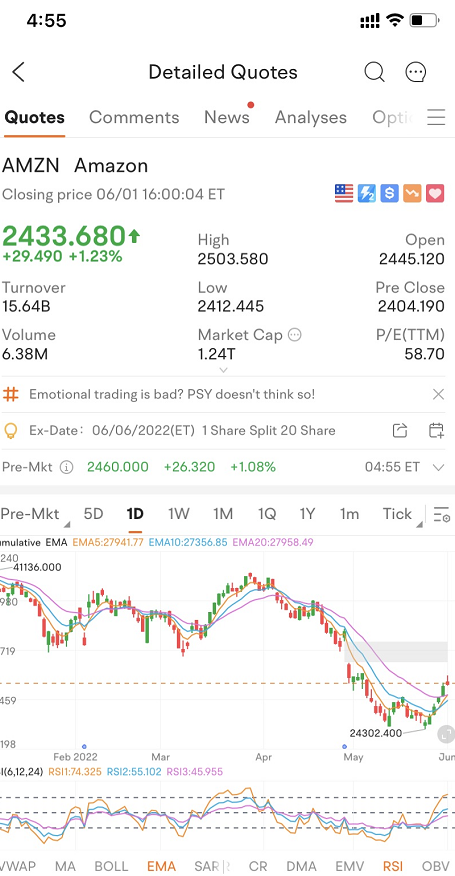 Images provided are not current and any securities are shown for illustrative purposes only.
Moving averages
Moving averages are a useful indicator that can help take out some of the 'noise' of stock data. With this chart, you find the stock's average price over a given period to ignore outliers. Some standard periods include 10, 20, and 30 days, although long-term traders may choose averages of 50 or 100 days. Since the average constantly updates with the
latest information, creating a single data line, you will be able to see the data much more clearly. Instead of seeing prices that continually rise and fall throughout the day, the smooth lines make it easier to see the trends and potential opportunities for profit.
You can use moving average data in several ways when evaluating stock opportunities. On a basic level, you can look at the angle of the moving average. If it is heading up, you can see a potential increase in the price. Meanwhile, angles pointing downwards indicate the reverse.
You can also use the data to find potential crossovers. If you want to use a crossover, you will need two moving averages, with one using a significantly longer duration than the other. For example, you might use a 50-day moving average and a 200-day moving average. If the 50-day average moves up over the 200-day moving average, it can be a buy signal, and the opposite scenario can indicate a potential sell signal. However, keep in mind that moving trends are calculated to show current trends and do not make predictions for the future.
On-Balance Volume (OBV)
The fourth common indicator is known as On-Balance-Volume or OBV. Volume refers to how much people buy and sell a particular stock at a given time. The OBV combines various types of volume data to create a single, easy-to-read chart. As a trader, you can use this information to identify trends in the quantities that people trade quickly.
The idea is that the trading volume will essentially follow the other trends in buying and selling. In other words, people tend to buy and sell in larger quantities when the price is higher, and the reverse happens as the price falls. This chart, therefore, provides another opportunity to uncover trends in prices and times to buy and sell.
Some traders also look to the OBV for an indicator of coming price increases and decreases. Sometimes, the OBV starts to rise, but the stock price has not yet caught up. In this situation, the price will likely start rising soon. The same can be said for the OBV falling before the price falls.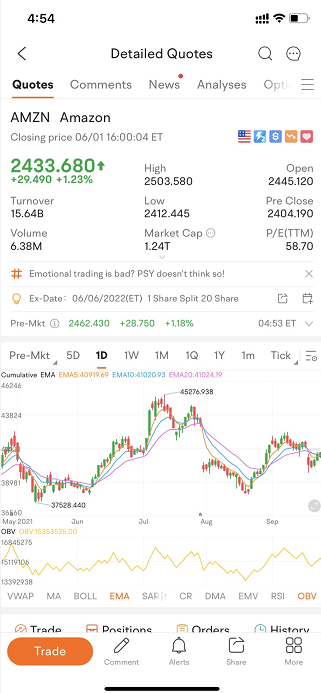 Images provided are not current and any securities are shown for illustrative purposes only.
Traders can also gain insight from signs of the OBV appearing flat. When this happens after a fall, the price may have reached its bottom and may start to rise soon. If this flat indicator occurs after the price has increased, the price may be reaching its peak before a fall.
Finding your investment opportunities
These charts can help traders better understand the trends and patterns in stock prices. As a trader, remember that these different charts provide you with a means of interpreting the past stock price but do not provide any precise indicator for the stock price moving forward.
The value lies in using various charts like these to gain a holistic understanding of each stock. You can then use the charts to spot similar trends before they happen and make your trades to build your portfolio.
Get started with moomoo
Moomoo provides advanced charting options with 63 technical indicators and 38 drawing tools available both on mobile and desktop. These comprehensive tools can help you craft a successful trading strategy and move forward with confidence.
To start using the technical indicators on moomoo, sign up and open an account, then:
1. Open the detailed quote for a given stock, click on Analysis, and then select Technical.
2. Click on Interpretation of Indicators/Details to select various indicator chart options.
3. Find the indicators you like the most and review the charts for the stocks you like.
4. Add your favorite securities to your watch list and pinpoint the best times to add them to your portfolio.
Moomoo helps traders get started faster and find extensive, informative data at their fingertips. Level up your strategy today and start trading like a pro with moomoo.
Disclosures
Investment products and services are offered through Futu Inc. Member. FINRA/SIPC. To use some features of the moomoo app you must have an approved brokerage account with Futu, Inc. This information is provided for informational and educational use only and is not investment advice, a recommendation, or endorsement of any particular investment or investment strategy. It is provided without respect to individual investor financial sophistication, financial situation, time horizon, or risk tolerance. The information and the information available within the moomoo app should not be reflect upon as a primary basis for any investment decision. Investment decisions should be based on individual's own gain, time horizon, and tolerance of risk. AIl investing involves risk, including the potential loss of principal, and there is no guarantee or assurances that the use of any tools or data provided on the moomoo ap, or any investment strategy or approach discussed herein will result in investment success or reduce investment risk. Any illustrations, scenarios, or specific securities referenced herein are strictly for illustrative purposes. Past investment performance does not guarantee future results. Investing involves risk and the potential to lose principal.