Stock charting tools are valuable resources for investors who are looking to evaluate patterns in trading data. They can be useful in ensuring investment and trading decisions are based on strategy, not emotion, pointing to key indicators within markets as to the likely future performance of any given stock or asset type.
Moomoo offers stock charting tools in order to equip investors with the insights and data they need to inform robust, strategic investment approaches. These technical analysis tools point to significant buy and sell indicators, often helping to unearth new trading opportunities. Packaged into an easy online app, moomoo gives you all the tools you need to learn, track and invest within one simple mobile and desktop app.
What is a Stock Chart?
A stock chart forms the primary tool for technical analysis, creating a clear visualisation of price action through the plotting of historical market data of the financial instrument being examined. Through this visual representation, traders are able to more easily look for common and rare price patterns, answering questions that relate to the price action. Stock charts are highly useful tools in enabling investors to map out and track both price history and forward trajectory, revealing patterns, insights and opportunities that can then be folded into their individual investment strategies and decisions.
As history often repeats itself, stock charts can highlight price actions that fit into repeating patterns. These are often the easiest ways to illustrate natural recurrences, although the interpretation of that data is then subjective to the lens and perspective of each investor digesting the chart's findings.
There are a number of stock chart patterns that investors can recognise through stock charting tools. These include the ascending triangle, descending triangle, symmetrical triangle, pennant, channel, wedge, double top, double bottom, trendlines and break outs, head and shoulders, rounding bottom and cup and handle. Evaluating patterns through the use of stock charting tools can help investors to calculate where to enter the market, set hard stop-loss orders, and how to set realistic profit targets. These are crucial considerations to beginner and sophisticated investors alike, allowing them to manage their portfolio based on their individual investment strategies and risk appetites.
What are Stock Chart Indicators?
Stock chart indicators are types of tools that, when applied to a stock chart, make it easier to understand market movements. They can assist investors in understanding whether or not a market is trending or ranging, and can also provide insight across whether or not stocks or assets are due for reversals. By learning about the different kinds of key indicators, beginner investors can equip themselves with key insights that may assist in building positive investment outcomes. Stock chart indicators are useful in building customised stock charts - as no two investment strategies are the same, investors must find ways to track and monitor the stocks they're considering for their portfolio. Stock chart indicators are key tools in the ongoing development of investment strategies.
Popular Stock Chart Technical Indicators
Here's our guide to the popular stock chart technical indicators that are most useful for investors (beginners and experienced alike) to understand and put to use in their own stock charting.
Moving Averages and Crossovers
Moving averages represent the average price of trade transactions within a defined time period. Towards the end of each time period, the average price of closing trades are calculated in order to identify the overall average price for the specific number of periods. This data is then plotted on a price chart. As new values are updated at the end of every period close, this average price is called a moving average. The moving average indicator is represented as a continuous line connecting with each updated moving average value, clearly showing this trajectory on a price chart. If prices increase, the moving average line slopes upwards; if they decrease, it slopes downwards.
A moving-average crossover takes place when two moving averages, based on different degrees of smooth, cross. This doesn't predict future direction, but it does reveal trends that can be useful for investors in understanding how reactive the asset price is to daily price changes.
Moving Average Convergence Divergence (MACD)
A moving average convergence divergence, often referred to as MACD, is a tool used by traders to look at the relationship between two moving averages. These are calculated by subtracting a 26-day exponential moving average from a 12-day exponential moving average.
If the MACD is positive, the short-term average will be located above the long-term average. This speaks to upwards growth within the asset under review. When this is inverted, and the short-term average is below the long-term average, it may be a leading indicator of falling prices.
On-Balance Volume (OBV)
On-balance volume (OBV) is an indicator that looks to volume flow to predict future changes in stock price. It was first brought to prominence by Joseph Granville, who developed the technique in 1963. He believed that volume was the key force behind markets, designing OBC in order to forecast when major moves in the market would result from volume changes. His belief is that if volume increases sharply without a corresponding change in the stock's price, this will either lead to the price experiencing a jump or fall in price.
Relative Strength Index (RSI)
Relative strength index (RSI) is an indicator of momentum that's commonly used in technical analysis. It measures both the speed and magnitude of a stock's price changes, looking to identify overvalued and undervalued conditions within that security's price.
RSI is displayed on a line graph from a scale of zero to 100. Beyond pointing to overbought, oversold and potentially overvalued securities, it can also identify securities that may be positioned for either a trend reversal or corrective pullbacks in its price growth. Many investors use this data as a sign of when to buy and sell.
If an RSI has a reading of 70 or above, this can indicate an overbought situation. At the other end of the scale, a reading of 30 or below points to an oversold condition.
Bollinger Bands
Bollinger Bands are a technical analysis tool developed and copyrighted by technical trader John Bollinger. A Bollinger Band plots two standard deviations away from a simple moving average of a security's price, with the ability to be adjusted based on the preferences of the investor reviewing the chart. These were designed to identify opportunities for investors to have a higher probability of correctly identifying whether an asset is oversold or overbought.
To calculate a Bollinger Band, begin by calculating the simple moving average (SMA) of the security in question (most typically by using a 20-day SMA). The next data point would remove the earliest price, add the price on day 21 and take the average, and so on. This then allows for the standard deviation of the security's price to be obtained as a mathematical measurement of average variance. This tool features prominently within statistics and economics.
Trading Volume
Trading volume is a technical indicator that measures how much of any underlying security has traded within a specified period of time. In stocks, the volume is measured by looking at the number of shares traded. For futures and options, the volume is calculated based on how many contracts have been transacted. Trading volume is useful for investors who are looking to understand liquidity within the marketplace, using their awareness of changes in volume to inform their trading decisions.
Over time, volume patterns can reinforce the strength of commitment behind both advances and declines within both specific stocks and total markets, signifying investor sentiment. Trading volume for options traders also indicates the option's current interest within the market. Volume is a crucial part of technical analysis, often informing many key technical indicators.
Candlestick charts
Candlestick charts are popular tools for investors that demonstrate four data points in each candlestick: the open, high, low and close. The open and close form the body of the candle, with the high representing the highest priced trade and the low the lowest price trade within the period the candlestick is covering.
Candlestick charts are of great benefit to traders who are looking to identify bull and bear markets, while monitoring the supply and demand trends within a given market. Candlestick charts work best in correlation with the preceding and proceeding candle, with each candle providing additional context alongside each other.
As candlestick charts are coloured, they can represent more emotion, and investors are advised to use candlestick charts alongside other technical indicators in order to build a substantial perspective across their strategy and market position.
What are Charting Tools or Drawing Tools?
Charting tools, also known as drawing tools, are commonly used by traders, investors and analysts in order to understand the movement of stocks and securities within specified markets.
How can Charting Tools or Drawing Tools Help?
As investors are always looking to past and present data in order to inform the likelihood of achieving their future investment goals, charting tools and drawing tools provide valuable insights as to the performances of stocks and assets. With these tools, traders can analyse price movements, looking for potential buy or sell opportunities that align with their investment strategy. Charting tools and drawing tools allow for lines to be drawn on top of share prices or indicators, as well as the placing of markers to identify significant events or interpret prices. These various tools are essential to the technical analysis that informs many investors in their overall strategy.
What you should look for in stock charting software
Not all stock charting software is equal, so looking for a tool that can give you the flexibility and insights you need will be of great benefit to your ongoing technical analyses. Here's what to look for when considering which stock charting software will best serve your analysis needs.
Customisable interface
While stock charting software will generally come with a standard interface, the ability to create custom chart setups gives you the options to present information in ways that are most suitable to your investment strategy and corresponding visualisation needs. Look for software that allows you to customise the chart and background colour, size of information, the position and colour of key indicators, the level of detail (such as the timeline you're charting across), as well as the ability to set live alerts across your tracking.
Indicators
Great stock charting software will give you multiple levels across indicators, enabling traders to use the tools most appropriate for their investment strategy and educational needs. Technical indicators can help investors to identify trend reversals and spot lucrative trading opportunities thanks to pattern revelations.
Moomoo's stock charting software provides a significant amount of technical indicators and supports user-defined indicator parameters. These tools provide investors with efficient access to analysing stock trends. These indicators are divided into main chart indicators and sub chart indicators. It's easy for users to adapt these over time, with indicator management providing a high degree of customisation across charts and sub charts.
Screener
Screener functionality is critical for savvy investors, using the power of technology to help individual traders identify the best potential stocks for their investment. The role of a stock screener is to narrow down lists of stocks based on set criteria. This empowers investors to sort through the many thousands of investment options at any point within the market, finding stocks that align with their individual investment strategy.
While there are a number of stock screeners available on the market, it's important that you make use of a stock screening that allows categorisation. These are sorted into descriptive, fundamental or technical filters, with descriptive filters covering aspects like market capitalisation, sector and price; fundamental filters addressing criteria like P/E ratio, equity returns and profit margins; and technical filters looking at elements like price performance and trading volume.
The screener features within moomoo enable investors to gauge pre/post market rankings, make the most of AI monitors and heat maps, and screen stocks within their individual sets of criteria.
Backtester
Backtester functionality is a key part of charting software, giving investors the ability to simulate forward-focused strategies based on historical data. This results in a backtesting report which can then be analysed, informing decisions across where to buy and sell shares.
Moomoo offers pattern backtesting, which allows for the backtesting data of chart patterns in all stocks over the past two years. This can help investors ascertain profit probability, take-profit points and stop-loss points.
Integration with your broker
Stock charting tools are all about informing trading and investment strategies. By using charting tools that are already integrated into your broker's platform, you can simplify the process of carrying out trades based on the insights gained through your charting.
By using the moomoo stock charting tools to check movements of target stocks and discover market trends, you can manage both the development and implementation of your trading strategy all within the same integrated platform. Available across both mobile and desktop, moomoo makes it easy to learn, review, organise and trade, simplifying the investment process for all kinds of investors.
How to use the moomoo stock charting tool
Moomoo provides users with 29 kinds of in-built chart patterns within the desktop app, and 22 chart patterns on the app. These drawing tools provide fundamental insights for the technical analysis carried out by investors. Drawings and annotations users add to securities are permanently saved and automatically sync between desktop and mobile apps, allowing users to navigate away from the share and return later to the same drawing.
Introduction to moomoo charting tools
Moomoo's charting tools provide integrated research and analysis solutions for all kinds of investors and traders. Find a helpful guide to the kinds of charting tools moomoo's desktop and mobile apps have to offer here.
Why use moomoo drawing tools?
Drawing tools are an integral part of technical analysis, which helps traders to review and analyse price movements, resulting in the identification of potential buy or sell opportunities. Moomoo makes it easy to access drawing tools, enabling you to draw lines on top of share prices or indicators, or to place markers that indicate key events relevant to price patterns.
With synchronisation between desktop and mobile apps, moomoo's drawing tools allows investors to carry out technical analysis at home and on the go, monitoring market movements at a time that suits them.
Steps to use moomoo charting tool
You can access moomoo's charting tool by navigating through Watchlist / Markets > Stock > Candlestick Chart > toolbar.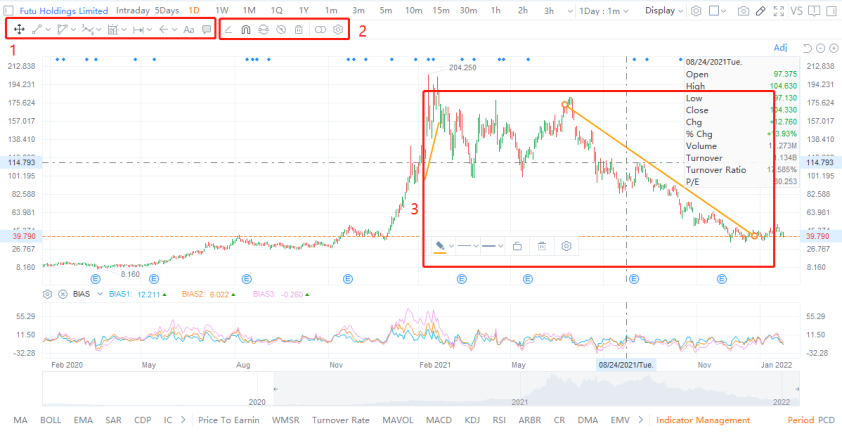 The red highlights in the screenshot point to:
Area 1: This gives you a display of all styles of lines, which can be selected in the drop-down lists. You can also unselect certain styles of lines by clicking the first 'select' icon.
Area 2: Here, you can customize different effects on this area, such as continuous line drawing, magnetic function, multi-period drawing and so on.
● Continuous Line Drawing: continuously draw multiple lines.
● Magnetic Function: the drawing lines will automatically attach to the nearest candlestick charts.
● Multi-period drawing: your drawing lines will also show up in other periods under examination.
● Display / Hide all lines.
● Delete all lines.
Area 3: select a line to evoke the toolbar. Each line has its own corresponding toolbar, where you can customise the line's colors, styles, and width, lock / unlock the line, or delete it altogether.
● Settings: right click a line to evoke the setting window, where you can customise the line's location precisely by setting dots' price and time.
Share your chart drawings to the Moo community
Moomoo allows you to share your chart drawings with the Moo community, providing the wider community with the benefit of your technical analysis and research work. You can choose to share your charts by clicking the 'Setting' button at the lower right hand corner once you've exited drawing mode, then selecting 'Chart Publishing'.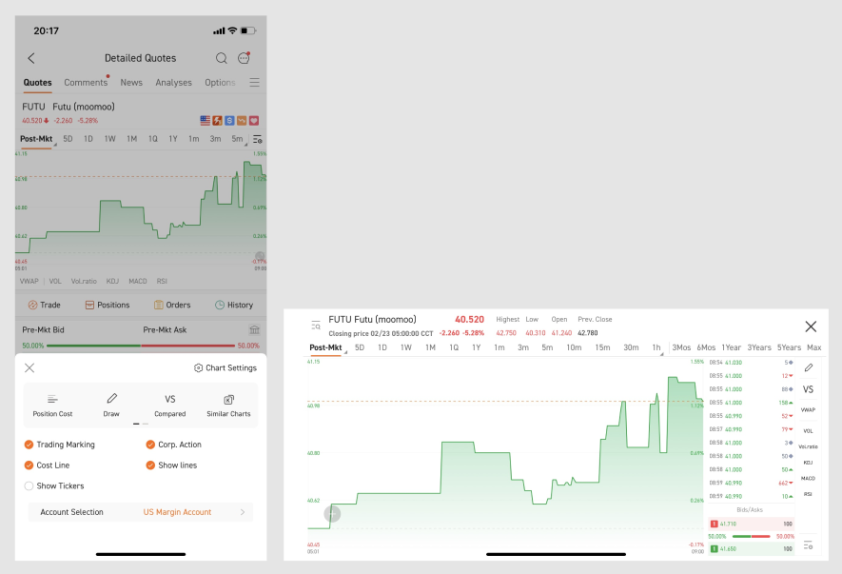 With a community of over 18 million users, moomoo gives investors the opportunity to share and discuss trading insights. Communicate directly within the financial live-stream environment, with the ability to share your actual holdings, P/L ratio and changes in the community.
Get started with moomoo
Ready to get started with moomoo's stock charting tools? Sign up for a free account today and download moomoo's desktop and mobile app to give you the full suite of moomoo tools. Moomoo is used by millions of traders worldwide who make the most of its feature-packed app to propel their investment capacities forward. With over 63 technical indicators and 38 drawing tools, you'll find it easier than ever before to trade with confidence and insight.
This presentation is for informational and educational use only and is not a recommendation or endorsement of any particular investment or investment strategy. Investment information provided in this content is general in nature, strictly for illustrative purposes, and may not be appropriate for all investors. It is provided without respect to individual investors' financial sophistication, financial situation, investment objectives, investing time horizon, or risk tolerance. You should consider the appropriateness of this information having regard to your relevant personal circumstances before making any investment decisions. Past investment performance does not indicate or guarantee future success. Returns will vary, and all investments carry risks, including loss of principal.
Moomoo is a financial information and trading app offered by Moomoo Technologies Inc.
In the U.S., investment products and services available through the moomoo app are offered by Moomoo Financial Inc., a broker-dealer registered with the U.S. Securities and Exchange Commission (SEC) and a member of Financial Industry Regulatory Authority (FINRA)/Securities Investor Protection Corporation (SIPC).
In Singapore, investment products and services available through the moomoo app are offered through Moomoo Financial Singapore Pte. Ltd. regulated by the Monetary Authority of Singapore (MAS). Moomoo Financial Singapore Pte. Ltd. is a Capital Markets Services Licence (License No. CMS101000) holder with the Exempt Financial Adviser Status. This advertisement has not been reviewed by the Monetary Authority of Singapore.
In Australia, financial products and services available through the moomoo app are provided by Futu Securities (Australia) Ltd, an Australian Financial Services Licensee (AFSL No. 224663) regulated by the Australian Securities and Investment Commission (ASIC). Please read and understand our Financial Services Guide, Terms and Conditions, Privacy Policy and other disclosure documents which are available on our websites https://www.futuau.com and https://www.moomoo.com/au. Moomoo Technologies Inc., Moomoo Financial Inc., Moomoo Financial Singapore Pte. Ltd. and Futu Securities (Australia) Ltd are affiliated companies