It seems easy to make rational decisions, but many of those decisions are based on emotion and bias. For example, the coronavirus pandemic was a major and sudden global event that began on February 20th, 2020. As the pandemic began its spread in March, government officials worldwide shut down their economic activity. As the panic was rising, the US went into lockdown mode which led to over 20 million job losses. Out of fear and uncertainty, many investors decided to exit the market, thinking that there would be a continued decline. The panic market reactions led to one of the worst stock market crashes in US history. From February 12th to March 23rd, the Dow lost its value by 37%. However, in April 2020, with the Fed's help, the US stock market began to rebound.

Trading guided by fear and greed can lead traders to potentially make irrational decisions when buying or selling stocks. As humans, we tend to let our emotions hold too much power over our thinking and decision-making and crowd out critical thinking. Let's learn how to manage our emotions and with the goal of making more rational decisions that we will be proud of.
The importance of pulling your emotions back from trading
Traders generally find it difficult to time markets when determining to buy or sell. However, learning the behavior of market fluctuations and how to respond in different situations can help you plan and reason.
Before investing, it is essential to understand your risk tolerance. Knowing your risk tolerance may help you manage your emotional responses.
Understand your own emotions
People tend to take mental shortcuts in their everyday lives. These mental shortcuts help everyone better manage the many complex tasks and events they must deal with throughout the day. However, you want to be objective when working on a trading strategy. In other words, you should avoid taking these shortcuts, which may lead you down the wrong investment path as they respond to bias and emotions. To accomplish this, you need to know how to manage your emotions.
There are three main areas where people tend to take shortcuts. See how each of these factors impacts rational thinking when picking stocks.
Recognize your loss aversion. For example, investors often expect to win, so they do not dwell on their wins. Losses, however, may preoccupy their minds and lead them to reevaluate the stock and maybe even sell, even though that wasn't their original plan. While times certainly arise where the best course of action may be to cut your losses and sell, you need to ensure this does not fall under the 'emotional response' category.

Recognize your diagnosis bias. When you have a preconceived notion, you tend to be aware of information confirming your belief but decide to dismiss it. This same phenomenon happens when picking stocks, and the human mind tends to pay closer attention to the good news about stocks and less attention to the negative announcements. When evaluating a stock, due diligence and research are needed to give a fair evaluation of the company.

Look at your commitment, value attribution, and preconceived biases. For example, suppose you saw a company as a bad investment. In that case, you may tend to ignore the good or notice changes, such as an entirely new board or the company going in a new direction and producing exciting developments. You may miss some opportunities.
Recognizing these three key emotional responses may help you evaluate companies and trades more objectively and help you take the first step towards better investment decisions.
The virtuous loop you want to cultivate
The more you understand how emotions influence your trading decisions, you can correct your behavior as you embrace objective thinking through self-observation.
Determine a trading plan that fits your needs. Know your investment goals. Ask yourself questions such as:
How much flexibility do you have with money?

Is it your lifeline fund, and is it for daily essentials?

Do you have any pressing need for the money or can you take bigger risks?

Can this money sit in an investment for a long time, or do you need to divest sooner?
As you determine your answers to those questions, you will better see your risk tolerance and investment strategy.
After each trade, it is essential to analyze your trading behavior and reflect on why you made particular decisions. Questioning your choices can help you distinguish between emotional and rational decision-making. This critical thinking may help you continually take steps towards improvement.
Emotions of fear and greed essentially drive the market. Take emotions out of the equation to see what is happening in business and the market.
How to manage your emotions while trading
You can use a few strategies to help mitigate emotional trading.
Keep a journal
Professional traders usually keep a journal to note their behavior and emotions after each trade.
Start a journal to help you document your trading moves. Record the movements and what prompted you to make that particular decision. Take notes if the trade met your expectations, exceeded them, or fell short, and pay attention to what drove your behavior. A visual record of events can help you see which thinking patterns and decisions supported your trading goals and which did not.
In our recent webinar, How to Stop Emotional Trading, we provided suggestions for conducting a post-trade analysis.
Review your trades and analyze reasons for areas such as original plan vs. actual risk-to-reward, target, entry, and exit price. Then you can analyze any deviations from your initial analysis and give ideas for improvement.

This is for illustrative purposes only.
You can use these suggestions to help you build out your journal and your trading record.
Use paper trading
Paper trading helps you practice without investing real money; it allows you to compare what others have done with your investment and learn from their strategies. It gives you the experience of making investment decisions that you would not usually make because of the fear of the unknown. Paper trading can help you see potential outcomes and become more comfortable with this rational approach.
You can follow the steps below to start paper trading and experiment with different investments to potentially improve your strategy with the moomoo app.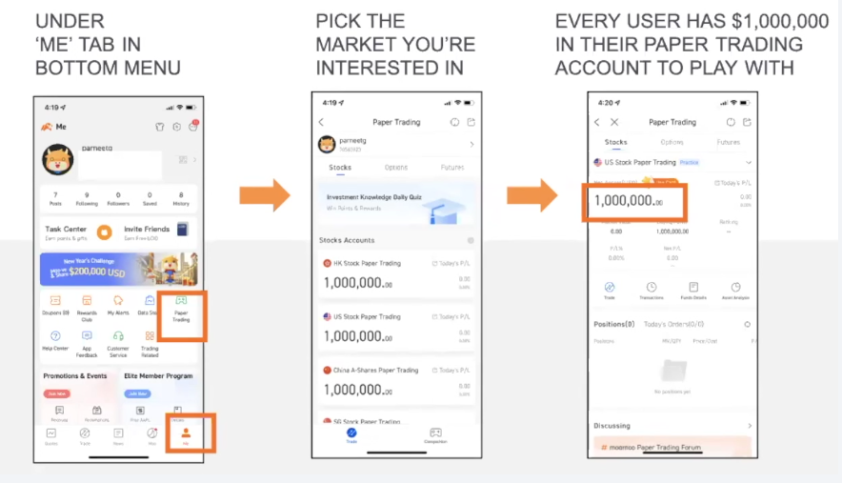 Find trading courses
Objective, educational information in trading courses can help you learn valuable skills, like trading with options. The better you understand trading strategies, the better you will be able to implement your trading plan rationally and avoid trading based on your emotions.
A solid trading strategy can help traders reduce decision-making mistakes caused by their emotions
It is easier to keep track of your progress to reach your investment goals when you have a planned strategy. A strategy may also help you determine when to buy or sell your investment. For example, if you plan to hold a stock for 5–10 years, a temporary dip probably will not tempt you to sell.
Define parameters to help you determine when to sell. Knowing your risk tolerance will support this decision as well.
Use a resourceful trading app, like moomoo
Data and information play a critical role in objective investing. The moomoo app makes it easy to keep track of market movements — in one simple app. Our app compiles information from different sources to get your news and analysis right in the palm of your hand. The AI-powered features analyze trends and may help you improve your stock selection. You can then compare your outcomes with your forecast.
The moomoo app simplifies research, analysis, trading, and monitoring for investors and traders. The app provides access to relevant stock information traders may find helpful to make objective investment decisions. Investors can easily access financial news from various sources like Bloomberg, Dow Jones, Benzinga, CNBC, and Yahoo Finance as well as watch news reports on the stocks they're monitoring on their watchlists.
Picking stocks using the moomoo app
To find stocks that match your investment goals, it is essential to select stocks based on data. Moomoo makes this process easier for you.
Use the heat map. Mooomoo's heat map function allows you to track potential hot stocks, industries, and sectors in different markets. It gives you an area to start your search.

Not every stock within a sector will perform well, and you want to pick the right one. Watching institutional investors as a reference point can help you find a few stocks to watch. Add them to your watch list once they've been selected. You can explore institutions' holdings by tracking them through the moomoo app.

Research your target stocks further. Watch for their return on equity to see how well the management team runs the business. Look at quarterly earnings reports as well. Do not use just one indicator; research to create a holistic understanding.

Select the stocks that best fit your investment or trading strategy. Following the above steps may help you select the right stocks and sectors that fit your goals and strategies.
Build your trading strategy with moomoo
Building an advanced trading strategy and portfolio requires understanding how emotion and bias influence your investment decisions. Knowing how to think logically about the companies you invest in can help you become a more mature investor.
Come and explore the moomoo app to see how this information-packed app can help you improve your trading strategy.
Investment products and services are offered through Futu Inc., Member FINRA/SIPC. To use some features of the moomoo app, you must have an approved brokerage account with Futu Inc. This information is provided for informational and educational use only and is not investment advice, a recommendation, or endorsement of any particular investment or investment strategy. It is provided without respect to individual investors' financial sophistication, financial situation, investing time horizon, or risk tolerance. All investing involves risk, including the potential loss of principal. There is no guarantee that the use of any tools or data provided on the moomoo app or any investment strategy or approach discussed herein will result in investment success. Any images provided or securities referenced herein are strictly for illustrative purposes. There is no guarantee that any opinions or forward-looking statements will come to pass. The information contained herein from third-party providers is obtained from reliable sources. However, its accuracy, completeness, or reliability cannot be guaranteed.