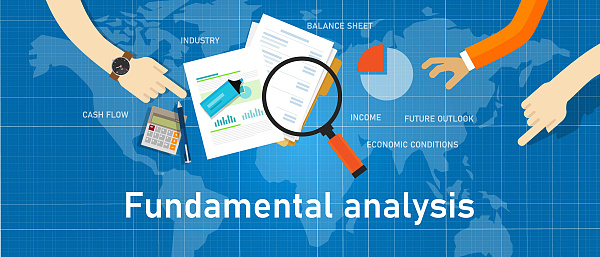 Making the right stock selections for your portfolio is key to smart investing. Your investment decisions should be based on your understanding of the stock in question and not just an emotional response.
Analyzing stock fundamentals provides you with a holistic understanding of the stock and the company. Using this strategy can help you look at it from various angles to determine the business's true value to help you make your investment decision.
Here is what you need to know about fundamental stock analysis.
What are stock fundamentals?
Stock fundamentals provide data to determine a particular company's real or fair market value. This estimate that an investor develops based on their research is sometimes referred to as the company's 'intrinsic value.' Investors who want to use value investing or similar strategies find this type of research particularly helpful.
With value investing, an investor wants to find companies valued lower than their actual value, and this may indicate a good investment. The investor assumes that the market will correct the mistake over time, and this stock will increase in value.
So back to stock fundamentals.
When using this research strategy, you will look for two main types of information about the business.
Qualitative fundamentals. These traits include brand-name recognition, the business's reputation, the organization's market share, and the type of competition. These factors can be a bit challenging to measure and are more subjective.

Quantitative fundamentals. These indicators give you more concrete, measurable data. You look for factors such as the business's revenue and profits, and these factors are significantly more objective. For this reason, many investors will use them as a core part of their market research.
You can take different types of information and weigh them together to give a complete picture of the company, its progress, and what it offers its customers. Investors can then make an informed decision on whether or not to invest in this particular stock.
We will now explore some key pieces of information you want to collect to complete this type of analysis. We will also look at how you can find this information through the moomoo app.
How to analyze stocks using fundamental analysis?
To build a fundamental understanding of the stocks in question, you will want to gather different data sources, as looking at only one type of information will not suffice.
Collecting your quantitative data
You should gather at least the three most important financial statements issued by businesses: income statements, balance sheets, and cash flow statements. Using these three pieces of information at a minimum can give you excellent insight into the financial state of this particular company.
The balance sheet details the company's assets, liabilities, and equity. A balance sheet can show you how well a company balances what it owes— liabilities— versus the value of what it owns.
The income statement helps you see how the business performs over time. You will see how much revenue and expenses the business had over the given period. If you consider the balance sheet to be a snapshot of the business at the time, the income statement demonstrates more progress over time.
The cash flow statement will show you how money flows in and out, the money used to operate the business and how much cash comes in from financing versus investing. It provides you with a solid understanding of company success.
Research on company's financial information on moomoo
Using the moomoo app, you can easily collect the above financial data by going to the quotation page for the stock.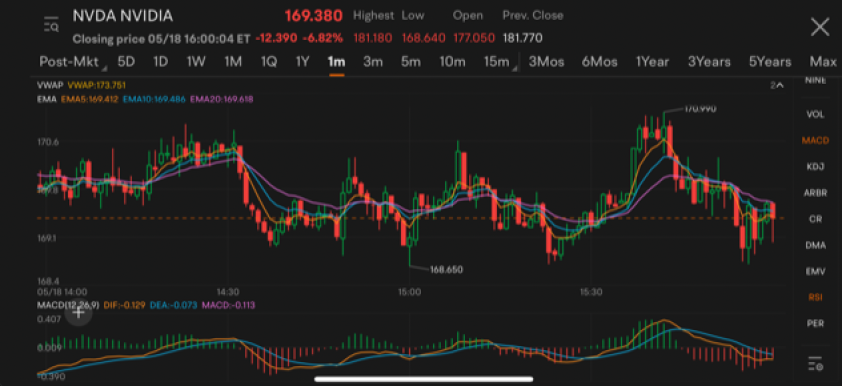 You can access the stock's news, announcements, and earnings report.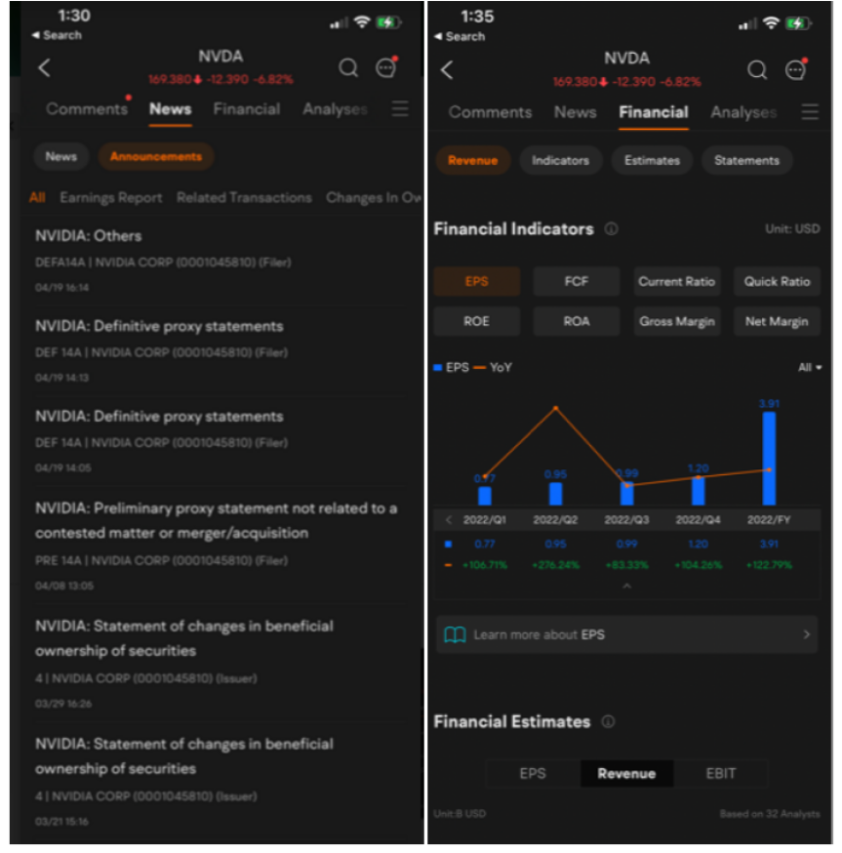 If you feel overwhelmed looking at the numbers and data, you can use the visuals and graphs to help you understand the data.
Under the financial tab, on the page for the quotation for the company, you can get an overview of the business's financial statement data and calculated financial ratios. The charts of financial statements give you an in-depth understanding of the company's past performance.
If you would like to understand further the company's growth, profitability, and leverage level, simply tab Details and check out the indicators tab, which offers ratios like Revenue Growth Rate, ROE, and Debt/Asset Ratio.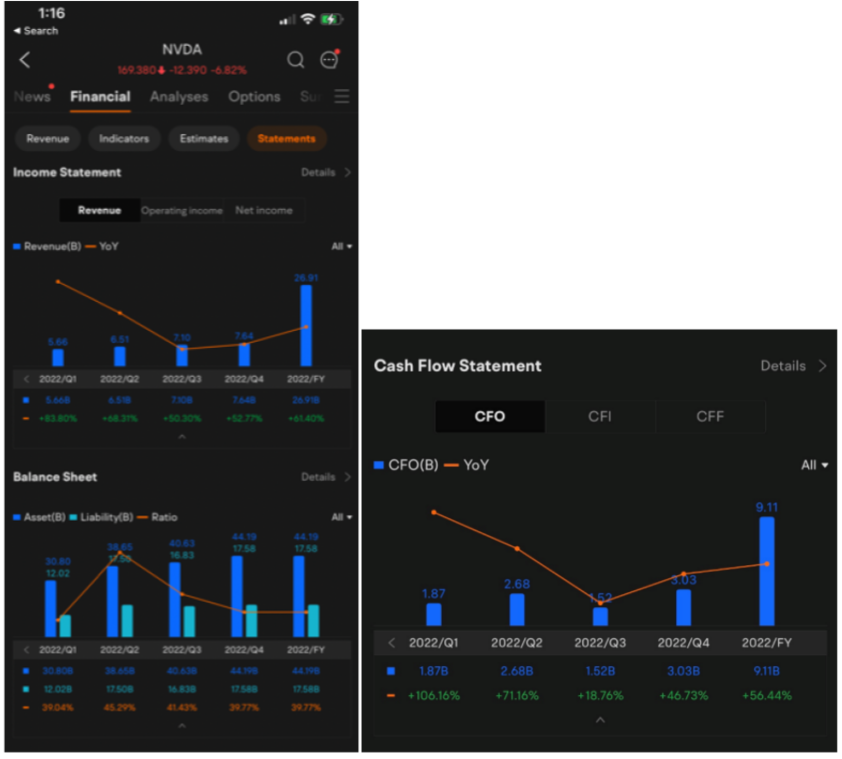 This quantitative analysis can help give you a clue into particular companies that might be good to add to your portfolio. You can add the stock to your watch list to help you continue to track the stock as you narrow down your investment options further.
If the fundamental financial information is too much for you, explore the Analyst Rating and Target Price, which offers you some institutional investors' ratings and valuation of your target. Target price measures a stock's expected performance during a given period. Investment firms and analysts often use ratings to provide a stock recommendation to the general public. Analysts conclude the rating and target price after completing comprehensive research on companies' financial statements, communicating with customers and executives, and other research forms.
In this example, we're using NVIDIA. The current stock price of NVIDIA is $169.38, while its average target price is $324.411. The average target price indicates a 47.8% upside potential.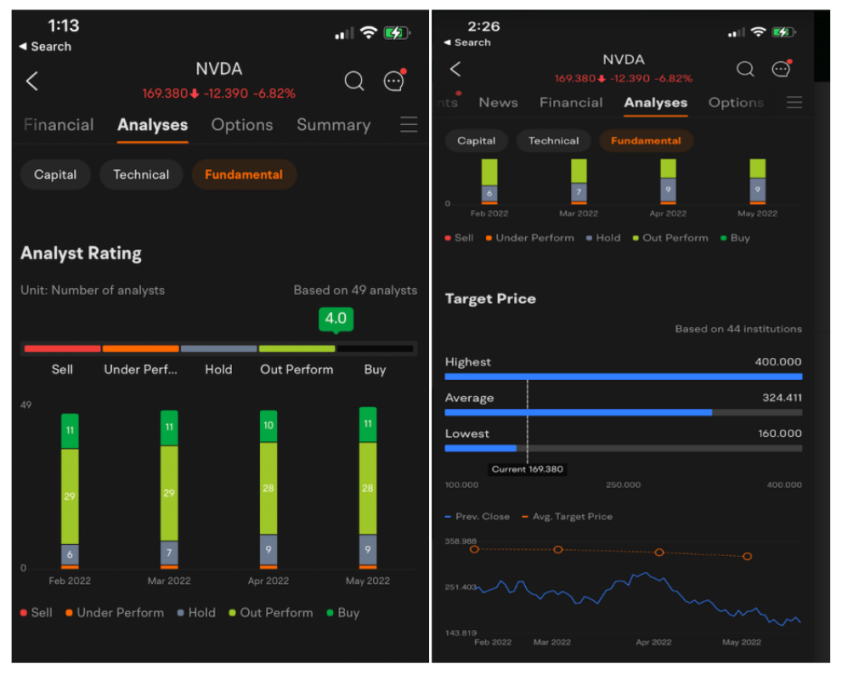 Collecting your qualitative data
Collecting your qualitative data can be more challenging because investors have to consider how to interpret the information they collect about the business. Knowing who the CEO is, is great information, but you also need to deduce whether the business's leadership will take the company in a good direction.
Staying up to date on organization-related news is one of the best ways to engage with qualitative data. Looking at various sources of information can help you collect a balanced point of view.
Keep up with the latest press releases and announcements from the business. This information can help you see the business's innovation and development, which you can compare to the rest of the industry.
As you compile your qualitative data, you should concentrate on answering a few questions.
How does this business make money? Get specific with your answer. Understand their business model.

What gives this business a competitive advantage? Is it a strong brand name or an innovative product? Know what sets the business apart.

How is the business managed and governed? Look at the policies in place to guide the business. Learn about the people in charge of the company. Examine how they performed in past positions. See how the business responds to shareholders.
Answering these questions can help you form a better understanding of the business.
Collecting qualitative data with moomoo
In the moomoo app, investors will also find it easy to stay abreast of the latest financial news and developments. All the latest news in one place makes it easy to collect the information necessary to make informed decisions about the businesses.
The moomoo community can also help investors tap into the general sentiment towards the business. You can follow conversations about the organization and get opinions from others about the company's reputation. Watching brand perception through this community may help you make good investment decisions.
How to Use a Fundamental Analysis to Screen Stocks?
Now that you know how to use fundamental analysis, it's time to decide which stocks to target. Of course, no investor wants to perform this level of analysis on hundreds of stocks, so you need to make targeted choices.
You have a few options you can use to find the best stocks through the moomoo app.
The stock screener
Moomoo offers a stock screener to help you find the stocks that meet certain conditions that matter most, and you can mix and match different filters to align with your investment strategy.
You have a few options for criteria to identify stocks for a value investment strategy. You can then pair these stocks with your fundamentals analysis.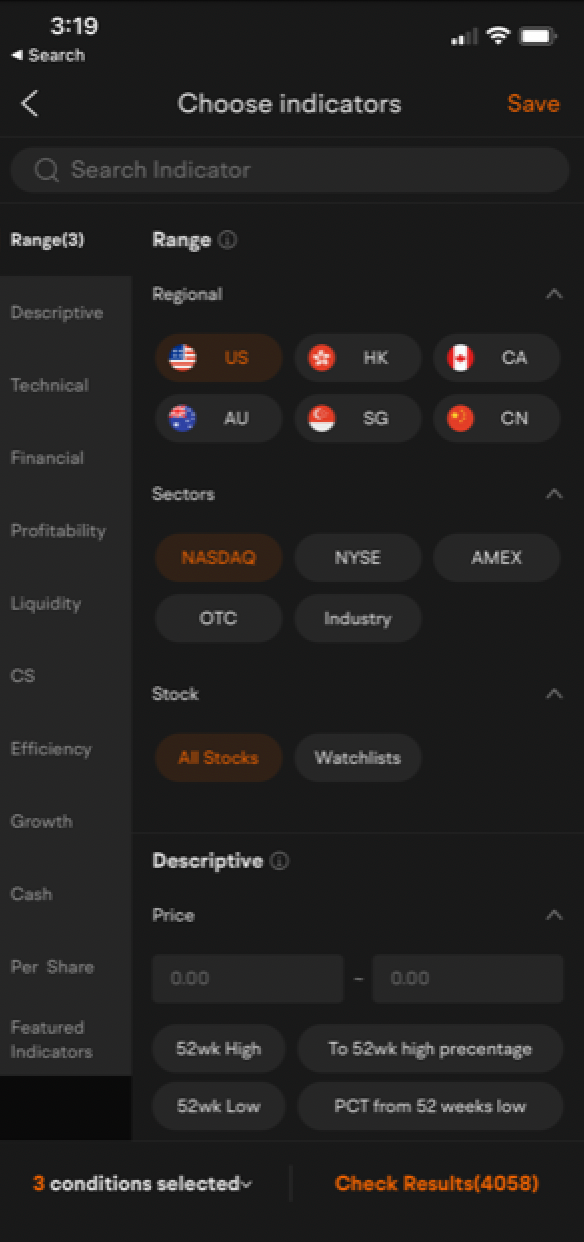 You can then use filters to drill down further as you start to find potential matches according to your criteria. Find the companies in the industries where you want to invest, filter by the price per share, or look at the company's momentum.
The heat maps
In the moomoo heat map, you can quickly see which industries show good investment potential. When you see an industry that interests you, you can drill further into that industry to see the different company options. You can look for those that align with your investment strategy and add them to your watch list.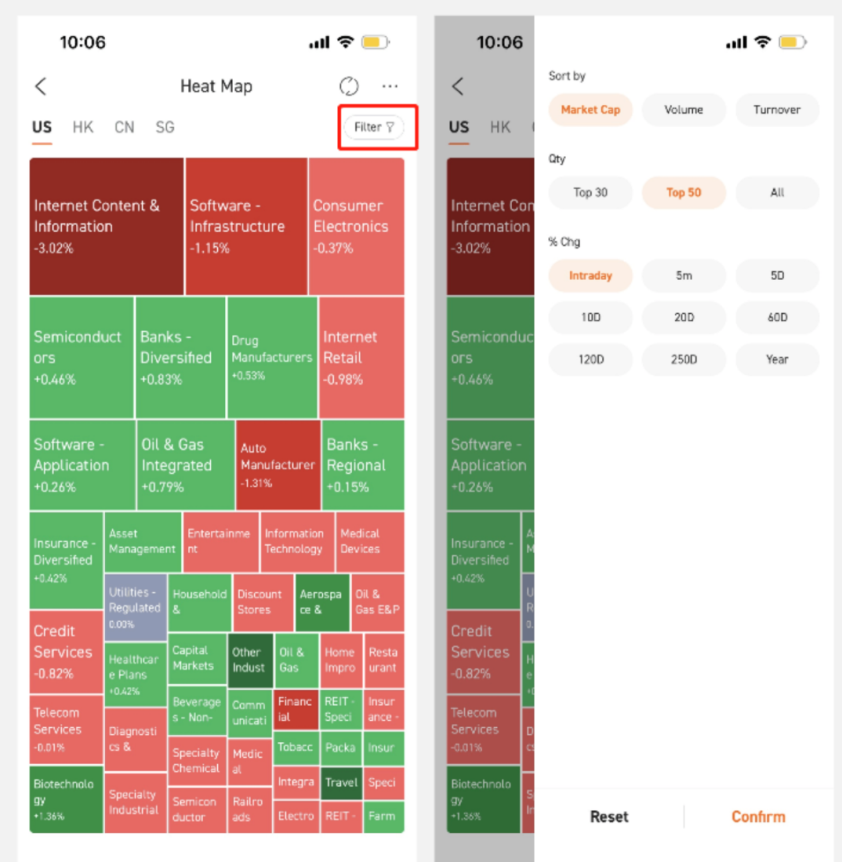 Get started investing
Analyzing stocks according to their fundamentals gives you a better look into the company's value and performance. Understanding company value can help you make better investment decisions. Use a fundamentals analysis and find the stocks that fit your portfolio.
Disclosures
Investment products and services are offered through Futu Inc., Member FINRA/SIPC. To use some features of the moomoo app, you must have an approved brokerage account with Futu Inc. This information is provided for informational and educational use only and is not investment advice, a recommendation, or endorsement of any particular investment or investment strategy.
It is provided without respect to individual investor financial sophistication, financial situation, investing time horizon, or risk tolerance. All investing involves risk, including the potential loss of principal, and there is no guarantee that the use of any tools or data provided on the moomoo app or any investment strategy or approach discussed herein will result in investment success.
Any images provided or securities referenced herein are strictly for illustrative purposes. There is no guarantee that any opinions or forward-looking statements will come to pass. The information contained herein from third-party providers is obtained from reliable sources. However, its accuracy, completeness, or reliability cannot be guaranteed.