Many novice investors have this dream of getting rich overnight. However, the first lesson learned in investing tends not to make money but to try not to lose money.
According to Warren Buffett, the first rule of investment is never to lose money. And the second one is: never forget the first rule.
To help you navigate through some of the common traps in investing, this chapter is all about how to identify the so-called "cheating stocks" in the Hong Kong stock market.
1. What are "Cheating" Stocks?
The pronunciation of "cheat" is similar to that of "cin" in Cantonese. "Ceot lou cin" in Cantonese refers to "card sharp" in English, which describes a person who cheats in card games to make money.
In the Hong Kong stock market, some stocks cheat investors out of their money, and such stocks are known as cheating stocks.
Charles Li, the former chief executive of HKEX, once defined cheating stocks in his way:
"Cheating stocks are stocks whose major shareholders do not focus on actual business operations to make profits. Instead, they harm the interests of the minority shareholders by playing financial tricks and raising capital via placements, rights issues, and reverse splits."
Just as Charles Li warns investors of cheating stocks, the risks relating to cheating stocks are worth pointing out. The Hong Kong stock market is known for its enabling investment environment. On the one hand, this has helped attract many quality companies to list in Hong Kong. On the other hand, quality stocks can be mixed with cheating stocks.
It is important to note that cheating stocks damaging the interests of minority shareholders do not necessarily violate the relevant listing rules and laws in the Hong Kong stock market. Some financial tricks, such as deeply discounted rights issues and reverse splits, may not constitute insider trading or financial fraud. Instead, they could likely be deemed acceptable under the Listing Rules of the HKEX. This means that if investors lose money in cheating stocks, they may not be able to recover their losses. In other words, the best way to avoid cheating stocks is to identify them first.
2. Characteristics of Cheating Stocks
1) Frequent capital manipulations, such as frequent rights issues and reverse splits.
2) Frequent name changes, and the name usually contains "China", "Asia", or other high-sounding words.
3) Share price showing a long-term decline trend with little or no dividends.
4) Poor earnings results accompanied with high salaries for executives.
5) Playing financial tricks to make the performance seems good so that major shareholders can cash out their stocks at peak prices.
Let's look at a typical example of cheating stocks.
Xingkai Holdings (1166. HK), formerly known as Mongolian Mining, had 23 placements, rights issues, and five reverse splits from 2001 to May 2017. (Source: HKEXnews)
As a result, its share price rose and fell sharply during this period. But overall, the decline was dramatic.
On January 21, 2014, Mongolian Mining conducted a rights issue in the ratio of 5 for 1 (five rights shares for every existing share held). The rights issue price was 67% lower than the closing price on the announcement date, which means that all shareholders who held HK$100 of shares needed to pay HK$167 to join the rights issue in case of a significant dilution value of their shareholdings.
The next day witnessed massive sell-offs by investors, and the company's stock price fell 37%. Shortly after that, in 2015, the company announced a 1-for-10 reverse split, making the stock price soar from HK$0.06 to HK$0.6.
Here's the example of an investor, named "Jack", who bought Mongolian Mining shares and continued to increase the position from the end of 2007 to 2008, buying him a total of 15.5 million shares worth HK$6.2 million at an average cost of HK$0.4 per share. At the end of 2016, the stock was quoted at HK$0.44.
If we simply look at the stock price, it seems that Jack didn't lose money in the stock. However, Mongolian Mining conducted multiple rights issues and reverse splits in the past eight years, during which Jack neither participated in the rights issues or reverse splits nor sold any of his position. As a result, he witnessed his shareholdings being greatly diluted. By the end of 2016, Jack's original 15.5 million shares turned to 775 shares worth only HK$283. He lost 99.995% of his investment!
3. Four Tips to Avoid Cheating Stocks
● Don't Try to Make Fast Bucks
Haste makes waste. This also applies to investing. You don't accumulate wealth faster by trying to make fast bucks. If you still dream of making quick bucks out of your investments, you are bound to be taught a lesson, sooner or later.
● Watch Out for Suspicious Companies
Be careful with companies with frequent rights issues and reverse splits. Rights issues and reverse splits are the most common tricks cheating stocks play, and they do the most harm to investors in many cases.
● Always Be Cautious
Be cautious about stocks that often rise and fall sharply. Some stocks aim to attract attention through continuous sharp rises, and by the time investors enter the market, a plunge may follow.
● Smaller Is Riskier
Watch out for small-cap companies with poor performances. Large-cap companies with stable performances may serve as safer choices.
As Charles Li said, "If you want to avoid cheating stocks, try to avoid taking shortcuts and be cautious with your investment decisions."
To help investors identify cheating stocks and avoid the traps, we've also summarized a list of "Suspected Financial Scam Companies" on moomoo for your reference.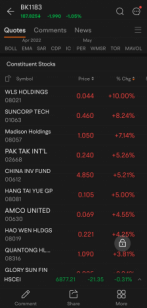 Now we hope you've mastered the tips for avoiding cheating stocks, which marks the last of all six chapters on the Hong Kong stock market introduction. How about putting the information into practice on moomoo now?