Paper trading is a powerful way for new traders to grow and improve their online trading skills. This experience offers trading without risk, enabling new traders to practice or learn how to trade and experienced traders to test strategies or new platforms.
What is Paper Trading?
Paper trading is a term used for the experience of what is known as trading on a demo account. The term originates from the stock exchange market, where investors would write investments on paper and follow market movements to practice their investment strategy.
Now, demo accounts allow first-time traders to trade with an account that works similarly to genuine online trading accounts used by market traders, mimicking the conditions of the ASX in the Australian market. Virtual money is given to demo account users, who can start trading by opening, selling and buying positions. As with a real account, the demo account shows market movements on the traders' screen, allowing them to decide if they will continue their trade or if they'll get out.
Demo account users receive the benefit of practice and the chance to look back at their actions and learn from their patterns. This is also useful to experienced traders, who often use demo accounts to practice investment strategies and trading techniques. Their findings can then be used to optimise their ongoing investment performance.
Should you use Paper Trading?
Paper trading isn't recommended for all, with some disadvantages attached to the practice trading experience. However, for first-time traders, paper trading can be a strategic way to grow in familiarity with the online trading experience, enabling a learning process that can then translate into real-world trades and investment applications.
By being aware of both the advantages and disadvantages of paper trading, you can decide for yourself whether or not paper trading can be a useful element in your investment education process.
Advantages of Paper Trading
Paper trading can offer significant advantages, including:
Trade without major risks
As paper trading involves only virtual money, not real money, first-time traders or experienced traders can trade without any major financial risks. For new traders, this is a highly beneficial way to learn about the market, as well as learn about your individual trading preferences and risk appetite.
You can practice before committing real capital
Paper trading enables you to practice before trading real finances, providing insights into how your planned trades perform based on real-world share values. As moomoo's paper trading platform supports the US exchange, Singapore exchange, and Hong Kong exchange, it enables users from around the world first-hand experiences with real-world stock markets.
Gain confidence
The experience of learning how to trade can be overwhelming for first-time traders. Paper trading can grow confidence within new traders, enabling those who haven't had first-hand experience with online trading platforms to get a feel for how it works and how they approach their own trading patterns. This can also highlight areas where individual users can improve through growing their knowledge and further research.
Use statistics
By paper trading over the course of several weeks, useful statistics will emerge about an individual's strategy and market approach. If these results don't show a potential profit, the individual trader will then be encouraged to further their education, resulting in more practice before they enter the market for real.
Disadvantages of Paper Trading
While some people may not see any disadvantages with paper trading, there are a number of potential issues with the practice that has led some experts to advise first-time traders against it. These include:
Euphoria Trading
As paper trading doesn't require any trading with real money, traders may take risks they wouldn't within a real trade. This can lead to a fast expansion of their profits, resulting in the experience of euphoria trading. This may increase risk appetites among first-time traders who haven't yet had losses on the actual market to shape their risk appetite in a manner that's appropriate to them individually.
Delayed Data
Not all demo accounts have the benefit of up-to-date information, with data often delayed up to 15-20 minutes (so it's not accessible by competitors). As Moomoo has no delay at all on live stock pricing within its paper trading platform, it gives users the benefit of instantaneous access to real-world stock price data.
How to choose the best Paper Trading Platform in Australia
Not all paper trading platforms are equal as a stock market simulator, so knowing what to look for is crucial to setting yourself up for a rich simulated trade experience. Here are the key considerations when it comes to choosing a paper trading platform.
Amount of Money
Paper trading needs to be treated like real trades in order for the experience to be valuable. While some demo accounts will offer funds in the range of $1m, it's best to start with a realistic amount of money for your personal financial situation. Moomoo's virtual funds sit within this realistic end, with $100,000 for US users, HK $100,000 for Hong Kong users, and so on.
No Time Limit
It's important that your demo account allows you to trade without a time limit, allowing you to replicate real-world strategy for as long as it is useful to your research process. Moomoo's paper trading platform has no time limit, enabling this ongoing learning opportunity.
Tradable Assets
The demo account you choose should offer the types of assets you're interested in training in the real world. In Australia, look for a demo account that offers access to publicly listed shares and assets.
Educational Tools
As paper trading is designed to be an educational experience for first-time and experienced traders alike, educational tools can be a great asset within your paper trading platform of choice. Look for additional material, such as guides and videos that can enrich your experience and learnings alongside the results from your shares traded and corresponding market movements. Within the moomoo platform, education is paramount, with educational contents and courses that provide direct benefit to the end user's learning and investing journey.
Access to Customer Service
Should you hit a stumbling block in your paper trading process, you'll need the help of an accessible customer service team. Check if your trading platform has a customer service team that can be easily reached for paper trading accounts.
Platform Software
Each paper trading platform utilises different software, with some developed by the individual brokers who own each platform. This can be beneficial if you're looking to understand how a particular broker operates, or to explore a new entrant into the broker market. As paper trading platforms aren't exclusive to one broker, you may find yourself learning how to navigate a new interface if you switch between platforms during your paper trading experience.
moomoo's paper trading platform is easy to navigate, giving beginner investors more space to focus on learning and practice, rather than complicated technical navigation.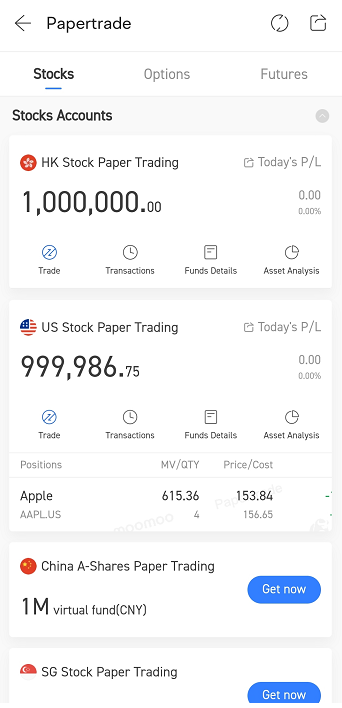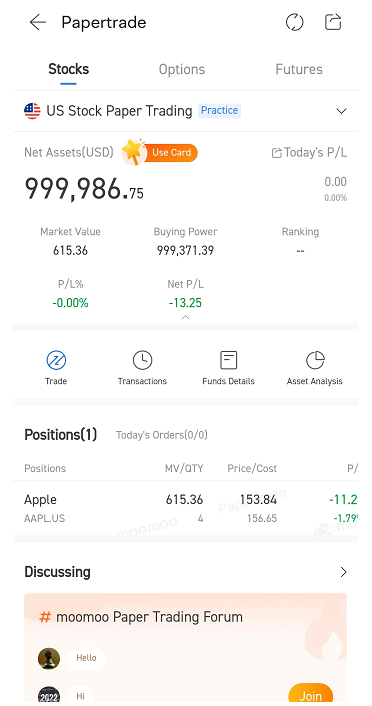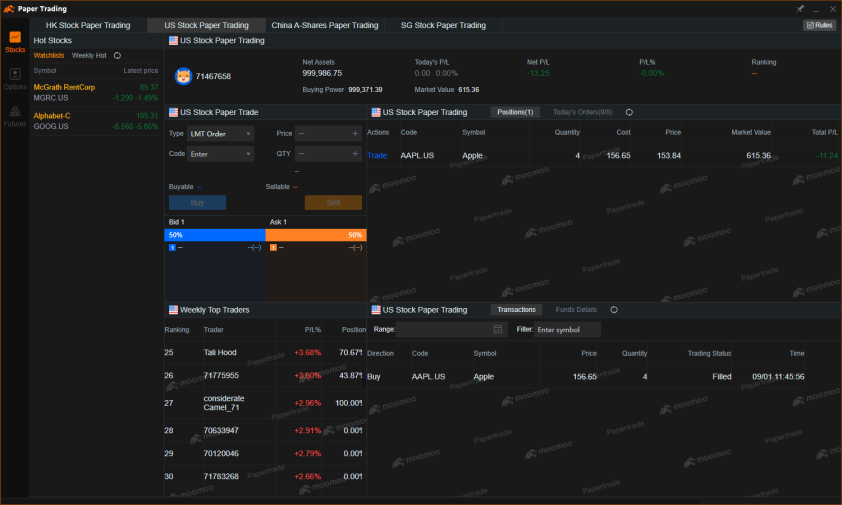 moomoo's Paper Trading Account
Moomoo offers a powerful learning opportunity for first-time traders and experienced traders alike with their paper trading accounts. Find all of the benefits of paper trading within this intuitive, easily accessible software, and put your trading skills to the test. Sign up to moomoo now to start your paper trading!