Traders descended upon the hotel Paris Las Vegas from April 24th to 26th to check out the latest trading technology, network with fellow investors and attend educational panels at Moneyshow's TradersExpo conference. Moomoo representatives were there at a booth on the exhibition floor to answer questions about the app and its new features.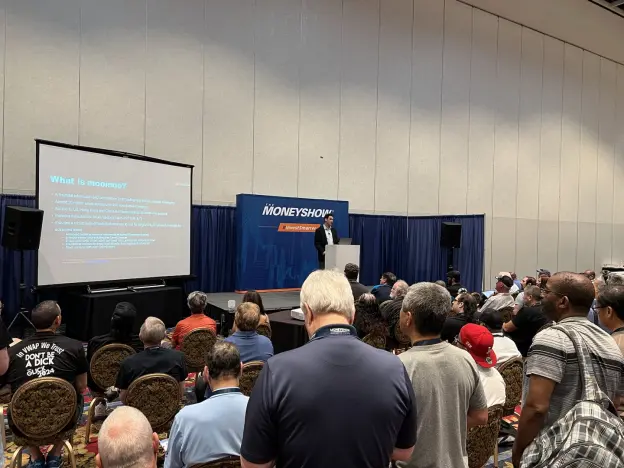 Moomoo is ready for TradersExpo! Pictured left to right: (front row) Brandon Loza, Diandra Weldon, Chris Ning, (back row) Justin Zacks, Jacob Roth, Chad Smith.
I gave a presentation about zero days to expiration options (0DTE), contracts with less than one day to expiry. 0DTE options trading has increased in popularity over the last year with over half of the attendees of the session trading them, according to an informal survey during my presentation. Several people stopped by the moomoo booth after the presentation to ask questions and learn more about the app. Traders wanted to know how 0DTE options might fit into their current trading strategy.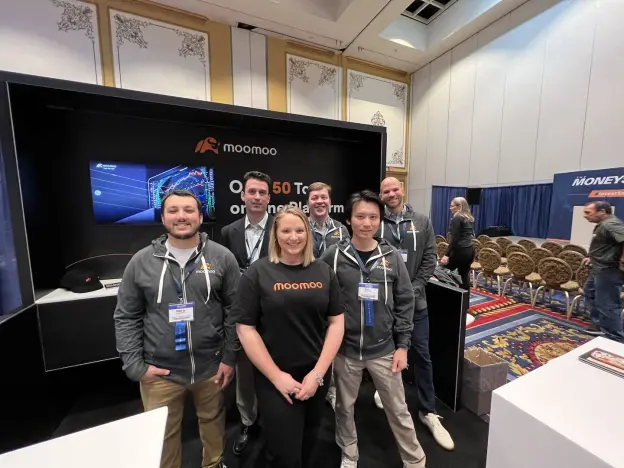 Justin Zacks presenting on Stage 3 on Day 2 of Traders Expo – standing room only!
I attended a few panels on options and the Fibonacci retracement levels and more, while also interacting with other attendees. It was a diverse group that included mainly advanced traders, many of whom were looking for trading ideas or new products that might give them an edge.
An air of optimism and excitement permeated the conference, but many participants struck a cautious tone towards markets. A survey during one of the panels showed that more participants were bearish on markets in the near term than bullish.
Mark Mahaney, head of Evercore ISI's Internet research team, falls in the latter camp. In his presentation, Mahaney told the audience he is "tactically constructive" on the stocks he covers.
Mahaney cited several reasons for his bullish outlook on tech: estimates and multiples have been derisked, lower cost basis due to headcount reductions and operational efficiencies is leading to momentum in earning per share (EPS) growth and artificial intelligence (AI) is driving the product cycle while also acting as a process improver.
AI is in the same position as the iPhone was in 2007, he said, a revolutionary technology that serves as a base for an entire ecosystem. Mahaney noted that it took about five years for many apps to be fully developed for use on the iPhone and the development of many of the use cases for AI could follow a similar time frame.
Thank you, Money Show, for putting together such a great show. I really enjoyed meeting so many traders face-to-face and learning what several presenters think about trading and markets. Looking forward to meeting more people at the next event!
By Justin Zacks, VP of Strategy, Moomoo Technologies Inc.
Disclosure:
Moomoo is a financial information and trading app offered by Moomoo Technologies Inc. Securities are offered by Moomoo Financial Inc., Member FINRA/SIPC.
Options trading is very risky and is not appropriate for all investors. Read the Characteristics and Risks of Standardized Options (bit.ly/OptionsDisclosureDocumentFull) before considering trading options. Options transactions are complex and may involve losing the entire investment in a short period of time. Opening new options positions close to or on their expiration date comes with substantial risk of losses for reasons that include potential volatility of the underlying security and limited time to expiration. Supporting documentation for any claims, if applicable, will be furnished upon request.