Moomoo connected with hundreds of financial literacy content creators at Fincon22.. From September 7 to 10, thousands of people in the personal finance space gathered in Florida, celebrating this annual event and enjoying the networking opportunities and activities such as exhibitions, live podcasts, meetups and workshops.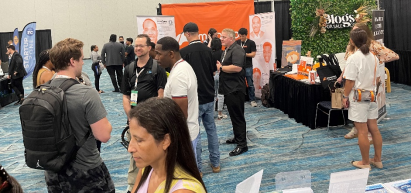 (FinCon attendees gather at the moomoo booth during expo hours to share ideas and learn more about the moomoo app)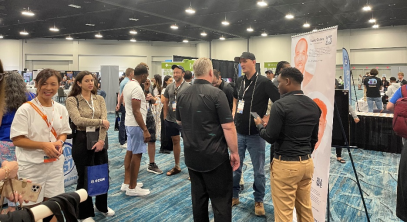 Moomoo was also one of the most active exhibitors in the FinCon's central expo, with large gatherings of attendees stopping by to learn more about moomoo and speak with financial content creators like Kenan Grace, Stock Moe, Stock with Larry and Real Scott Curry.
「FinCon provided moomoo a unique opportunity to meet creators in-person to learn directly from them how they interact with the app and what their audiences are looking for in their investing experience,」 explains Justin Zacks, moomoo's VP of Strategy. 「We were able to also introduce so many firsts for people at the conference: their first interactions with the moomoo app, meeting other creators for the first time and their first FinCon experience. Moomoo's special guests shared their experience and enthusiasm of the app with attendees emphasizing the unique value the app brings to the investing and content creator markets.」
To further its commitment to community, moomoo hosted an in-person meet and greet with over 60 attendees. The event provided an opportunity for new and experienced content creators to get together to share their backgrounds, stories and establish relationships within this community. Stock Moe, Larry Jones and Kenan Grace were moomoo's special guest during the event. They shared tips and stories on creating content with attendees, as well as their experience with the moomoo app.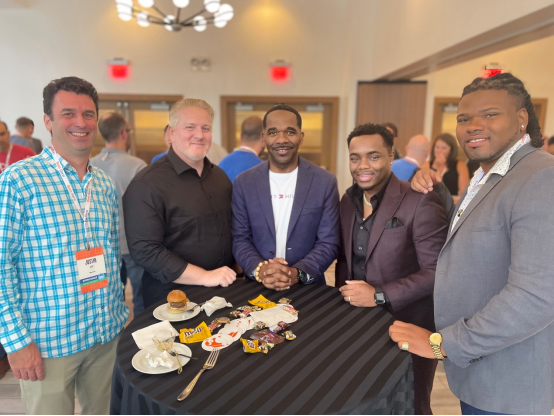 (Group photo of men at moomoo's meet and greet at FinCon on Friday, September 9, 2022. Pictured left from right: Justin Zacks, VP of Strategy, moomoo; creators: Stocks with Josh, Larry Jones and Kenan Grace; Kenan's brother)
To better pursue its mission and vision, moomoo endeavors to helping investors of all levels to trade like a pro by offering tools and market data that were previously only available to institutional investors. These include the cross-exchange comparison of execution prices, Level 2 quotes from market makers and electronic communication networks (ECNs) to name a few. The free real-time Level 2 data for US stock markets is displayed in up to 60 real-time bids and asks with no trading halts or delays.
In addition, moomoo offers a wide array of intelligent analytics tools, such as Star Institutions, an AI Monitor, Technical Analysis Indicators, Fundamental Analysis Indicators, Valuation Analysis, Position Cost Distribution and Similar Charts, to help investors navigate the market and seize investing opportunities.
Disclosures:

Level 2 data is free to moomoo users that have an approved brokerage account with Moomoo Financial Inc. Moomoo is a financial information and trading app offered by Moomoo Techonologies Inc. In the U.S., investment products and services on Moomoo are offered by Moomoo Financial Inc., Member FINRA/SIPC. Any illustrations, scenarios, or specific securities referenced herein are strictly for illustrative purposes. Past investment performance does not guarantee future results. Investing involves risk and the potential to lose principal.