Successful traders take notes for their trades, this is one of the most effective tools for performance management. Keeping a note helps with recording and reviewing trades for improved trading and future reference. It also helps with tracking progress and studying mistakes.
Moomoo provides shareable Trading Notes to help you take notes easily. It includes important and real trades statistics: Transaction/Order details, Positions details, and states, Trading marking, etc.
How to take Trading Notes

1. Go the editor, tap the fifth button at the bottom and it will pull up Trading Notes;
2. Select statistics you would like to share and write down your thoughts on the trades or stories behind them, this will help you review and fully understand in what condition and why you did that trade, that's how successful traders study from mistakes.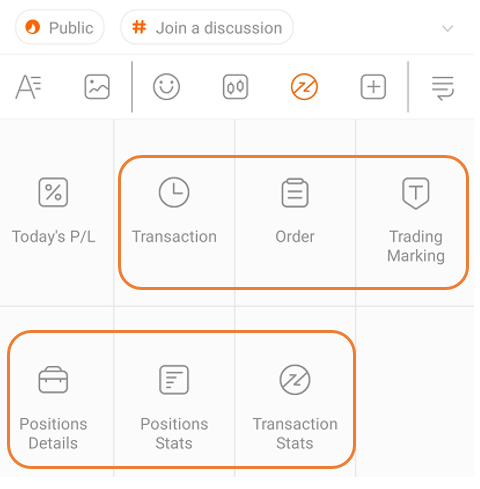 This presentation is for informational and educational use only and is not a recommendation or endorsement of any particular investment or investment strategy. Investment information provided in this content is general in nature, strictly for illustrative purposes, and may not be appropriate for all investors.  It is provided without respect to individual investors' financial sophistication, financial situation, investment objectives, investing time horizon, or risk tolerance. You should consider the appropriateness of this information having regard to your relevant personal circumstances before making any investment decisions. Past investment performance does not indicate or guarantee future success. Returns will vary, and all investments carry risks, including loss of principal. Moomoo makes no representation or warranty as to its adequacy, completeness, accuracy or timeliness for any particular purpose of the above content.