1. Introduction
Futu OpenAPI provides wide varieties of market data and trading services for your programmed trading to meet the needs of every developer's programmed trading and help your Quant dreams.
2. Account
Futu OpenAPI involves two types of accounts, Futu ID and trading account.
2.1 Futu ID
Futu ID is your user account (including Futubull ID and moomoo ID), which can be used in Futubull APP, moomoo APP and Futu OpenAPI.
You can use your Futu ID and login password to log in to FutuOpenD and obtain market data.
2.2 Trading Account
The trading account is your securities account , which is available after opening securities accounts with Futu. It is mainly used for deposits, withdrawls, margin trading and short selling all kinds of financial instruments.
The choices of trading account include: HK trading account, US trading account, A-share market trading account, and futures trading account:
● HK trading account is used for trading HK market securities and options.
● US trading account is used for trading US market stocks, ETFs and options.
● A-share market trading account is used for trading HKCC stocks.
● Futures trading account is used for trading futures in the global market and currently supports HKFE futures, CME Group futures, SGX futures, OSE futures.
Tips: Under one Futu ID, you can open trading accounts from different securities firms. That is, under one Futubull / moomoo ID, there might be several trading accounts.
3. Functionality

There are 2 functions of Futu OpenAPI: quotation and trading.
3.1 Quotation Functions
3.1.1 Quotation Data Categories
Including stocks, indices, options and futures from HK, US and A-share market. Find the specific types of support in the table below.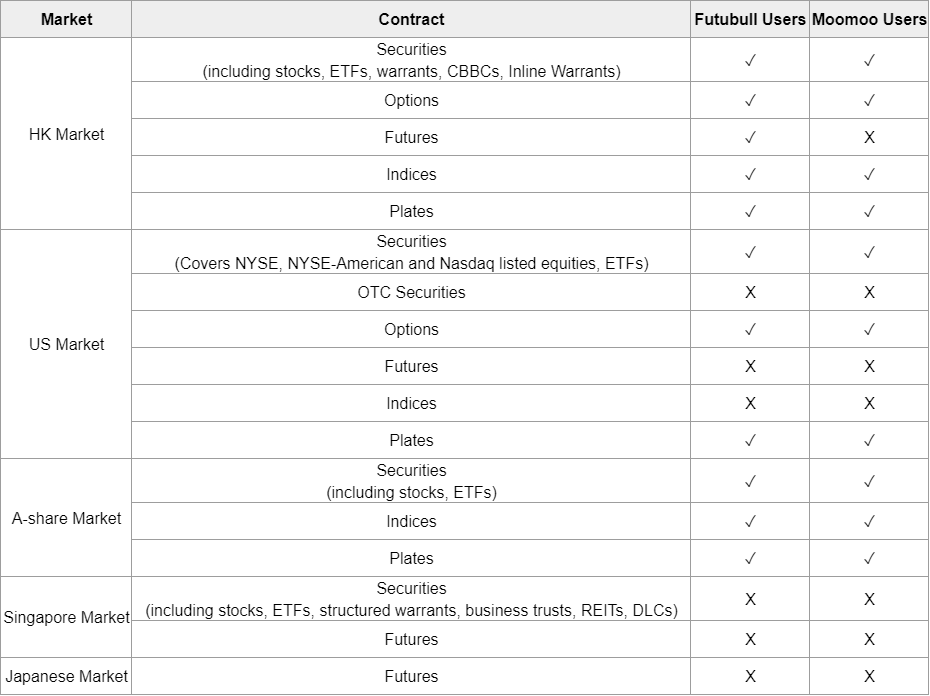 3.1.2 Method to Obtain Market Data
● Subscribe and receive pushed real-time quote, candlestick, tick-by-tick and order book.
● Request for the latest market snapshot, historical candlesticks etc.
3.2 Trading Functions
3.2.1 Trading Capacity
The available trading capacities include: stocks, options and futures from HK, US, A-share, Singapore and Japanese markets. Find the specific types of support in the table below.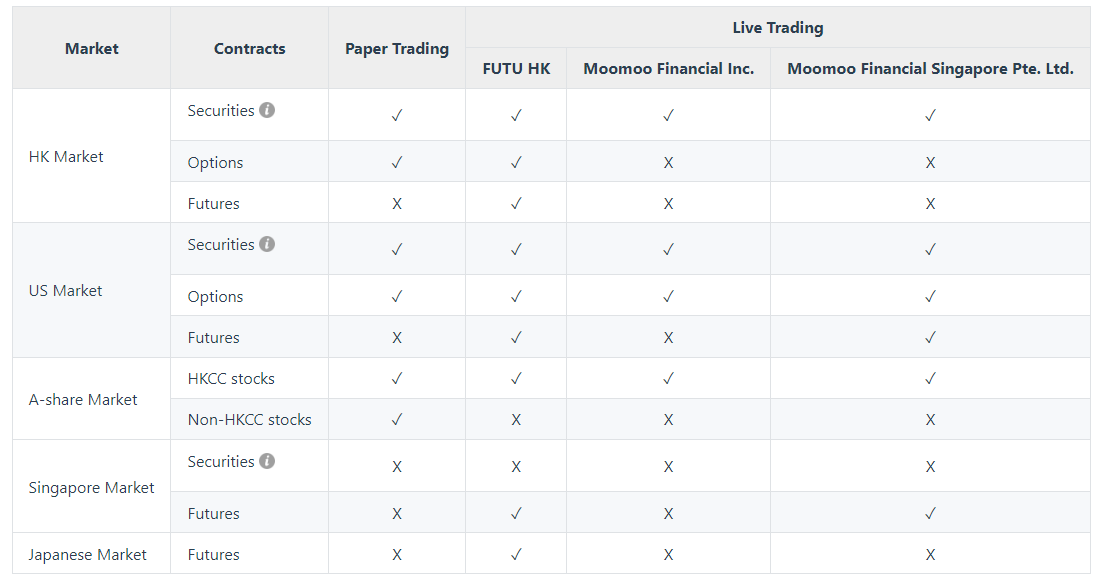 3.2.2 Method of Trading
The trading interfaces are used for both live trading and paper trading.
4. Features

4.1 Full platform and multi-language
● FutuOpenD supports Windows, MacOS, CentOS, Ubuntu
● Futu API supports Python, Java, C#, C++, JavaScript, etc.
4.2 Stable speed and free transaction
● Stable technical architecture, directly connected to the exchanges
● The fastest order is 0.0014s
● There is no additional charge for trading via Futu OpenAPI
4.3 Abundant investment varieties
● Support real-time quote, live trading, and paper trading in HK, US, and CN markets
4.4 Professional institutional services
● Customized market data and trading solutions
4. Technical Structure
Futu OpenAPI includes Futu API and FutuOpenD program. To use Futu API, the gateway program FutuOpenD should be started locally or in the cloud. This program exposes the interface in a custom TCP protocol, which has nothing to do with the programming language. Considering convenience, Moomoo Financial Inc. has packaged API SDKs for different programming languages for third parties to use.
More details, click API Doc.
This presentation is for informational and educational use only and is not a recommendation or endorsement of any particular investment or investment strategy. Investment information provided in this content is general in nature, strictly for illustrative purposes, and may not be appropriate for all investors.  It is provided without respect to individual investors' financial sophistication, financial situation, investment objectives, investing time horizon, or risk tolerance. You should consider the appropriateness of this information having regard to your relevant personal circumstances before making any investment decisions. Past investment performance does not indicate or guarantee future success. Returns will vary, and all investments carry risks, including loss of principal. Moomoo makes no representation or warranty as to its adequacy, completeness, accuracy or timeliness for any particular purpose of the above content.