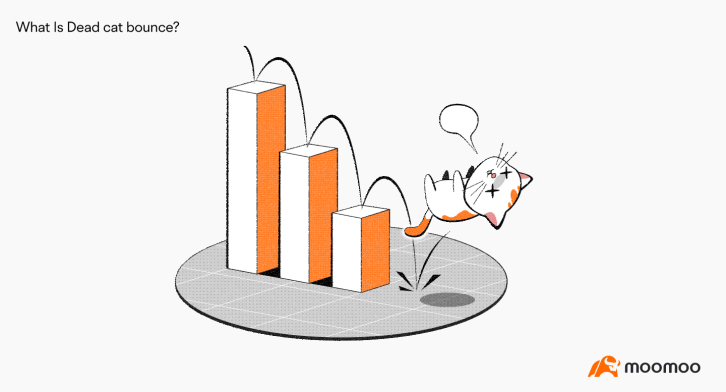 Key Takeaways
The dead cat bounce is a slang term that means there has been a temporary increase in the value of shares after a large reduction in their value.

Originated from Wall street, a dead cat bounce is generally applicable to any situation in which a subject rallies briefly during or after a severe decline.

A dead cat bounce price pattern is usually difficult to be forecasted.
Understanding the Dead Cat Bounce
The dead cat bounce vividly describes a financial phenomenon in which a stock in a sustained decline suddenly recovers temporarily before continuing its downtrend without reasonable cause. The phrase derives from the saying that even a dead cat will bounce if it falls from a high enough place.
The dead cat bounce price pattern can be used as part of a technical analysis approach to stock trading. Technical analysis describes a dead cat bounce as a continuation pattern in which a reversal of the current decline is followed by a significant price rally. Some short-term traders can profit from this. This phenomenon is difficult to identify when it occurs, as are the peaks and troughs of the market, and the pattern can usually only be identified in hindsight.
History of Dead Cat Bounce
The term dead cat bounce was first introduced in an article by ChrisSherwell and Wong Sulong in the Financial Times on December 7, 1985. They used "dead cat bounce" to describe the rebound after a hard fall in the stock markets in Singapore and Malaysia: 'Despite the evidence of buying interest yesterday, they said the rise was partly technical and cautioned against concluding that the recent falls in the market were at an end. This is what we call a 'dead cat bounce', one broker said flatly.' This phrase was quoted throughout the 1990s and was widely used in the 2000s.