Singapore's inflation rate reached 7% in September 2022, which is the highest in 14 years. This has caused many to feel the pinch and cut back on their spending.
This is caused by huge factors in the world economy like the Russian-Ukraine war and the ongoing energy crisis. With these challenges happening at the same time, the global supply chain has been disrupted.
What can we do to try and beat inflation? Read this article to find out!
Singapore's Current Inflation Rate In 2022
From our daily cup of coffee to the price of kale, the cost of food has been constantly going up. You can take a look at the numbers here: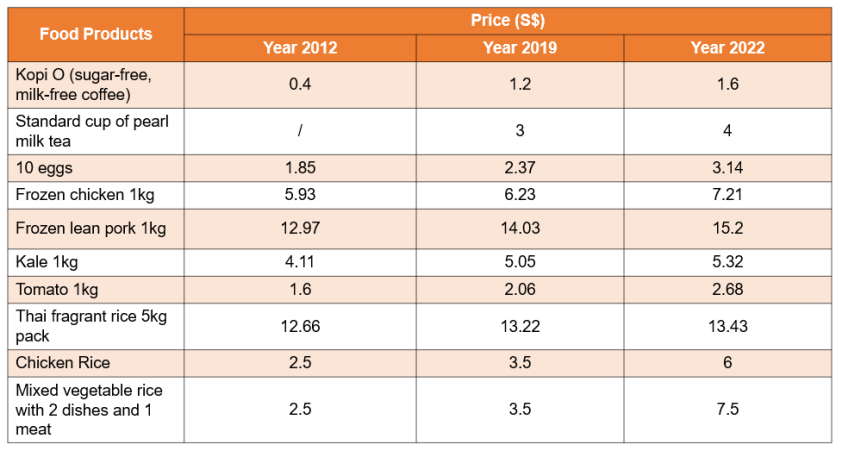 In addition to food, oil prices have also skyrocketed. In June this year, the price of 98-octane gasoline sold at Shell petrol stations reached $4.04 per liter. This is the first time the price of oil broke the $4 mark.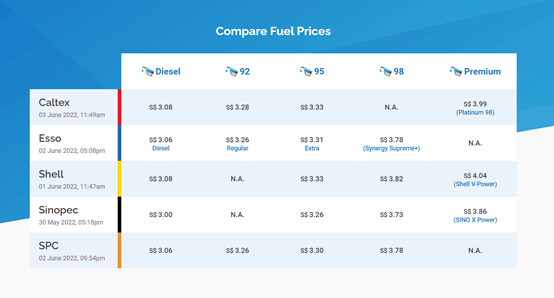 Source: Fuel Kaki, the Singapore Consumer Association's retail fuel price comparison website, 2022.06.03
Why Inflation Affects Asset Values
To understand why inflation is a problem, we have to understand this concept called "purchasing power".
Economists define purchasing power as such:
"Purchasing power is the value of a currency expressed in terms of the number of goods or services that one unit of money can buy."
As time passes, your purchasing power decreases when things are getting more expensive.
How to preserve your wealth
Instead of keeping extra idle money, consider other methods of growing your wealth.
Daily expenses are getting higher and higher. This is not because there are more things to buy. Instead, the things we have to buy are becoming more and more expensive.
To cope with potential emergencies and reduce their financial burden, more Singaporeans are starting to plan their savings.
According to the Singapore Department of Statistics, the gross national savings rate reached 48.3% at the end of 2021. This is a sharp increase compared to 2019, where the gross national savings rate was 44.7%.
You can consider the following options to work your money.
Safe Haven Stocks
Safe haven stocks refer to companies which have proven track records in defensive industries (e.g. consumer staples, utilities). They tend to have larger market capitalization as well, allowing them to withstand economic downturns.
Most importantly, these companies are able to pay out dividends because of how stable their business operations are.
However, stocks are still subject to market downturns which can cause the share price to plummet. As such, investors need to prepare for this risk even though the company is perceived as safer.
Bonds
Bonds are loans that investors make to companies or governments. Bonds allow investors to receive fixed interest payments. On a fixed date in the future (called the maturity date), the principal is returned to the investor.
However, bond issuers can default on their payments. The bond payouts will also be affected by the interest rates, which might cause your bond yields to drop.
Cash Management Funds
Cash management funds are funds that invest in lower-risk assets. These assets include cash equivalents like US government treasury bills and bank certificates of deposit.
For investors concerned with risk, money market funds are considered a relatively safe option compared to stocks and bonds.
Beat Inflation With moomoo Cash Plus
One possible way to invest in a cash management fund is through the moomoo Cash Plus. With moomoo Cash Plus, you can enjoy a potential annualised 7-day yield of up to 2.5%. You can make your idle cash work for you, even on the weekends.
(Note: The indicative 7-day annualized yield is derived from the past performance of money market funds on moomoo cash plus and should not be viewed as an indicator of future results.)
There is no lock-in period, giving you quick subscription and redemption options depending on your financial goals. Until date, moomoo Cash Plus has not experienced a monthly negative return.
(Note: The data is accurate as of 24th August 2022 and is derived from the past performance of the money market fund on moomoo cash plus and should not be viewed as an indicator of future results.)
In fact, we even have a special promotion running right now: When you invest S$100 in moomoo Cash Plus, you get S$2 cashback for 30 days straight!
For more details, you can check out the moomoo Cash Plus page here.