The Wan Leader International Limited (HKG:8482) share price has fared very poorly over the last month, falling by a substantial 54%. The recent drop completes a disastrous twelve months for shareholders, who are sitting on a 71% loss during that time.
Even after such a large drop in price, Wan Leader International's price-to-earnings (or "P/E") ratio of 41.7x might still make it look like a strong sell right now compared to the market in Hong Kong , where around half of the companies have P/E ratios below 9x and even P/E's below 4x are quite common. Nonetheless, we'd need to dig a little deeper to determine if there is a rational basis for the highly elevated P/E.
Recent times have been quite advantageous for Wan Leader International as its earnings have been rising very briskly. It seems that many are expecting the strong earnings performance to beat most other companies over the coming period, which has increased investors' willingness to pay up for the stock. If not, then existing shareholders might be a little nervous about the viability of the share price.
See our latest analysis for Wan Leader International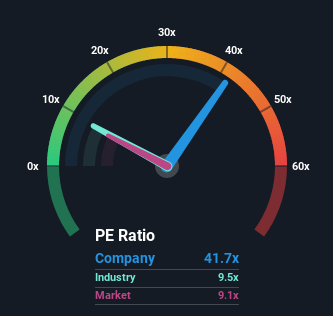 SEHK:8482 Price Based on Past Earnings September 8th 2022 Although there are no analyst estimates available for Wan Leader International, take a look at this
free
data-rich visualisation to see how the company stacks up on earnings, revenue and cash flow.
How Is Wan Leader International's Growth Trending?
The only time you'd be truly comfortable seeing a P/E as steep as Wan Leader International's is when the company's growth is on track to outshine the market decidedly.
Taking a look back first, we see that the company grew earnings per share by an impressive 198% last year. Although, its longer-term performance hasn't been as strong with three-year EPS growth being relatively non-existent overall. Therefore, it's fair to say that earnings growth has been inconsistent recently for the company.
Comparing that to the market, which is predicted to deliver 22% growth in the next 12 months, the company's momentum is weaker based on recent medium-term annualised earnings results.
With this information, we find it concerning that Wan Leader International is trading at a P/E higher than the market. It seems most investors are ignoring the fairly limited recent growth rates and are hoping for a turnaround in the company's business prospects. Only the boldest would assume these prices are sustainable as a continuation of recent earnings trends is likely to weigh heavily on the share price eventually.
What We Can Learn From Wan Leader International's P/E?
A significant share price dive has done very little to deflate Wan Leader International's very lofty P/E. It's argued the price-to-earnings ratio is an inferior measure of value within certain industries, but it can be a powerful business sentiment indicator.
We've established that Wan Leader International currently trades on a much higher than expected P/E since its recent three-year growth is lower than the wider market forecast. Right now we are increasingly uncomfortable with the high P/E as this earnings performance isn't likely to support such positive sentiment for long. Unless the recent medium-term conditions improve markedly, it's very challenging to accept these prices as being reasonable.
You should always think about risks. Case in point, we've spotted 4 warning signs for Wan Leader International you should be aware of, and 1 of them can't be ignored.
If these risks are making you reconsider your opinion on Wan Leader International, explore our interactive list of high quality stocks to get an idea of what else is out there.
Have feedback on this article? Concerned about the content? Get in touch with us directly. Alternatively, email editorial-team (at) simplywallst.com.
This article by Simply Wall St is general in nature. We provide commentary based on historical data and analyst forecasts only using an unbiased methodology and our articles are not intended to be financial advice. It does not constitute a recommendation to buy or sell any stock, and does not take account of your objectives, or your financial situation. We aim to bring you long-term focused analysis driven by fundamental data. Note that our analysis may not factor in the latest price-sensitive company announcements or qualitative material. Simply Wall St has no position in any stocks mentioned.