Investment Strategy
Views 4286
Contents 63
Australia's central bank, the RBA keeps rates on hold. The ASX lifts higher and is 2.5% away from a 2023 high
In breaking news, the Reserve Bank of Australia (RBA) kept interest rates on hold at 4.1% for the 2nd straight meeting.
But the central bank kept the door open to further hikes. The fact the RBA said household consumption is an 'ongoing source of uncertainty', with households experiencing a painful squeeze on their finances, tells us the RBA won't likely hike again. However, things could change if inflation picks ups. The market awaits the RBA Statement of Monetary Policy on Friday, August 4, for further more clues, as to if the RBA will hike again.
As for how the market reacted to today's decision of making no hike, the ASX200 saw a knee-jerk lift and trades 0.7% higher on Tuesday, August 1, given the market expected the RBA to hike rates to 4.35%.
The Aussie share market is now almost 2.5% away from taking out February 2023's high.
Given China stimulus is supporiting mining stocks which make up about 30% of the Aussie market, with BHP and Rio Tinto moving higher, we just need the banking sector to come to the party to suport the ASX higher yet again. Next week's release of CBA's results could be a game changer for the ASX. What do you think?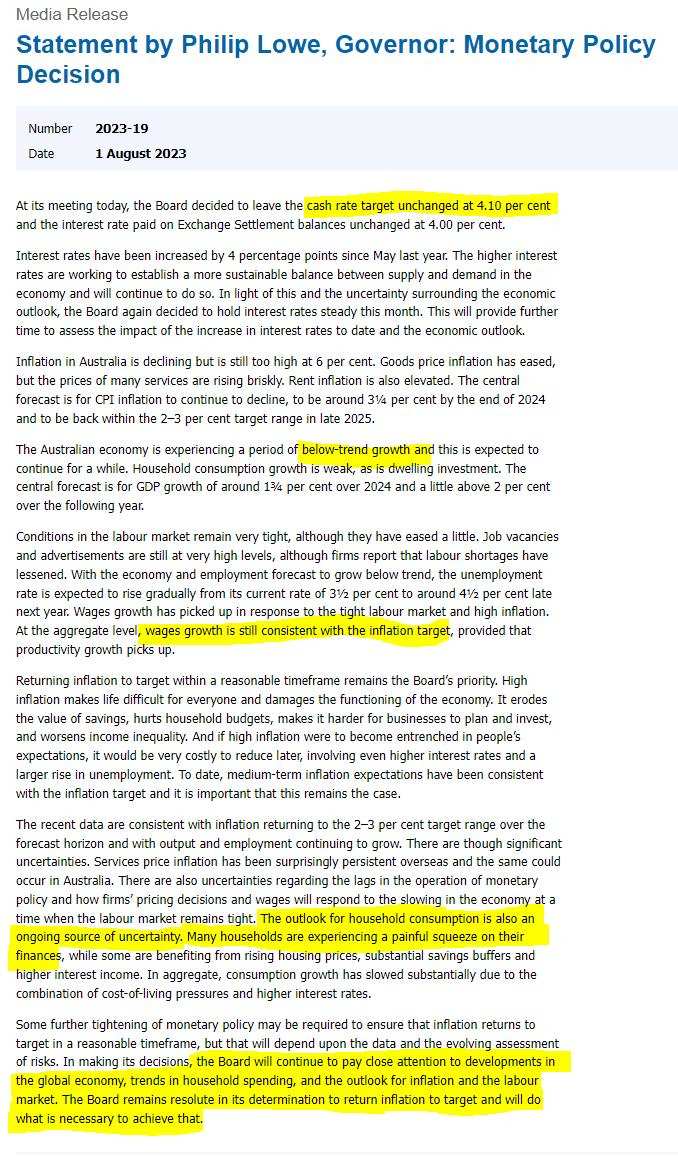 Disclaimer: Moomoo Technologies Inc. is providing this content for information and educational use only.
Read more
3
1
7