Semiconductor Industry | Expected to achieve continuous development
1. The industry has strong technology, strong applicability and improved profitability, leading its overall performance good
2. The demand of the downstream application segment is restored, driving the development of the whole industry
3. Supply chain inventory recovery, driving shipment growth
Based on the following views, we believe that the semiconductor industry will continue to achieve revenue growth:
1. The semiconductor industry has strong technology, strong applicability and improved profitability, leading its overall performance good
Despite the cyclical nature of the semiconductor industry, semiconductor stocks have a multi-year (3, 5, 10, 15 2009) still outperformed other industries, among which ADI, MCHP, MRVL, GFS, SNPS and KLAC are the most bullish.
Figure 1: Semiconductor stocks have outperformed the market over the past 3, 5, and 10 years

Figure 2: Semiconductors enter a more stable growth phase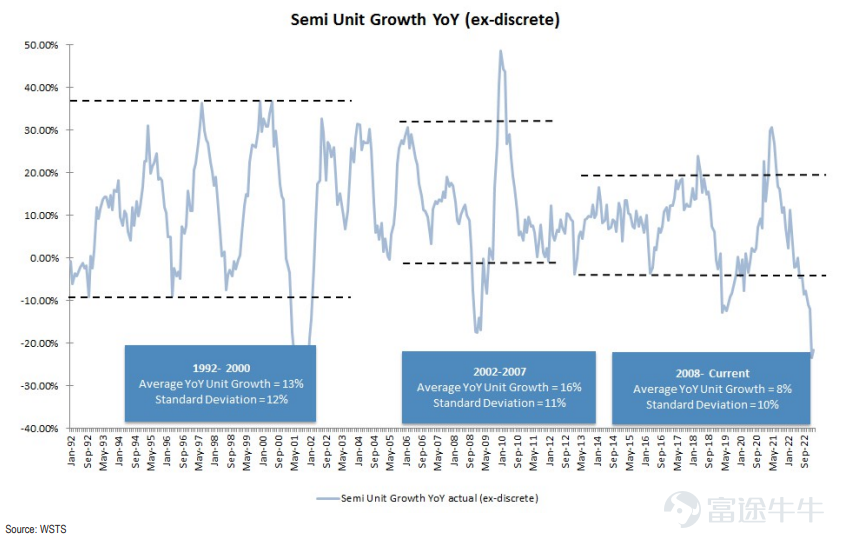 2. Downstream application segment demand recovery
Supply chain inventory declines are progressing well amid persistently weak demand for smartphones in the first half of the year. Inventories are expected to return to healthy levels in the second half of the year, with the new iPhone cycle driving a relatively strong second half as the Chinese market reopens. Looking ahead, both Skyworks and Qorvo will benefit from the upcoming iPhone 15 cycle in the second half of the year, as the content of the iPhone 15 will be further improved compared to the previous generation.
3. Supply chain inventory recovery, driving shipment growth
Most semiconductor companies (except automotive/industrial end markets) shipped 20-40% below consumption levels in the first half, and as supply chain inventories return to balanced levels in the second half, shipments will trend towards consumption/demand, even if This will also drive shipment growth in the second half of the year in an environment of weak macro demand.
Figure 3: The company's distribution inventory days are lower than the previous level, reflecting the recovery of supply chain inventory

Disclaimer: Community is offered by Moomoo Technologies Inc. and is for educational purposes only.
Read more
1
2