FOMC meeting in June: Will the interest rate rise or drop?
Views 15K
Contents 46
Is there any contradiction in employment data? Do you support continuing the rate hike or supporting the new high of US stocks?
Last Friday, the non-farm payrolls data released by the US Department of Labor was obviously off the charts. In May, the number of new non-farm payrolls in the United States was 339,000, almost double the median market expectation of 195,000. At the same time, the non-agricultural employment data in March and April was significantly revised, and the number of new non-agricultural jobs in March was revised from 165,000 to 217,000; In April, the number of new non-agricultural jobs was revised up from 253,000 to 294,000.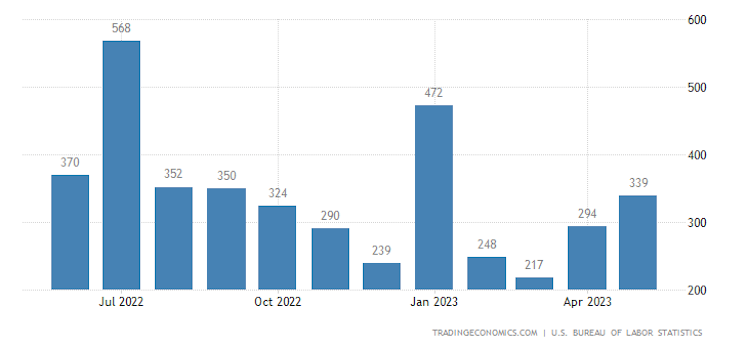 United States Non Farm Payrolls
Among them, education, medical care, commerce, leisure accommodation and other service industries are still the main sources of employment growth. Previously, due to the mismatch of the labor market, some vacant positions in the service industry were supplemented.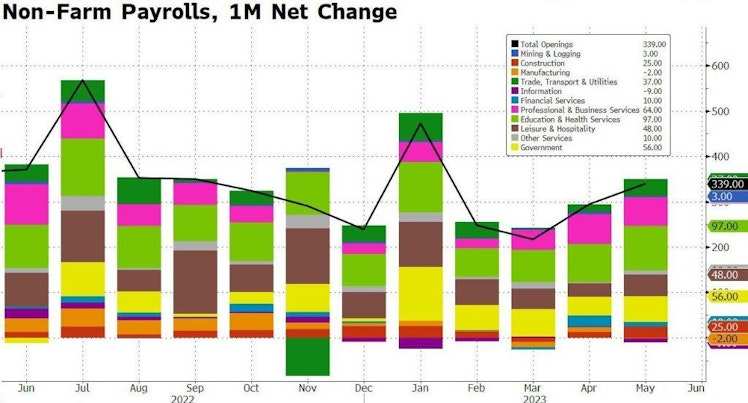 On the other hand, paradoxically, the unemployment rate rose by 0.3 percentage points from last month to 3.7%, and the number of employed people in the household sector survey decreased by 310,000.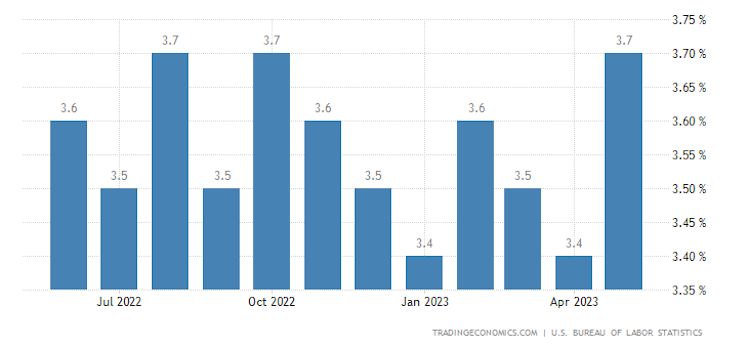 United States Unemployment Rate
At the same time, the growth rate of hourly wage slowed down, with a month-on-month increase of 0.3%, in line with expectations, with a year-on-year increase of 4.3% and lower than the expected value of 4.4%.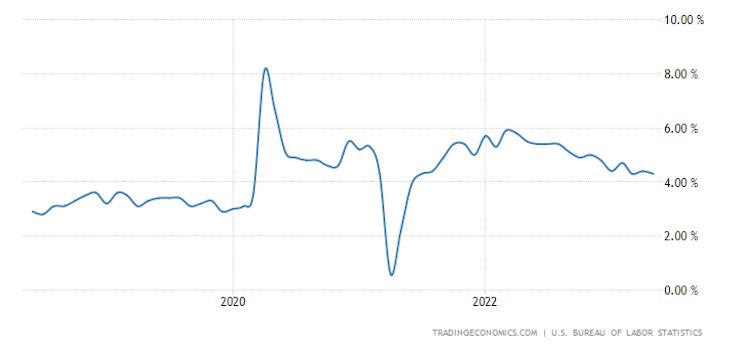 United States Average Hourly Earnings YoY
The gap between business survey data and household survey data widened, and household survey data unexpectedly showed the biggest decline since April 22, reducing 310,000 jobs. And the weekly working hours also declined from last month.
These factors help to reduce the worry about wage inflation.
As we mentioned before, enterprise survey and household survey have their own advantages and disadvantages, and the difference is mainly because:
A. From the sample size,The sample size of enterprise survey is much larger than that of household survey. This makes the former statistically less error, so it is intuitively more reliable.
B. From the perspective of survey scope, the household survey covers a wider range because it interviews individuals in different families, not limited to groups employed by enterprises and institutions. For example, the survey includes unincorporated self-employed persons, unpaid domestic workers, agricultural workers and private domestic workers that cannot be covered by the enterprise survey.
C. Household surveys do not double-count the employment of individuals because they are interviewed, but There may be double counting in enterprise survey For example, one person works in multiple jobs.


Does this employment data support the Fed to continue its rate hike, or does it support US stocks to move to new highs?
The Federal Reserve will hold a meeting on interest rates in June, but officials in rate hike are still divided. One view is that the current data is not enough to support stopping the rate hike and supporting the further tightening of monetary policy. Those who hold this view include Dallas Fed Chairman Logan, Atlanta Fed Chairman Bostic, St. Louis Fed Chairman Brad and other officials. Another view tends to suspend the rate hike to wait for more economic data to be released. Those who hold this view include Federal Reserve Chairman Powell, Vice Chairman Jefferson, Philadelphia Fed Chairman Haka, Chicago Fed Chairman Goolsby and others.
So the problem now is that if you look at the non-agricultural employment data, you obviously support the rate hike in June; If you look at the changes in unemployment rate and wage growth rate, you can also suspend it for one month and consider it in July. In this way, whether there may be a rate hike in June or not, the vote of Fed officials may be very divided.
However, US stocks didn't take rate hike seriously at all.
The US stock market led by the Nasdaq index has broken through one after another. At the same time, it measures the volatility of the S&P 500 S&P 500 Volatility Index (VIX) It has also fallen back to 14.6, the lowest since the outbreak on February 14, 2020. Investors' pricing of downside risk protection is extreme, as if there is no downside risk.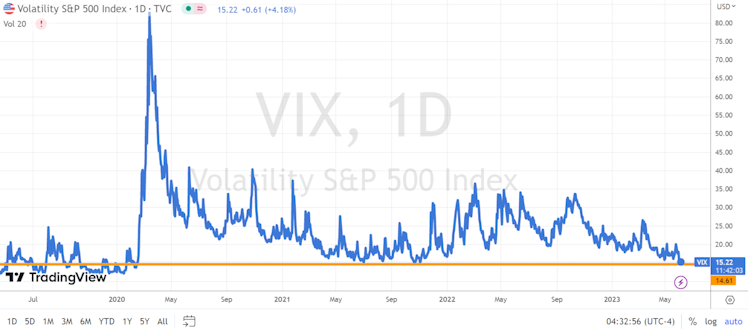 This includes hedge funds that have been allocating less to technology stocks (relative to the broader market) since the beginning of this year, according to $GS Their positions in the seven major technology stocks are 15% lower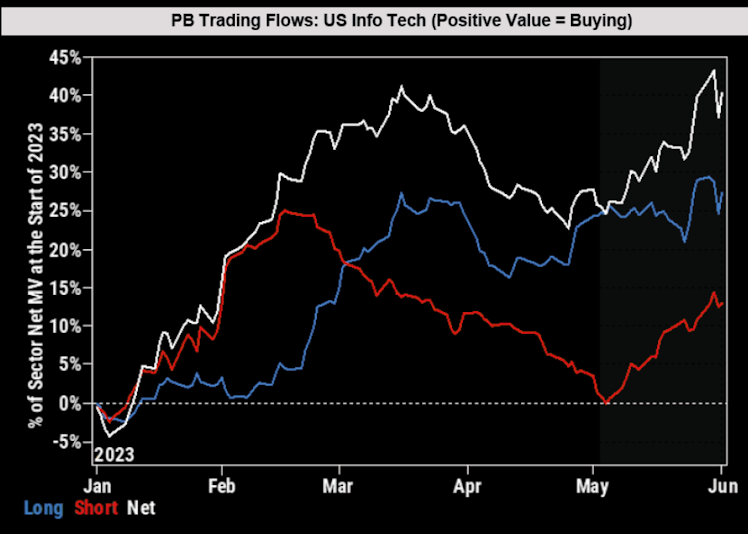 Who will support the new high of US stocks next?
Disclaimer: Community is offered by Moomoo Technologies Inc. and is for educational purposes only.
Read more
7