Apple WWDC 2023: A new catalyst for the company's stock?
Views 337K
Contents 68
Should we join Unity's newest partnership with Apple?
With the advent of the traditional "one more thing" of the Jobs era,
$Apple
(
AAPL.US
)
$
CEO Tim Cook introduced the highly anticipated VR eyewear product Apple Vision Pro at WWDC on Monday.
Although the final market size of this product is still unknown, the current price of around $3,500 may deter many consumers from buying it.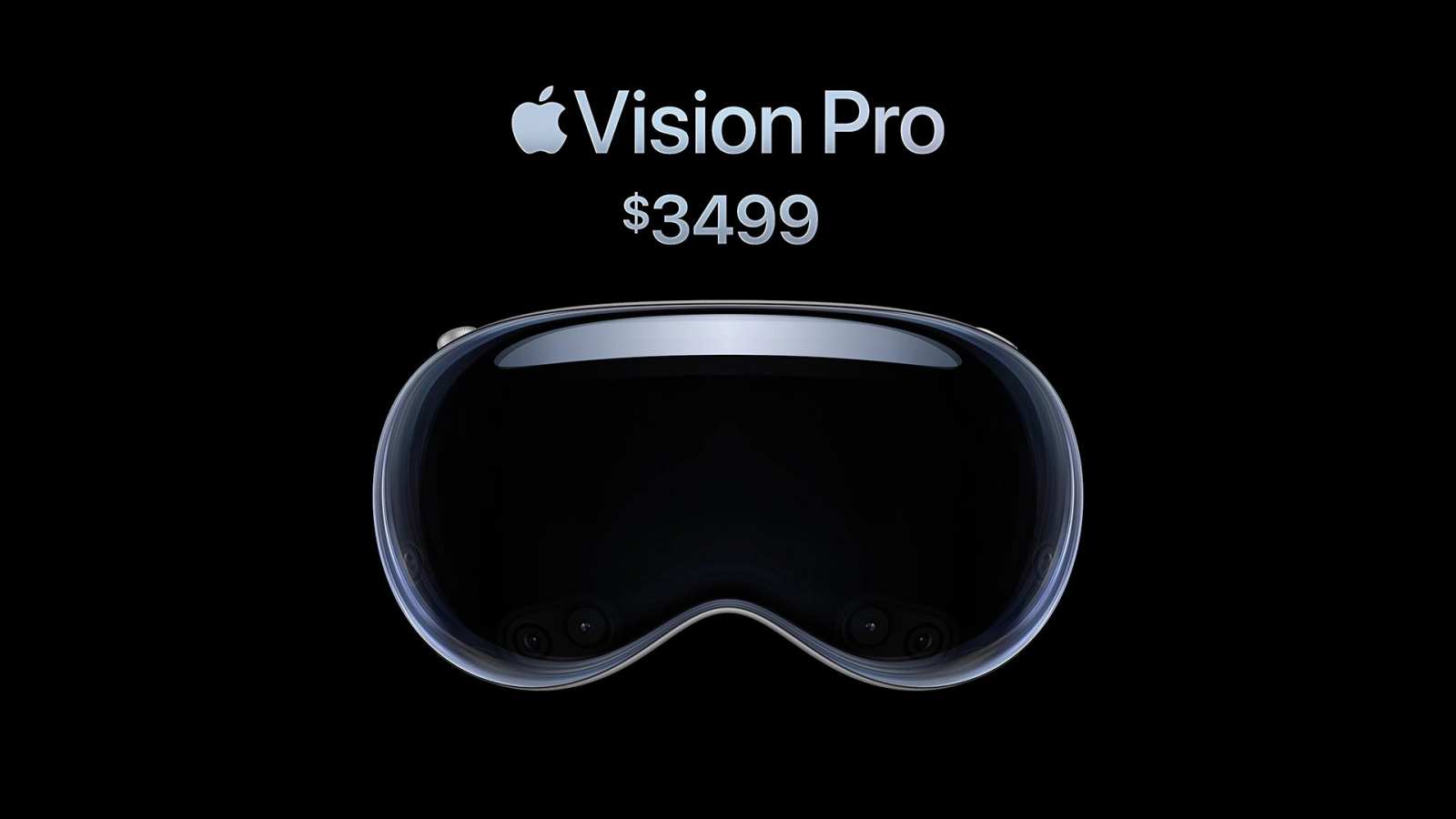 Apple Vision Pro Headset Apple Vision Pro headphones


However, the technology itself is fascinating. Vision Pro will allow users to see a larger screen through headphones and use their eyes, hands, and voice to control it instead
$Meta Platforms
(
META.US
)
$
Oculus, which relies on an external hand controller.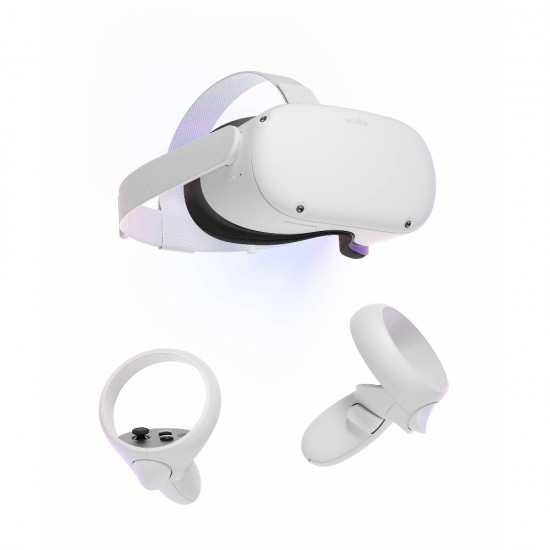 Quest 2 Mission 2


Currently, the most mature commercial application of virtual reality is gaming. Apple mentioned that it's and
$Unity Software
(
U.US
)
$
During the incident, Unity's stock price soared on Monday, and even triggered a suspension of trading, which ended with a 17% increase.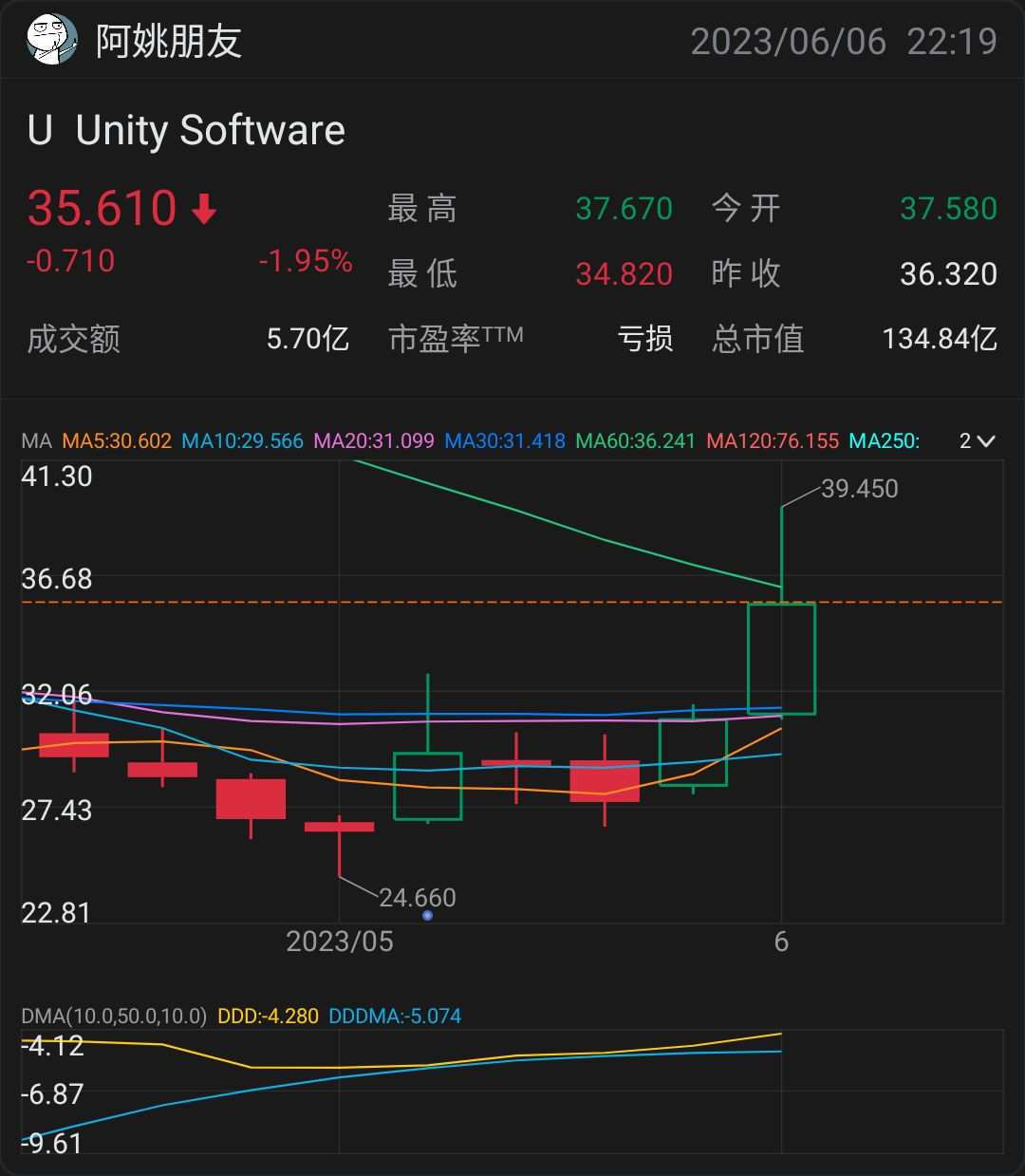 What kind of company is Unity?
Unity is one of the most widely used game engines by mobile game developers around the world. It was founded in 2004 and focuses on the creation and operation of real-time 3D interactive content, providing the foundation for later construction of various AR and VR interactive experiences. In addition to Apple's iOS, developers can also efficiently and conveniently develop cross-platform applications on Unity. These apps can be created and deployed on more than 20 platforms such as Windows, Mac, iOS, Android, and PlayStation
$Sony
(
SONY.US
)
$
, Xbox
$Microsoft
(
MSFT.US
)
$
,
$NINTENDO CO LTD
(
NTDOY.US
)
$
Switch, and leading AR and VR platforms.
For example,
$TENCENT
(
00700.HK
)
$
"Wang Zhe Rongyao" and
$Activision Blizzard
(
ATVI.US
)
$
The "Hearthstone" clients are all developed using Unity3D. Relying on the Unity3D game engine, these companies have maintained rapid growth in the virtual reality and augmented reality industry, bringing opportunities to Unity. VR applications usually have high requirements for the transmission speed of high-definition 3D scene data. With the advent of the 5G era and the increase in bandwidth throughput, fundamental changes in products have become possible.
Unity's business consists of three parts: operating solutions, creating solutions, and others. It mainly focuses on the first two parts.


Operational solutions account for more than half of the company's revenue, with the majority coming from advertising and cloud services. The e-cloud business mainly uses basic tools to process in-game data, while the advertising business uses precise positioning to generate revenue through profit sharing. Revenue from targeted advertising is largely determined by the number of customers and the ability of the algorithm to increase GMV conversion rates.


Creation solutions mainly refer to game engine software that enables creators to easily develop, edit, and iterate on interactive 2D and 3D content in real time.


Additionally, Unity provides customers with tiered subscription plans based on their revenue, offering solutions at different prices ($0-1,800) to meet the needs of users at different stages, and tailor-made editions for different industries.


Other business activities include strategic partnerships with hardware/gaming console/equipment manufacturers. Despite the current challenging environment across the entertainment and leisure industry, Unity's recent acquisition of Weta and ironSource is expected to bring additional value to the company. Weta's tools are expected to be profitable starting in 2023, and the integration with ironSource has brought benefits to Unity, improving the performance of both networks.


What is Unity's financial situation?
In Q1 2023, Unity's revenue reached 500 million US dollars, an increase of 56% over the previous year. However, excluding the acquisition portion and based on a comparable benchmark, revenue actually declined by 2% rather than increased. Additionally, revenue for Q2 is expected to increase 72-75% over the previous year, and 6-8%, taking into account comparable benchmarks. Notably, there were currency monetization issues in the second quarter of 2022, so adjusted revenue is likely to be the same as the previous year.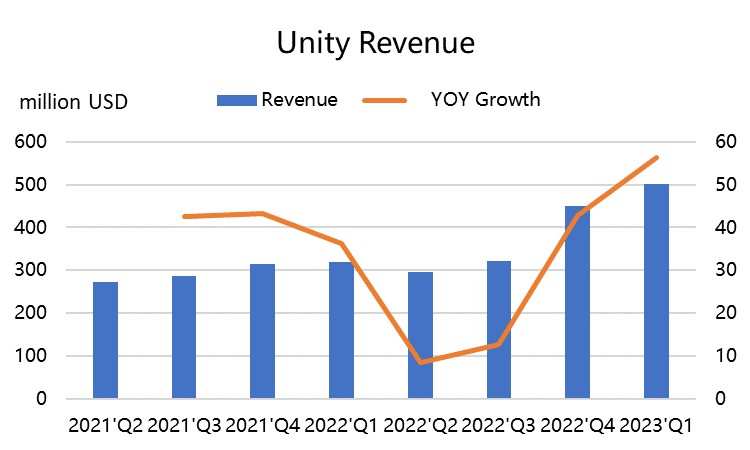 Specifically, create solutions' revenue increased 14% year over year in the first quarter, and after excluding revenue from strategic partners, the growth rate was 17%. The growth rate has slowed compared to before, and Unity attributes this to the company moving away from professional services and becoming more dependent on partners to implement projects. The decline in revenue is partly due to a decline in professional services. Unity is reducing the importance of professional services and increasing utilization with partners such as Booz Allen and Capgemini. These partnerships help customers implement digital twins, Bosch Allen is more involved in government projects, and Capgemini operates in various industries such as energy. Partnering with these partners helps Unity expand its creative business and continue to benefit from highly profitable cloud revenue. However, the company's customer churn rate is still low and has improved over time.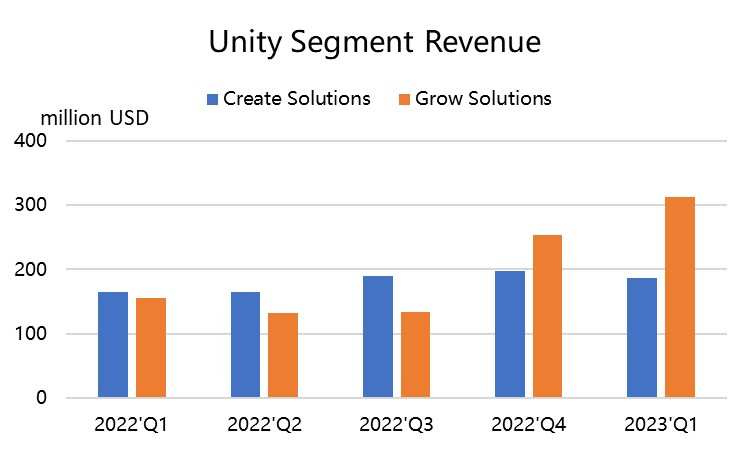 The operating services business is still facing resistance in a weak macroeconomic environment where the overall situation is weak, but growth is expected to accelerate in 2023, thanks to the synergy between Unity and ironSource. For example, ironSource's ad network is moving to a more advanced Unity ML model, while Unity's ad network uses ironSource's bidding model.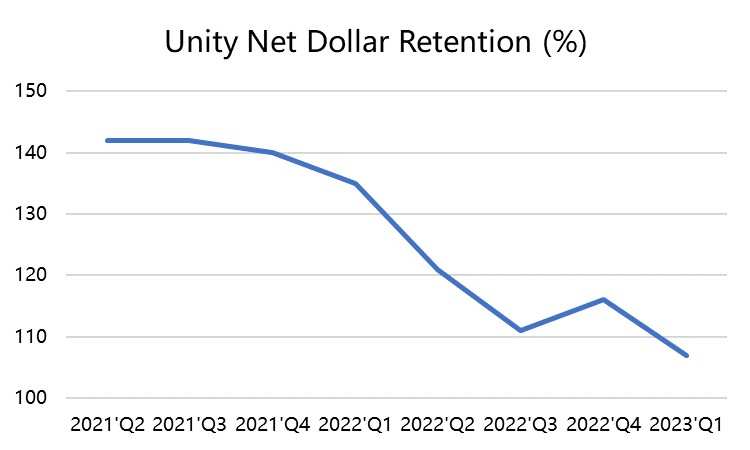 Regarding customers, Unity's number of major customers has stabilized or declined in recent quarters. Currently, Unity relies on the acquisition of ironSource to sustain the current situation, which is likely more the result of a slowdown in consumer growth than a loss of customers. The company's remaining performance obligation (RPO) currently stands at $559 million, down from $620 million in the previous quarter. Deferred software revenue also fell to around $300 million from around $320 million in the previous quarter.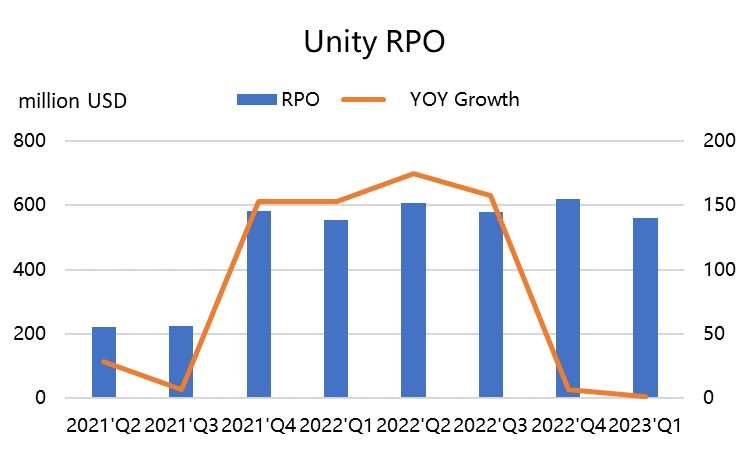 In terms of profitability, gross margin continues to decline; however, this situation is expected to reverse as Weta's business is monetized more quickly. Additionally, the company is undergoing ongoing layoffs, including reducing the number of management teams, in part to absorb recently acquired companies and achieve cost synergies.


Is Unity worth buying right now?
First, whether it's VR, AR, or AI, Unity has a great opportunity to benefit from it. Generative artificial intelligence will be a huge driving force in the gaming industry, making it easier to build 3D experiences and enabling new experiences that are currently impossible.


Unity is developing editor tools and plans to open up a generative AI marketplace to profit from advancements across the ecosystem. This includes the Unity editor and the Unity runtime.


Additionally, Unity recently increased prices for some subscription services, but the impact on customer churn was minimal. This shows the company's strong competitive position and shows that the company has higher pricing power. In the future, growth is expected to come from usage, as Unity believes there is great potential to increase taxable revenue over time as developers begin using more artificial intelligence tools and building a more advanced world.


On the valuation side, since positive EBITDA profits have just begun, the company is currently better placed to compare with peers based on revenue multiples. Of course, some investment banks base their profit expectations after 2024 and discount them to calculate target prices.


Comparing the overall revenue multiplier with the industry, Unity's revenue multiplier (EV/sales) is 8.7 times, which is 6.6 times higher than the industry average. However, if the valuation were divided into two parts based on the potential of the developer's business with operating services multiplied by 9 and multiplied by 3, and using Unity's projected market revenue for 2024, the valuation would be $40 per share.


More optimistic investors are likely to value them based on higher revenue expectations.


So for Unity, the short-term price has already reached a position close to the target valuation, so it's definitely not economical to go short. In the future, as performance exceeds or falls short of expectations, the stock price is likely to change even more. Considering the current cooperation with Apple, there will be more market capital inflows, leading to a certain degree of premium in stock prices.
Disclaimer: Community is offered by Moomoo Technologies Inc. and is for educational purposes only.
Read more
5
1