Moo Earnings Collections
Views 20K
Contents 116
NVIDIA Q1 FY24 Earnings Highlights
[Rewards] Nvidia spiked on Q1 earnings' jaw-dropping beat, driven by A.I. chip demand
Claim your Earnings Season offer by winning

Rewards Points

and discovering

Investment Opportunities!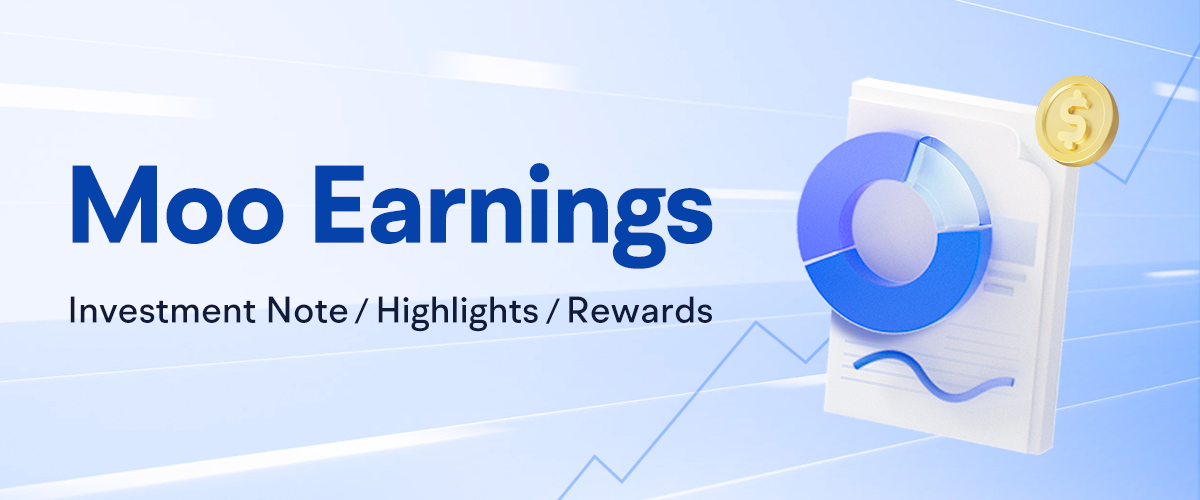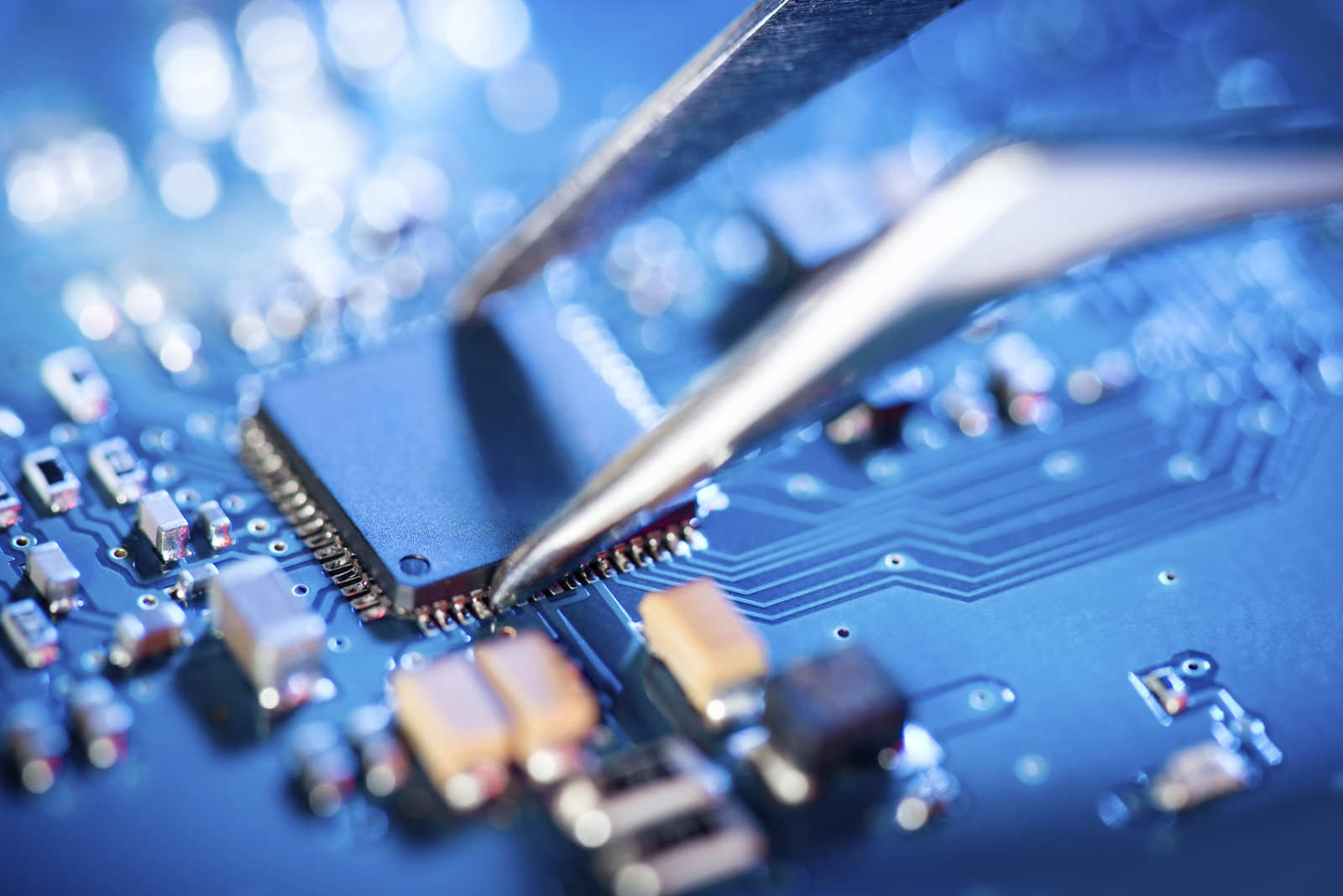 ● Q1 revenue was $7.19 billion, down 13% YoY (year-on-year) but up 19% from the previous quarter. Specifically, Data Center revenue was a record, up 14%, led by growing demand for generative AI and large language models.
● Quarterly GAAP

net income was $2,043 million,

which increased 26% YoY and 44% from the previous quarter.
● Non-GAAP earnings per diluted share were $1.09, down 20% YoY but up 24% from the previous quarter.
● During Q1 FY 24, NVIDIA returned shareholders $99 million in cash dividends. Besides, NVIDIA will pay the next quarterly cash dividend of $0.04 per share on June 30, 2023, to all shareholders of record on June 8, 2023.
● For the Q2 FY24 Outlook, revenue is expected to be $11.00 billion, plus or minus 2%, up 64.2% YoY.
● For the Q2 FY24 Outlook, GAAP and non-GAAP gross margins are expected to be 68.6% and 70.0%, respectively, plus or minus 50 bps.
● For the Q2 FY24 Outlook, GAAP and non-GAAP operating expenses are expected to be about $2.71 billion and $1.90 billion, respectively.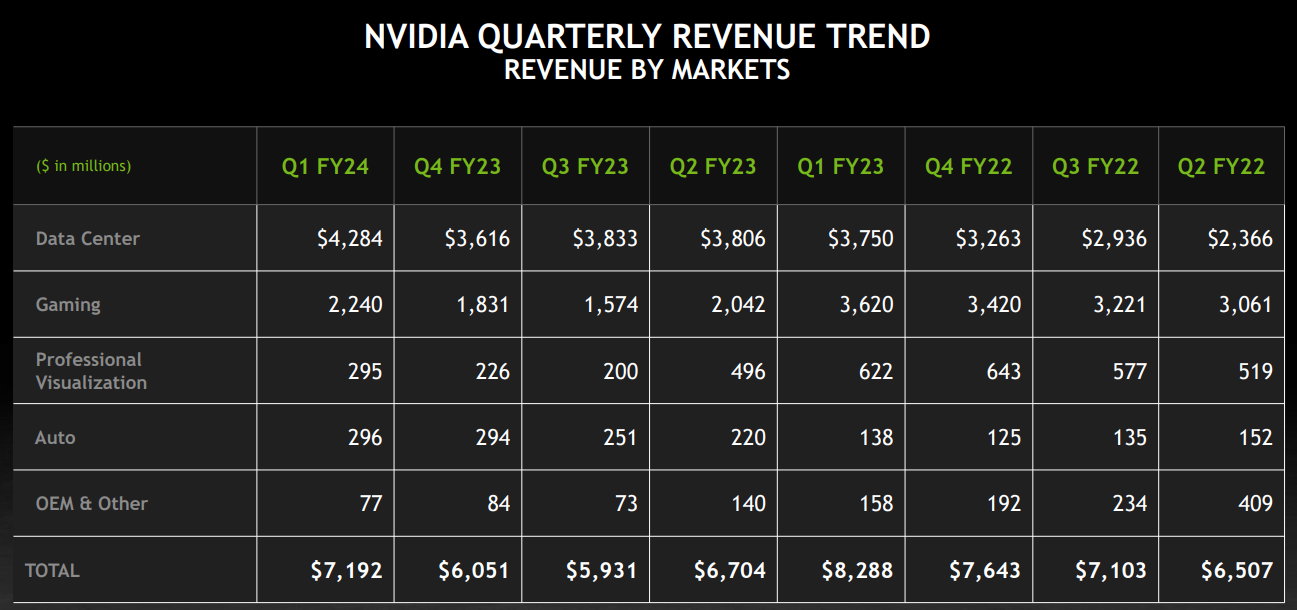 ● The computer industry is going through two simultaneous transitions — accelerated computing and generative AI. A trillion dollars of installed global data center infrastructure will transition to accelerated computing as companies race to apply generative AI," said Jensen Huang, CEO of NVIDIA.
● In the Data Center sector, Nvidia launched four inference platforms that combine the company's full-stack inference software with the latest NVIDIA Ada, NVIDIA Hopper

, and NVIDIA Grace Hopper

processors.
● In the Gaming sector, Nvidia launched the GeForce RTX 4070 GPU based on Ada architecture, which enables DLSS 3, real-time ray-tracing, and the ability to run most modern games at over 100 frames per second at 1440p resolution.
● In the Automotive sector, the company announced that the leading electric vehicle maker BYD plans to extend its use of NVIDIA DRIVE Orin

across new models.
● The PE ratio of Nvidia shares is higher than approximately 96% historical percentile in the recent two years. Also, the global semiconductor industry might still be in a downward cycle.
● For Nvidia's newest chips, the most likely alternative would be AMD's upcoming Instinct MI300 chip, which will be launched this year.
By May 24, 2022, NVDA shares had

risen more than 100%

since the beginning of 2023,

outpacing

the S&P 500 (.SPX), which was

up about 7%

during the same period (Source: moomoo APP).
How do you see Nvidia currently? What's your opinion or analysis about it? Speak out with mooers and get inspired by sharing!
1) Inspiration Reward:

Based on comment originality, quality and engagement, one mooer has the chance to

win 600 points!

The other two mooers will

win 300 points each!
2) Participation Reward:

We will provide

60 points for everyone

who comments here with relevant posts over 15 words. For sure, any comment is welcome!
*You can exchange abundant gifts at the Rewards Club. Comments before June 9 ET will be counted. The above rewards are mutually exclusive.
Comments above are made available for informational purposes only. Before investing, please consult a licensed professional. *Source of data:

https://news.moomoo.com/notice/147559097#

This presentation is for information and educational use only and is not a recommendation or endorsement of any particular investment or investment strategy. Before investing, please consult a licensed professional. See this
link
for more information.
Disclaimer: Moomoo Technologies Inc. is providing this content for information and educational use only.
Read more
1
1
1
1
21