Earnings Preview Collections
Views 16K
Contents 62
AMD Q1 2023 Earnings Preview: Grab rewards by guessing the closing price!
● An equal share of 1,000 points:
For mooers who correctly guess
AMD's
closing price range
on
3 May ET
by
2:30 PM, May 3 ET.
(e.g., If 50 mooers make a correct guess, each of them will get 20 points.)
● Exclusive 300 points:
For the writer of the top post on analyzing
AMD's
earnings preview as an inspiration reward.
*The selection is based on post quality, originality, and user engagement.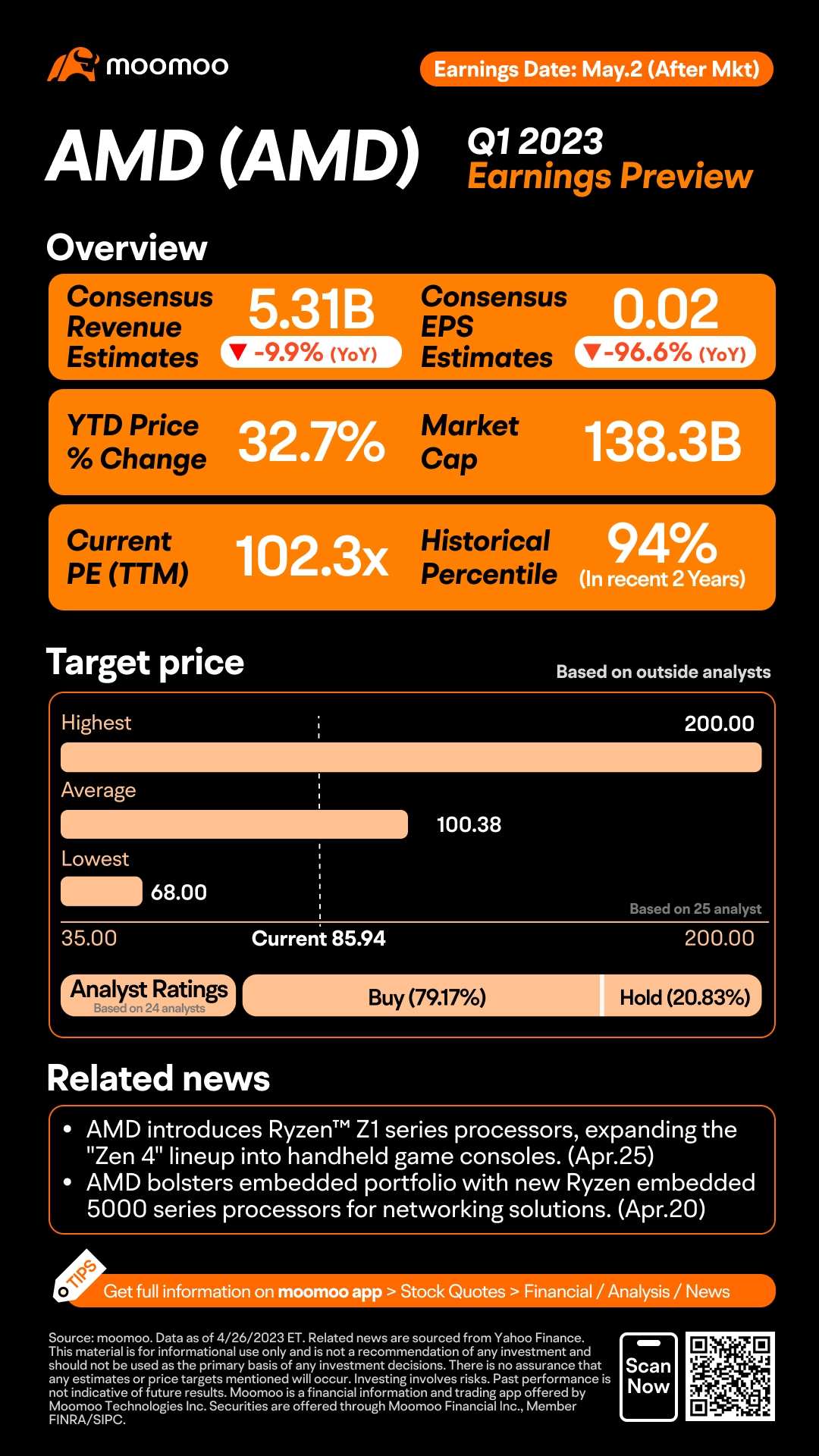 Note:
1. Rewards will be distributed within 5-7 working days after the result's announcement.
2. Rewards can be used to exchange gifts at the Rewards Club (moomoo app >> Me >> Redeem Points).
Book the Live Earnings Conference:
AMD Q1 2023 earnings conference call
This presentation is for information and educational use only and is not a recommendation or endorsement of any particular investment or investment strategy. All contents such as comments and links posted or shared by users of the community are the opinion of the respective authors only and do not reflect the opinions, views, or positions of Moomoo Financial Inc., Moomoo Technologies, any affiliates, or any employees of MFI, MTI or its affiliates. The reward selection shall be made upon moomoo's sole discretion and determination. Points may be redeemed only through the moomoo app and have no other value. Please consult with a qualified financial professional for your personal financial planning and tax situations. See this
link
for more information.
Disclaimer: Moomoo Technologies Inc. is providing this content for information and educational use only.
Read more
1
1
1
1
4
45