McDonald's Reports Strong Q1 Earnings
McDonald's
$McDonald's
(
MCD.US
)
$
reported first-quarter earnings and revenue that exceeded analysts' expectations, driven by strong sales of core menu items such as Big Macs and Shamrock Shakes in the United States.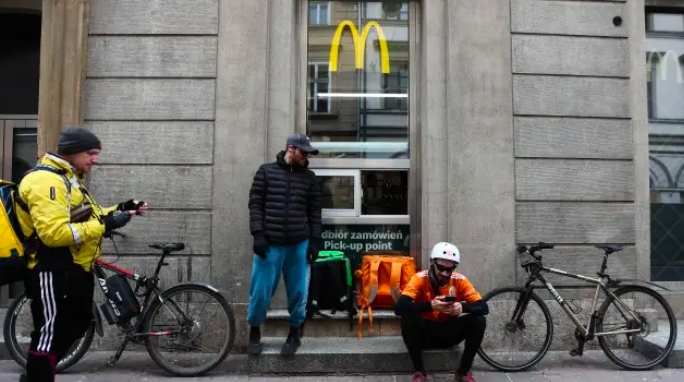 The fast-food giant reported first-quarter net income of
$1.8 billion
, or
$2.45 per share
, up from
$1.1 billion
, or
$1.48 per share
, a year earlier. McDonald's earned
$2.63 per share
, excluding restructuring charges and other items.
The company saw a
4%
increase in net sales to
$5.9 billion
, with all three of its divisions reporting same-store sales growth of
12.6%
. In the United States, higher menu prices and increased traffic fueled same-store sales growth, which topped StreetAccount estimates of
7.9%
.
Additionally, U.S. traffic rose for the third consecutive quarter, defying the industry trend of slipping traffic as menu prices rise. Fast-food chains such as McDonald's have traditionally fared well during times of economic uncertainty as consumers trade down to cheaper meals.
The company is working to enhance the taste of its burgers through small touches, like adding more Big Mac sauce and using softer hamburger buns. The new burgers have already been rolled out in many West Coast cities, and CEO Chris Kempczinski stated that consumers' initial reactions have been positive.
While domestic restaurants have performed well in recent quarters, U.S. franchisees have been pushing back against policy changes made by the company's management, such as the Performance and Customer Excellence system, which was implemented in the United States in January to evaluate franchisees' restaurants.
However, executives at McDonald's reiterated their confidence in the company's ability to weather potential economic downturns later in the year, noting that McDonald's has historically performed well in both good and bad times.
Despite these challenges, all three of McDonald's divisions reported same-store sales growth of
12.6%
.
Looking ahead, McDonald's is poised to continue expanding its international presence, particularly in Asia. Its international developmental licensed markets segment, which includes China and Japan, topped same-store sales expectations of
10.5%
, and the company reported steady recovery in China, which ended its zero-Covid policy in December.
Disclaimer: Community is offered by Moomoo Technologies Inc. and is for educational purposes only.
Read more