Hey! I found an awesome feature!
Views 11K
Contents 46
Mooer Stories Behind 10 Star Product Features: Paper Trading
Here is the eighth story in the Mooer Stories Behind 10 Star Product Features series. If you have any similar stories to share, feel free to leave them under topic
Hey! I found an awesome feature!
to win points!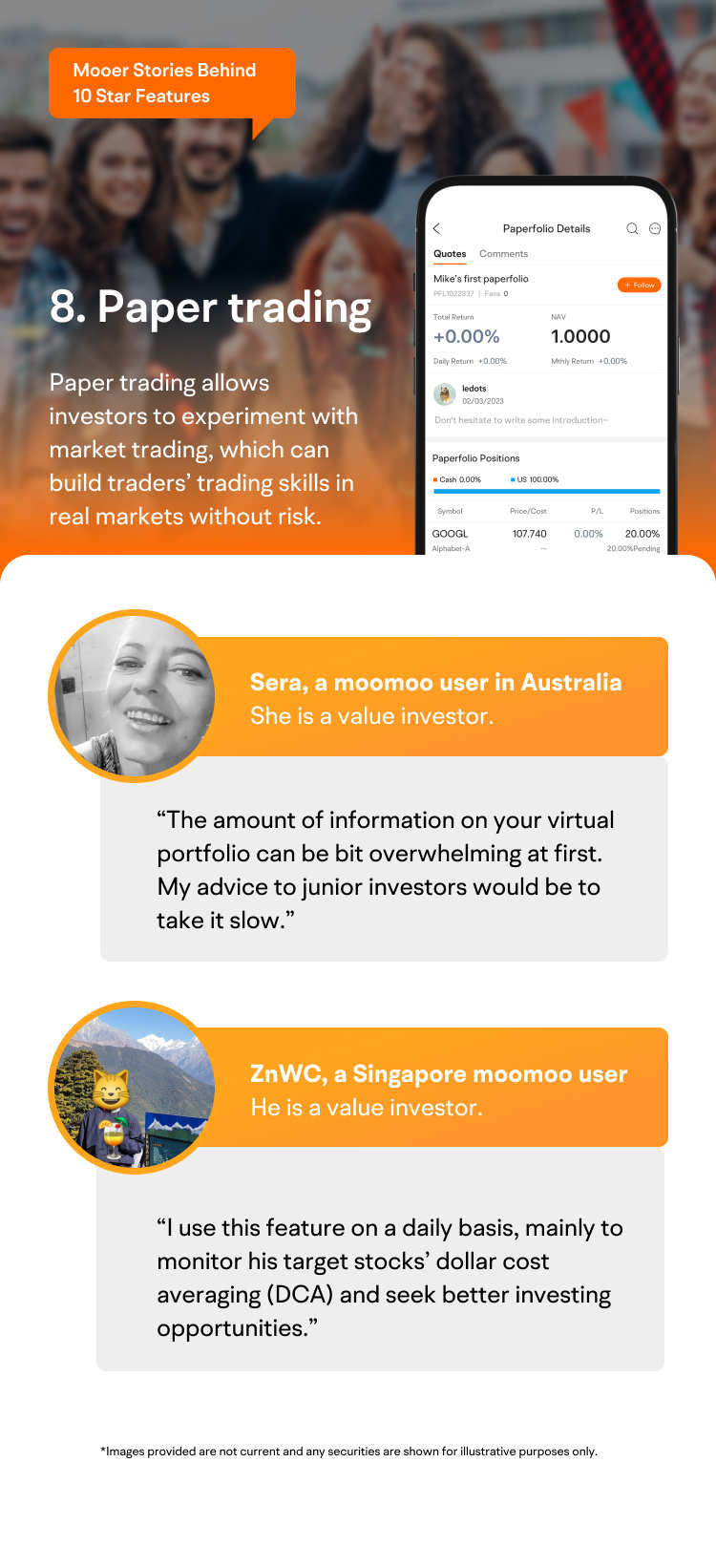 Key Words: value investor, long-term investor, intraday trader
Sera likes moomoo's
paper trading
feature because it has great tools, coupled with detailed company information and up-to-date news and analysis. She believes this feature will be a good starting point for those who are new to moomoo or learning to trade from scratch.
"The amount of information on your virtual portfolio can be bit overwhelming at first. My advice to junior investors would be to take it slow," she said. Sera takes several steps to study a company with the paper trading feature before she considers investing with her real account.
First, she conducts research, reading their latest news and factual articles to get a sense of the target company's actual value. The track charts and trends also provide helpful information. The one-month, four-hour, one-day and one-week charts are Sera's most used charts.
In addition to MACD, OBV①, RSI and other basics, she also closely monitors the stock's volume and turnover against the price changes, which shows how much pressure there is on either the buy or sell side.
The information she obtains from the virtual portfolio gives her a better idea of market sentiment.
Moreover, Sera has three key stocks in her portfolio, both real and virtual. These three companies are well researched, and she believes these three will likely perform well. She practices different strategies with the paper trading feature, combining other stocks with the three key stocks.
"By watching market sentiment closely in my virtual portfolio, I managed to find some beautiful entry and exit points in reality," Sera said.
However, investing is not always smooth and successful. Sera recalled a time when she bought some shares in a company amid what she believed was a dip, but it was actually a downtrend with just some small jumps.
"I got a bit impatient at that time, and I sold them before they really peaked again," Sera said. "But monitoring my virtual portfolio definitely makes it easier for me to realize that the stock was trending down. This is the cost of learning. But how heavy the price depends on what you have learned."
Key Words: value investor, long-term investor
To ZnWC, the paper trading feature is a handy tool to test his trading strategies and ideas. He uses this feature on a daily basis, mainly to monitor his target stocks' dollar cost averaging (DCA)③ and seek for better investing opportunities. Recently, he is learning and practicing option trading with his virtual portfolio as well.
ZnWC keeps good self-study habits such as writing journals and trading notes to learn from previous mistakes and prevent repeating them. He reviews his virtual portfolio from time to time and summarizes lessons learned from it to polish his investing skills.
"I consider myself as a long-term investor, and normally I will not sell the stocks unless the company's fundamental aspect has changed. However, I also trade for profit if I find the conditions right," ZnWC told moomoo.
"It is about choosing the lifestyle you want to live. I wanted to prepare for my retirement when I started investing. But after in-depth study and practice, I decided I also want to build wealth to beat inflation by investing and support other investors by writing and sharing my learnings."
①
On-balance volume (OBV) is a technical trading momentum indicator that uses volume flow to predict changes in stock price. OBV shows crowd sentiment that can predict a bullish or bearish outcome.
③
Dollar Cost Averaging is the practice of investing the fixed amount of money in a target security at regular intervals over a certain period of time.
Again, this is the eighth story from our Mooer Stories Behind 10 Star Product Features series. If these stories resonate with you, you are welcome to join them and make your voice heard under topic
Hey! I found an awesome feature!
. We are very much looking forward to your stories and are ready to reward you with points every week!
Disclaimer: This presentation is for information and educational use only and is not a recommendation or endorsement of any particular investment or investment strategy. See this
link
for more information.
Disclaimer: Moomoo Technologies Inc. is providing this content for information and educational use only.
Read more
2
10