Hey! I found an awesome feature!
Views 9053
Contents 34
Mooer Stories Behind 10 Star Product Features: Stock Profile and Financials
Here is the second story in the Mooer Stories Behind 10 Star Product Features series. If you have any similar stories to share, feel free to leave them under topic
Hey! I found an awesome feature!
to win points!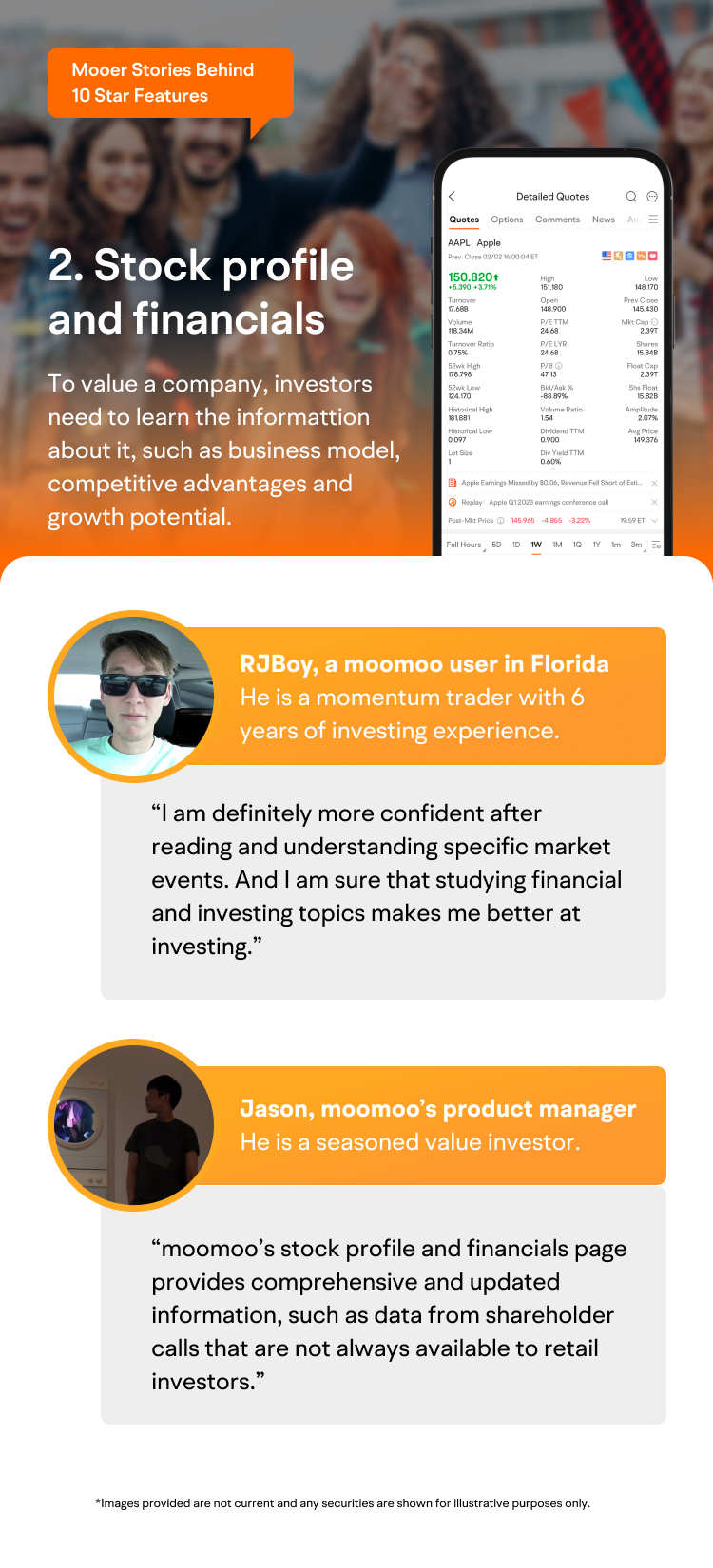 Key Words: momentum investor, short-term investor
After gaining profit from the stock split① of an electric vehicle (EV) maker in 2020, RJBoy, a US moomoo user, has achieved some milestones in his investing career. He shared what he had learned from investing in a stock split with moomoo.

"I realized taking profits in such company actions could make investing more efficient than simply holding the stock for a long time," he said. "Normally I treat a stock split as a positive signal of future growth because the company is issuing more shares to attract more investors. Generally, the company takes such an action in good market conditions to increase its liquidity. Because I rode this momentum, I gained profits after purchasing the EV shares."

Since then, RJBoy keeps monitoring financial data and other actions related to the companies in his portfolio closely. Every week, he follows those companies' earnings calls and announcements, especially those regarding institutional investors' activities. He proactively researches this information via various news outlets, blogs, newsletters and moomoo app. He also tries to expand financial knowledge through moomoo's study plan feature, and he is taking courses related to options now.

"I am definitely more confident after reading and understanding specific market events." he said. " I am sure that studying financial and investing topics makes me better at investing."
Key Words: value investor, long-term investor
As a resolute proponent of value investing, moomoo's product manager Jason believes that a company's financial and operation data are the most important and relevant reference to investors.

He highlights two advantages about moomoo's stock profile and financials page. First, the information and insights provided in the moomoo app are comprehensive and updated. With a dedicated team regularly updating the data, moomoo provides information collected from highly reliable and timely sources including shareholder calls that are not always available to retail investors.

Second, moomoo's product team works towards the goal of helping users easily visualize the data, presenting it via charts and graphics to improve users' understanding.

Apart from the regular financial data, Jason highly recommends the "business data"② function to value investors. It includes information such as total vehicle deliveries of a car manufacturer, the daily active users of a social media company, the gross merchandise value of an e-commence platform and more. Business data represents the operation and the performance of a company's main business and is very helpful to fundamental analysis of individual stocks.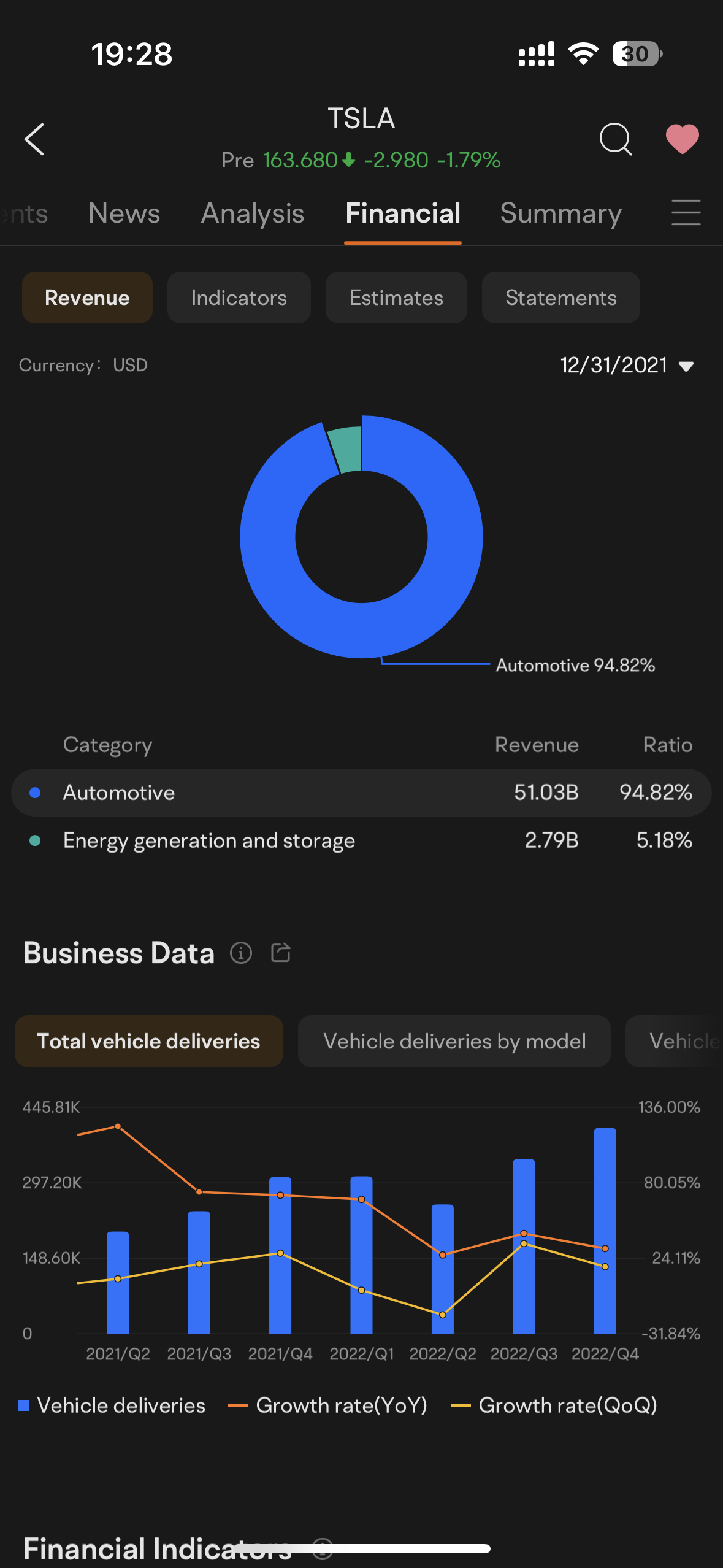 With a solid background in finance and investing, Jason developed his own method to value a company. He regularly collects financial and operation data for his target companies and builds separate spreadsheets with Excel.

"Normally I will have five to 10 companies on Excel spreadsheets. I update the variables and monitor their actions and developments," Jason said.

In addition to the key data released quarterly from company earnings, he follows the company's announcements about mergers, acquisitions and financing. "As a value investor, I only trust the company announcements, statements and official documents. I understand that investors receive tons of market rumors every day, but I never take them into consideration when making my investing decisions. As a long-term investor, I am extremely cautious about information that is not clarified," He added.
①A stock split is a corporate action in which a company issues additional number of shares to shareholders. The purpose of a stock split is normally to boost the stock's liquidity.
②Business data of individual stocks helps users understand the operation and value of a company in-depth. Moomoo's business data feature now covers 120 listed companies across various markets.
Again, this is the second story from our Mooer Stories Behind 10 Star Product Features series. If these stories resonate with you, you are welcome to join them and make your voice heard under topic
Hey! I found an awesome feature!
. We are very much looking forward to your stories and are ready to reward you with points every week!
Disclaimer: This presentation is for information and educational use only and is not a recommendation or endorsement of any particular investment or investment strategy. See this
link
for more information.
Disclaimer: Moomoo Technologies Inc. is providing this content for information and educational use only.
Read more
3
18