Why it may be time to sell the pop in tech stocks: BlackRock
$Blackrock
(
BLK.US
)
$
It's time to take profits on tech stocks — the early sector winner of 2023 — as the Federal Reserve may soon dash hopes for a pivot on interest rates, says Gargi Chaudhuri, BlackRock's Head of iShares Investment Strategy Americas.
The strategist noted that "investors should be positioning for the Fed to pause and not to pivot. Regardless of what the Fed's actual terminal rate is, we see the Fed staying on hold for a prolonged period as it assesses the impact of its policy."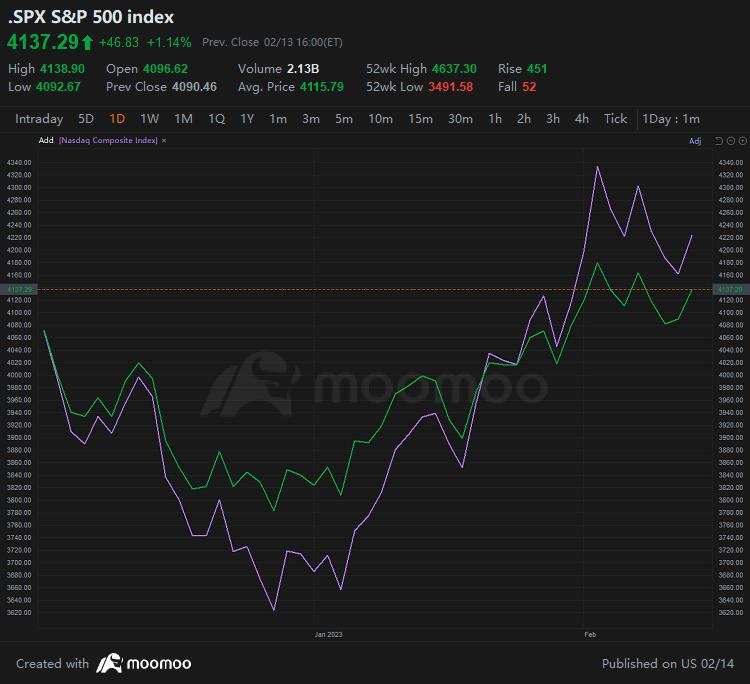 The potential for lower interest rates at some point later this year has fueled a strong rebound in tech stocks out of the gate in 2023.
Year to date, the tech-heavy
$Nasdaq Composite Index
(
.IXIC.US
)
$
has advanced an eye-popping 13.7%, outperforming the
$S&P 500 Index
(
.SPX.US
)
$
7.7% gain.
And household name tech stocks have enjoyed even heartier gains:
$Meta Platforms
(
META.US
)
$
has skyrocketed 49% in 2023,
$Netflix
(
NFLX.US
)
$
is up 20%, and
$Apple
(
AAPL.US
)
$
has increased 18%.
The strong increases in tech companies' market caps have come despite mixed fourth-quarter earnings and outlooks this month, not to mention a steady drumbeat of layoff news by the likes of
$PayPal
(
PYPL.US
)
$
,
$Microsoft
(
MSFT.US
)
$
, and
$Amazon
(
AMZN.US
)
$
.
Chaudhuri was particularly concerned about the pace of corporate earnings and how they don't appear to square with the rise in tech valuations.
That concern isn't misplaced: Fourth-quarter earnings for S&P 500 tech companies dropped 10.4% year over year, according to Bank of America, and sales for tech have been tracking down 1.7% from a year ago.
On top of that, 2023 earnings estimates for tech have fallen by 17% from June 2022 through early February, the BofA data showed.
Disclaimer: Community is offered by Moomoo Technologies Inc. and is for educational purposes only.
Read more
7