2022 Recap: The worst, the best, and the stories behind
Views 146K
Contents 266
2022 Recap Winner Announcement!
Recaps may prove beneficial as they provide an opportunity for us to review past trading behaviors and think about future strategies. During this recap season, hundreds of mooers have engaged in the discussion
"2022 Recap: the worst, the best, and the stories behind"
and shared with us their losses, gains, and visions. Below is the "word cloud" composed of mooers' comments about their 2022 trading journey. Let's take a look at the things mooers discussed most. Which word rings a bell for you? (The list of winners will be disclosed at the end of the article.)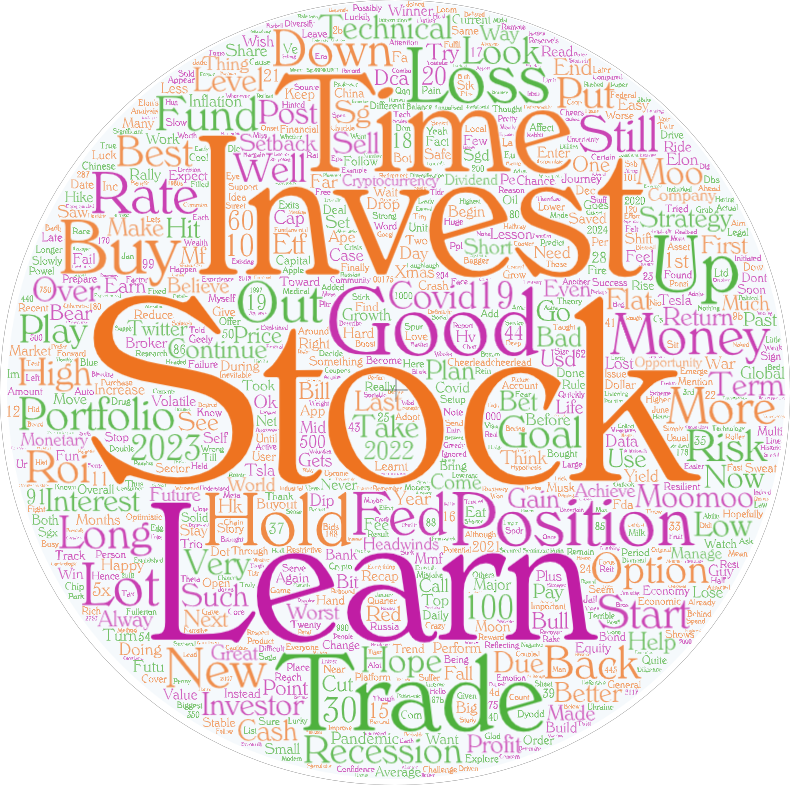 The words above are all selected from the relevant comments. They do not necessarily reflect the views of moomoo.
Do you remember the following three questions we posted before? We've compiled some great answers from mooers.
What were your goals at the beginning of 2022?
@doctorpot1
: At the beginning of the year, I had set out to try to be a Level 100 sociable user by posting useful content, as well as trying to hit a multi-bagger on stocks or hit a 30% ROI options play.
View More>>>
@ZnWC
: My long-term goal is to achieve FiRE (I have not achieved it fully yet) and to help others.My goal this year is to achieve financial independence. Unfortunately, there are setbacks because the economy is heading toward recession and the sources of passive income are diminishing.
View More>>>
@Milk The Cow
: My goal is to make money fast in 2022, since it is about the year I first joined the US stock exchange. Nope, I did not achieve my goal yet...
View More>>>
Are your trading strategies on track? Have you learned something new?
@SpyderCall
: The fact that this year was such a difficult year, unlike the past, I was forced to learn as much as possible about the world markets so I could understand why my long-term investments were suffering so badly.
View More>>>
@cola1010
: It's indeed a huge blow to my capital but I'm blessed to get awakened through self-reflection following that painful experience which has driven me to really learn about the Do's and Don'ts in stock investment. I finally realized that in the stock market, there's no falling pie from the sky, it's always the hard work and effort that pays off. I could have realized it late, but guess it's never too late to learn from our mistakes.
View More>>>
@agar agar
: During the dot com, the lesson learned was "remember to sell". In 2022, the lesson would be to keep your profits and cut your losses instead of trying to average your breakeven price whenever the share price drops every 20%.
View More>>>
How would you invest in 2023?
@anchovy3
: Going into 2023, my goal is to continue educating myself on different technical analysis indicators, and to keep watching for investment opportunities in the real world.
View More>>>
@huatgaogao
: Although the loom of recession is near and inevitable, my strategy will be slowly averaging down and collecting dividends in bad times, and hopefully in good times, they would revert back to their NAV.
View More>>>
@lightfoot
: 2023 I plan to double my portfolio. I use common sense and strong analytical reasoning. This is something I can't teach. My strategy is to pursue stocks with reasonable goals. I will anchor my portfolio with dividend stocks as a foundation, then buy solid stocks and some with a lot of risks. I am happy at 60%.
View More>>>
A big thanks to all participants for your great posts. Wish you all a fruitful year in 2023!
From all the great posts, we've picked out some amazing ones to award prizes. For those who didn't win a prize, please don't lose heart. There are more fascinating events ahead. You always have a chance to win!


Now, Let's unveil the winners and the prizes! They are:

$5 stock cash coupon:
@doctorpot1
@Blue chip
@ZnWC
@steady Pom pipi
@SpyderCall
@anchovy3
@Milk The Cow
@TTicker
@矜重的比尔
@MrZorro007
@mooapr21
@Ah keong
@huatgaogao
@cola1010

$1 stock cash coupon:
@Detroit-view
@Howling Forever
@JCEin
@Bad D3cisionz2
@Bubbleberrygum
@Briandavid1824
@Upncoming1841
@Cui Nyonya Kueh
@lightfoot
@lastnite24
@super squirrel
@ur wifes boyfriend
@barboo
@Heart n Eyes
@KWENlow
@agar agar

100 points:
@aspiring Rabbit_2907
@71750344
@Outside Trader
@PARK-SAN
@Slowslow
@allen kidd
@Mooon
@CountryTrader
@winner equities
@moo1024
@Mr Wealth
@101577279 Mark
@TomYocky
@70552867
@Selinna Puliston
@Dave Schulz
@Snowmobile
@102392341
@幸福往往来的太突然
and the other
33 mooers.
Congratulations! Our sincere gratitude goes to all participants for your thought-provoking recap stories!
For many, the trading journey in 2022 was bumpy and tough. However, there is always something we can learn from, be it from those heartrending pains or unforgettable joys. Just as one of our mooers
@SpyderCall
said, "One positive note about this bumpy year is that it was one of the best learning opportunities I've ever had." As we set foot on the threshold of 2023, let's keep positive about life, seek opportunities from fluctuations, and make the impossible possible!
Note: Due to the limitation of the length of this article, we are not able to show all the winners herein. All winners will receive prizes within 7 working days. Thank you for your patience.
This presentation is for information and educational use only and is not a recommendation or endorsement of any particular investment or investment strategy. See this
Link
for more information.
Disclaimer: Moomoo Technologies Inc. is providing this content for information and educational use only.
Read more
31
15K Views