Weekly Buzz: Stock market continues to heat up and the earnings season is coming
At the end of this post, there is a chance for you to win points!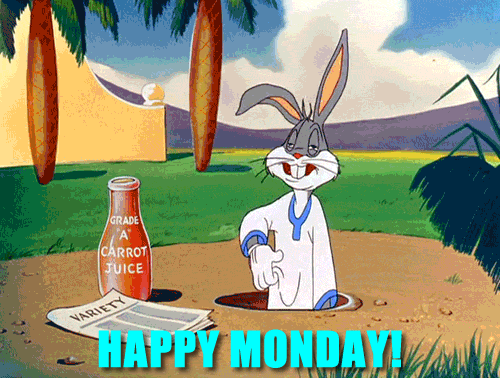 Source: Giphy
Happy Tuesday,
mooers!
Welcome back to
Weekly Buzz,
where we review the news, performance, and community sentiment of the selected buzzing stocks on the moomoo platform based on search and message volumes of last week (Nano caps are excluded).
Buzzing Stocks List & Mooers Comments
The Nasdaq was the outperformer for last week, posting a
0.55%
gain and its third positive week in a row. The Dow finished the week lower by
2.70%
, and the S&P posted a
0.66%
loss. (as of Jan 20, 2023).
Without further ado, let's dive into the weekly buzzing stock list of last week: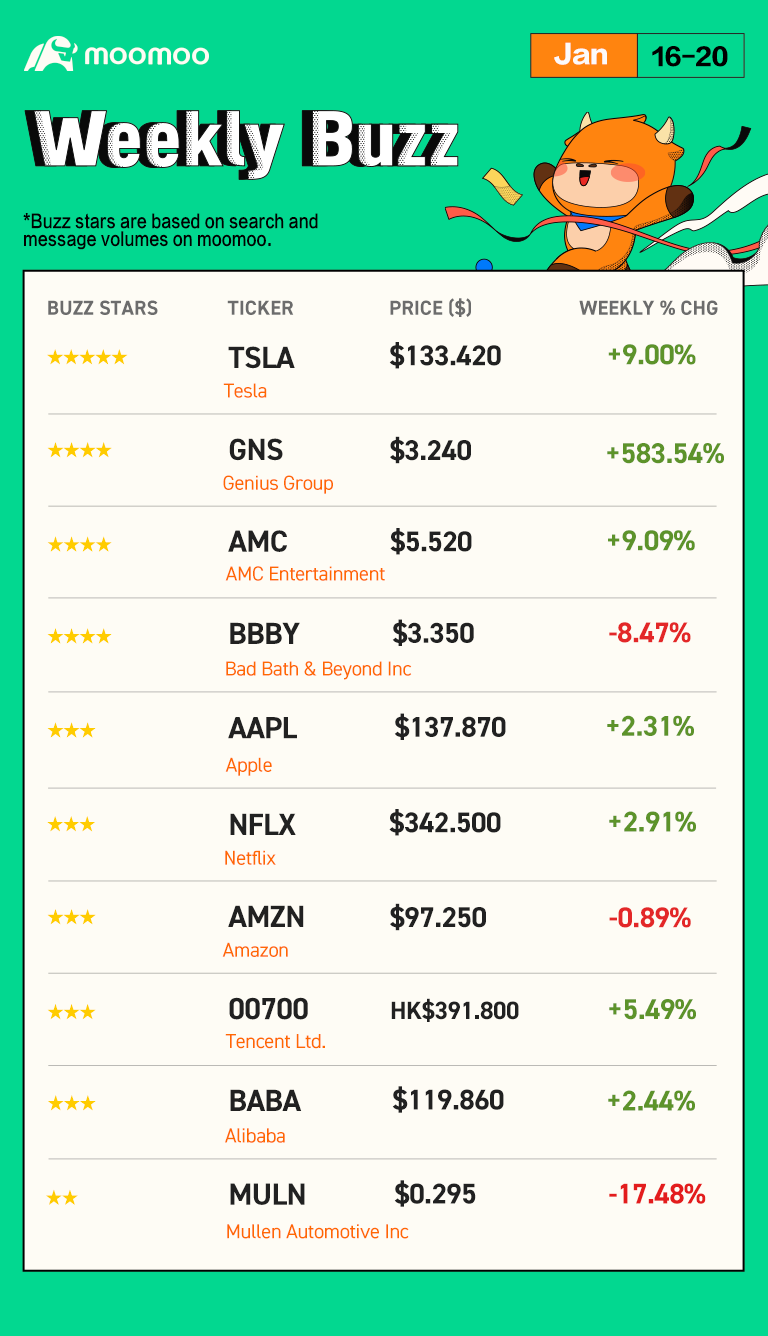 1. TSLA - Buzzing Stars:





Tesla introduced marketing actions and cut prices globally by up to 20%. The share price of TSLA climbed 9% over the previous week (as of Jan 20, 2023).
I read the DATA, but I don't do predictions: what will happen in the market will be supported or not by that data. THEN I will decide IF, WHEN, HOW and HOW MUCH to increase or cut my TSLL position and turn the profits into a 33% discount to new TSLA stocks.
2.GNS - Buzzing Stars:




GNS shares rocketed

583%

last week as the company appointed former F.B.I. director to investigate alleged naked short selling (as of Jan 20, 2023).
I hope there is enough left in the tank to punch through the top of this....let's do what needs be doing OK. Bring in the volume my friends.
3.
AMC - Buzzing Stars:




AMC shares soared

9%

last week and the company's CEO tweeted  "We know popcorn and we value our 890,000 AMC Investor Connect members. So to celebrate, our U.S. moviegoer members will get a free Gourmet Oreo Popcorn." (as of Jan 20, 2023).
January 28th is the 2 year anniversary of the GAMESTOP short squeeze that was fraudulently stopped. It looks like I should also make myself add on AMC
4. BBBY - Buzzing Stars:




Bed Bath & Beyond Q3 2022 Earnings Conference Call is scheduled on January 10, 2023 at 08:15 AM ET. The share price of BBBY decreased

8%

last week (as of Jan 20, 2023).
The market is unpredictable, so don't be surprised if we bounce right back and have a good run today!
5. AAPL - Buzzing Stars:



AAPL shares gained

2%

last week when the company launched the second generation HomePod Speaker (as of Jan 20, 2023).
If Apple drops below 110, it's the time for me to put 90% of my cash into the US stock market.
6. NFLX - Buzzing Stars:



Netflix surged 7% after Q4 earnings.The results show that its Q4 revenue was $78.5 billion, a year-on-year (YoY) increase of 2%. Net profit for Q4 2022 was $55 million, a YoY decrease of 90.9%. Its share price increased

3%

over the past week (as of Jan 20, 2023).
Netflix may lead the pack and we may see a "tech rally".
7. AMZN - Buzzing Stars:



Amazon plans a $35 billion AWS data center expansion. AMZN shares were trading flat at minus

1%

last week (as of Jan 20, 2023).
Amazon is nothing but an independent post office that's part of the infrastructure and a major player in building a great economy.
8. 00700 - Buzzing Stars:



Tencent shares were up 5% last week when Jefferies adjusted Tencent's price target to HK$453, keeps at buy level (as of Jan 20, 2023).
Technical Outlook for Tencent
9. BABA - Buzzing Stars:



BABA shares rose

2%

last week, and Wealthtrust Asset Management made a new $534,000 investment in Alibaba group holding limited (as of Jan 20, 2023).
Looking strong judging from strong institutional holding and option activity. Expect better quarters ahead after some not so attractive quarters.
10. MULN - Buzzing Stars:


MULN shares were trading lower by

17%

this week. Genius Group has formed an "Illegal Trading Task Force" and now MULN shareholders are asking for the same. Its shareholders have created a petition with more than 2,300 signatures. (as of Jan 20, 2023)
I guess it confirmed by investor relations that CEO David signed CEO vs Short company movement.

Thanks for reading!


Awarding Moment

Before moving on to part three, congrats to the following mooers whose comments were selected as the top comments last week!
Note: Reward will be sent to you this week. Please feel free to contact us if there are any problems.
Time to be rewarded for your great insights and knowledge!

This week, we'd like to invite you to comment below and share your ideas on:
Does inflation impact younger and older investors differently?

Comment below and share your ideas!
We will select
15 TOP COMMENTS
by next Monday.
Winners will get
200 points
by next week, with which you can exchange gifts at Reward Club.
*Comments within this week will be counted.
Disclaimer: Moomoo Technologies Inc. is providing this content for information and educational use only.
Read more
50