Broadening wedge pattern: Will the market break out?
Views 430K
Contents 17
🤔💭 The Moon 🌖 Cycle and The Stock Market 📈 is there a co...
🤔💭 The Moon 🌖 Cycle and The Stock Market 📈 is there a connection⁉️


It sure l👀Ks and feels like we're heading into the next Super Cycle 🐂 Bullrun, but just consider for a moment if maybe a few other factors could be at play here...


👀 NOPE, NO FINANCIAL ADVICE HERE 👀
🔔🥁 NO FUD, ONLY INFO, DYOR 🔔🥁
GOOD LUCK 🤞🍀 AND HAPPY TRADING 😊


The influence of planetary cycles on stocks has also been well documented, but is far from an exact science. Please use caution when using this theory.


On January 21st we will be getting a Super New Moon (make note that there's another one coming up on February 20th 😉). Now if this plays out correctly it should push markets higher 🐂 as it has been thus far.
Using a 7-day window, stock returns are, on average, 6 bps lower daily (about 4% annually) on the full moon days than on the new moon days.


We are expected to get the next full moon, a Micro Full Moon, on February 5th. Will this be the beginning of the next leg down? 🧸


The next FOMC Meeting, and accompanying rate hike, will be on February 1st. Markets are nearly certain the Federal Reserve will take another step down in the pace of its interest rate increases, but could it be wrong? We are anticipating 25bps rate hikes and some are even calling for a pause. While this is not entirely impossible, it is improbable.


If Jerome Powell (JPoW) isn't happy, and I assure you he's not, with this most recent market rally he may raise the rates. If he's really mad he made Paul Volcker the market! That would definitely be cause for a leg down. Just a 🤔💭 thought.


If we get a WILD JPoW who pauses/cuts/etc we can throw this 🚀🌛 theory out with the bath water, lmao! Assuming we PUMP from there expect the retracement to be EPIC! Don't chase, wait for the retracement. 💡🤞🍀


Don't be discouraged! Remember what I mentioned earlier?! We've got another New 🌑  Moon February 20th! That COULD be good news 🙄🙃! Keep H👊D💪ing on to that HOPIUM! 🎈


Stay Safe Out There! ⛑️ #NotYourKeysNotYourCrypto 🔑🪙


Do you trade the Moon Cycles?
Have you been successful trading the moon Cycles?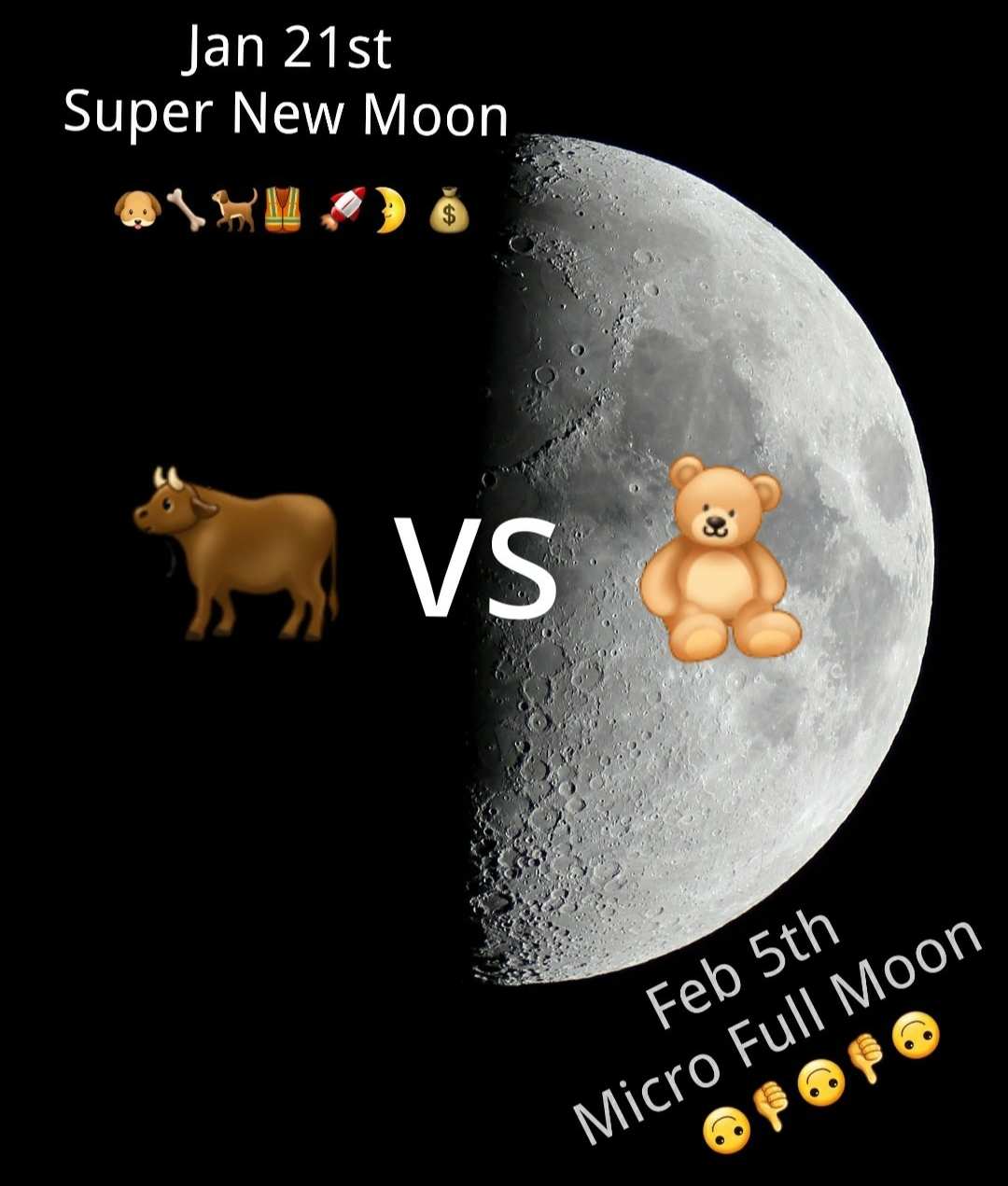 Disclaimer: Community is offered by Moomoo Technologies Inc. and is for educational purposes only.
Read more
3