2022 Recap: The worst, the best, and the stories behind
Views 146K
Contents 266
2022 Recap: Features of the Year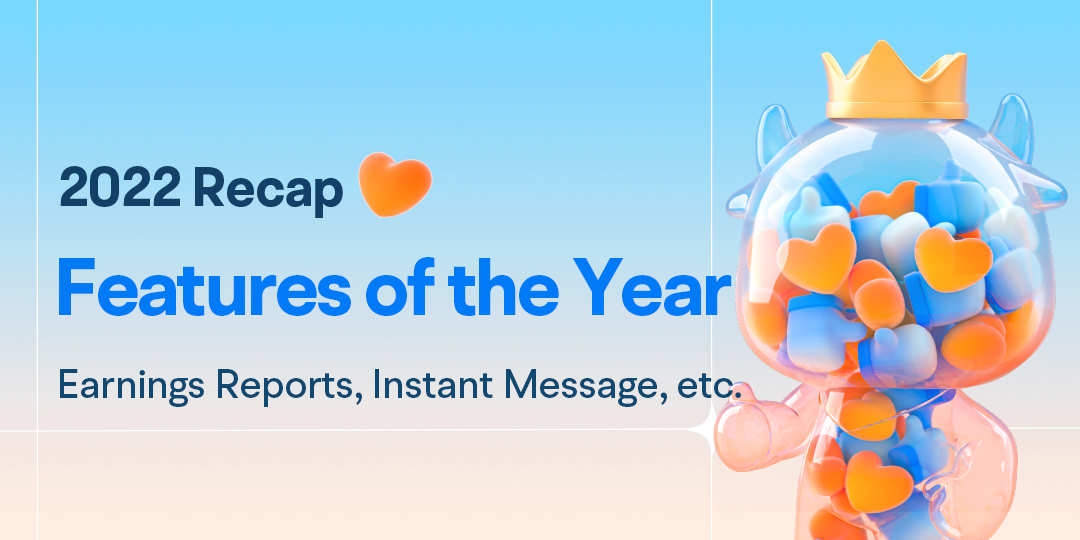 Key features: Earnings reports, Instant messages etc.
Hi, mooers!

2022 is coming to an end. What a year!
If you have no idea what happened to moomoo this year, don't miss out on this post. Here come the
Features of the Year
!
Part I: Features of the Year


Earnings report

Industrial chain

Lite trading mode

Instant message

Study plan

Assets analysis
Part II: Name your favorite moomoo feature

After all, Team moomoo believes that every one of you must already have an answer to "Which is the best feature of moomoo". Now, it's time to say it out loud.
Comment below and name your favorite moomoo feature. And it would be awesome if you tell us why!
Here are more details.

Rewards:
22 points
for all participants with relevant comments
222 points
for the top 10 comments (regarding post quality, originality, creativity, and influence)
*All mooers can only be rewarded once. Plagiarism is never welcome.

Duration:
This event starts now and ends at
23:59 (SGT) on Jan 5
.
By the way, some of us might have been waiting so restlessly for Christmas. Now the countdown is on!
Santa Moo is on his way!

Get ready, mooers!

Disclaimer: This presentation is for information and educational use only and is not a recommendation or endorsement of any particular investment or investment strategy. See this
Link
for more information.
Disclaimer: Moomoo Technologies Inc. is providing this content for information and educational use only.
Read more
50
382K Views