VIX Swing Shows Stock Trader Nerves Fraying Before CPI
While the
$S&P 500 index
(
.SPX.US
)
$
was en route to a
1.4%
gain Monday, the
$CBOE Volatility S&P 500 Index
(
.VIX.US
)
$
— a gauge of cost on options tied to the stock benchmark also known as VIX — jumped more than 2 points to
surpass 25
. Not only do
same-direction moves buck the historical pattern where the two normally move in opposite directions
, their outsize jumps today mark the first time since 1997 when both climbed in sync as much as they did.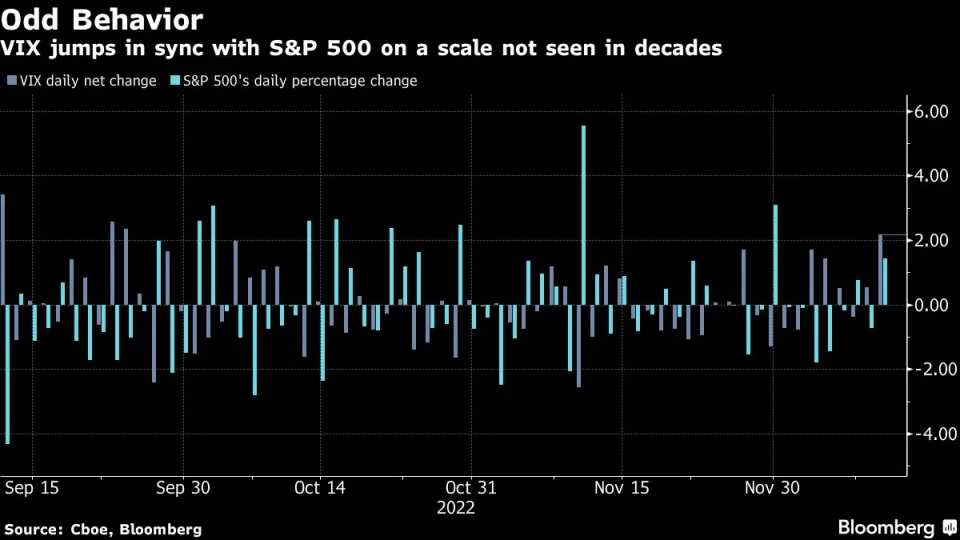 Source: Bloomberg
There are plenty of events that could induce volatility over the coming days — CPI, FOMC, ECB. So it's not out of the question that some would utilize VIX as a hedge." —— said Steve Sosnick, chief strategist at Interactive Brokers.
The outsize VIX move is a bit deceiving. It's mostly due to the upward sloping curve and the focus on the CPI and FOMC events this week. VIX is up because time is passing but the options aren't decaying like they normally do because CPI/FOMC is all that matters." —— said Murphy, co-head of derivatives strategy at Susquehanna International Group.
The buildup in the volatility premium has set the stage for a market rally once the events pass without big shocks, Deutsche Bank strategists including Parag Thatte wrote in a note Friday. A similar setup, they suggested, is why a cooler CPI reading from the prior month triggered a 5.5% daily surge in the S&P 500.
A continued rise in the vol premium would make a post-event equity rally more likely regardless of the fundamental outcome. If the event vol premium stays at current levels, a post-event rally is still more likely in our view while a selloff would need inflation to surprise strongly to the upside as it did in September."
Disclaimer: Moomoo Technologies Inc. is providing this content for information and educational use only.
Read more
15
109K Views