SG Morning Highlights | Hospitality S-Reits ride on pent-up travel demand and the return of events in Q3 2022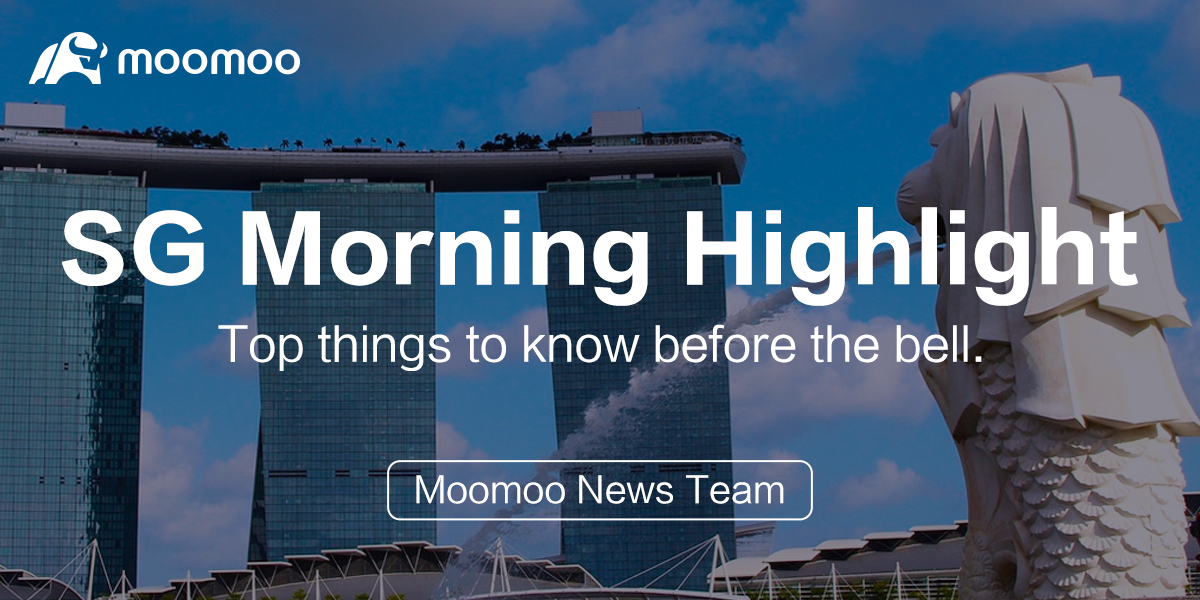 Good morning mooers! Here are things you need to know about today's Singapore:
●Singapore shares opened higher on Monday; STI up 0.24%
●Hospitality S-Reits ride on pent-up travel demand and the return of events in Q3 2022
●Stocks and REITs to watch: Dyna-Mac, Memiontec
●Latest share buy back transactions
Advancers / Decliners is 61 to 60, with 39.38 million securities worth S$70.64 million changing hands.
International tourist arrivals to Singapore rose for a ninth straight month in October and this is expected to continue to grow at a gradual pace in the coming months.
All hospitality trusts with Singapore assets observed significant improvements in occupancy and RevPAR (revenue per available room) in the last quarter, driven by the return of large-scale events and the Mice (meetings, incentives, conventions and exhibitions) industry, alongside pent-up demand for overseas travels.
The US dollar gained slightly on Friday (Nov 18) and remained on track for its largest weekly gain in over a month, as investors eyed rising bond yields and continued to make bets on the US Federal Reserve's interest rate hiking path.
The US currency gained steam as the session wore on, and was up against the euro and the yen but down slightly against sterling, which regained some lost ground after a volatile session on Thursday following Britain's latest budget.
In the United States on Thursday, investors had reacted to hawkish policy maker comments with St Louis Fed President James Bullard saying that even under a "generous" analysis of monetary policy, the Fed needs to keep raising rates as its tightening so far "had only limited effects on observed inflation".

$Dyna-Mac
(
NO4.SG
)
$
: On Nov 16,
Dyna-Mac Holdings
executive director and chief executive officer Lim Ah Cheng acquired 500,000 shares of the company at S$0.188 per share. With a consideration of S$94,000, this increased Lim's direct interest in the global multi-disciplinary contractor from 0.38 per cent to 0.43 per cent. His previous acquisitions of shares on the open market took place on May 13, with 168,000 shares acquired at S$0.142 per share.
$Memiontec Hldgs
(
TWL.SG
)
$
: Water treatment company
Memiontec
had a rough start as a listed company, launching its initial public offering (IPO) on the Singapore Exchange in February 2020 – just as the Covid-19 pandemic was unravelling.
In a recent interview with The Business Times, Memiontec's chief executive Tay Kiat Seng recalled how the company had to cut its public float and settle for a lower price-to-earnings ratio because of poor market conditions and cautious investor sentiment. The group had also been hoping for a public float of 20 to 25 per cent, but was forced to trim this to 17 to 20 per cent.

Latest Share Buy Back Transactions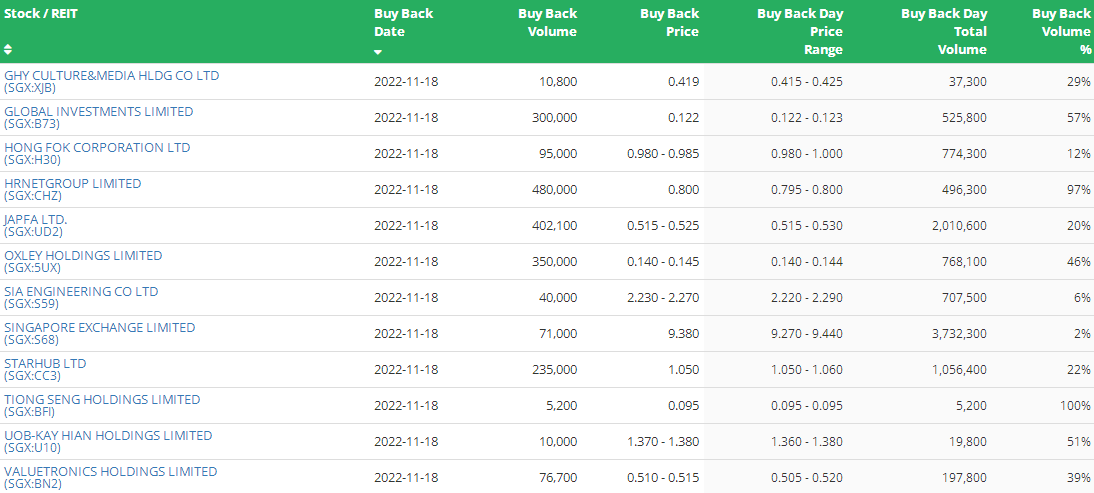 SG investors
Moomoo is an app offered by Moomoo Technologies Inc. that provides information about investments. Moomoo Technologies is not an investment adviser or a broker-dealer and it provides neither investment or financial advice nor securities trading services. All contents such as comments and links posted or shared by users of the community are opinions of the respective authors only and do not reflect the opinions, views, or positions of Moomoo Technologies, its affiliates, or any employees of Moomoo Technologies or its affiliates. You are advised to consult a qualified financial or tax advisor for your personal financial planning and tax situations. Moomoo makes no representation or warranty as to its adequacy, completeness, accuracy or timeliness for any particular purpose of the above content.
9