US Top Rating Updates on 11/7: META, COST, SHEL, EL and More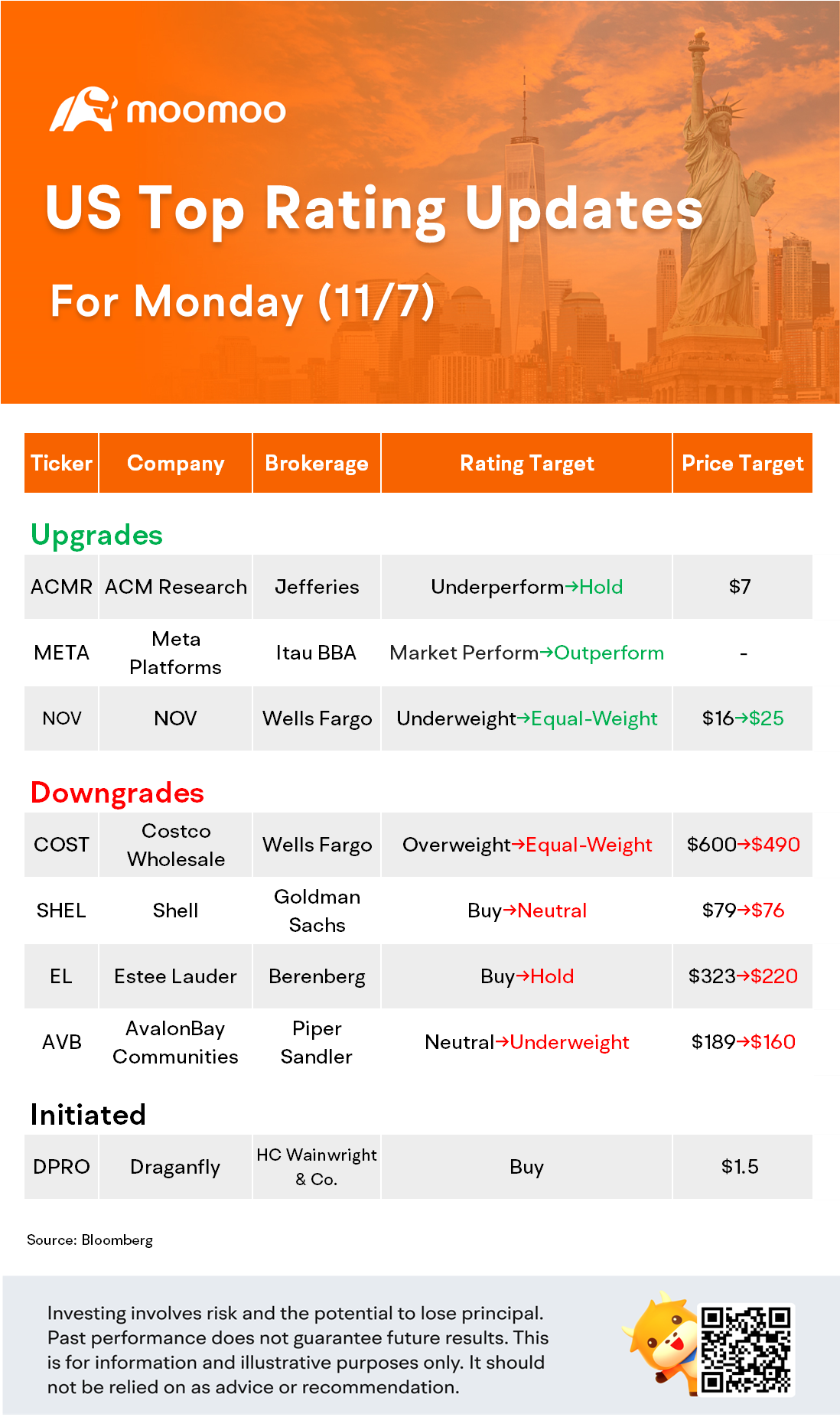 Itau Upgrades Meta Platforms, Says 'Right Price Has Finally Come'
Itau BBA analyst Thiago Kapulskis upgraded
$Meta Platforms
(
META.US
)
$
to Outperform from Market Perform with a $102 price target. Meta's current share price "reflects an extremely bear case, where it would be crazily spending forever while being disrupted by Apple and/or TikTok," Kapulskis tells investors in a research note.
Costco Downgraded to Equal Weight From Overweight at Wells Fargo
Wells Fargo analyst Edward Kelly downgraded
$Costco
(
COST.US
)
$
to Equal Weight from Overweight with a price target of $490, down from $600. The analyst sees a "number of hurdles" in the company's path and calls Costco a "rich multiple stock."
Shell Downgraded to Neutral From Buy at Goldman Sachs
Goldman Sachs analyst Michele Della Vigna downgraded
$Shell PLC
(
SHEL.US
)
$
to Neutral from Buy with a price target of $76, down from $79. The analyst cites valuation for the downgrade following the stock's period of outperformance. Shell's continued improvement in corporate returns and historically high cash flow generation has led to a "relatively expensive valuation" versus peers, Della Vigna tells investors in a research note.
Source: Seeking Alpha, The Fly
Disclaimer: The content should not be relied on as advice or recommendation.
Moomoo is an app offered by Moomoo Technologies Inc. that provides information about investments. Moomoo Technologies is not an investment adviser or a broker-dealer and it provides neither investment or financial advice nor securities trading services. All contents such as comments and links posted or shared by users of the community are opinions of the respective authors only and do not reflect the opinions, views, or positions of Moomoo Technologies, its affiliates, or any employees of Moomoo Technologies or its affiliates. You are advised to consult a qualified financial or tax advisor for your personal financial planning and tax situations. Moomoo makes no representation or warranty as to its adequacy, completeness, accuracy or timeliness for any particular purpose of the above content.
5