US Top Rating Updates on 10/26: ABT, RBLX, REGN, WHR and More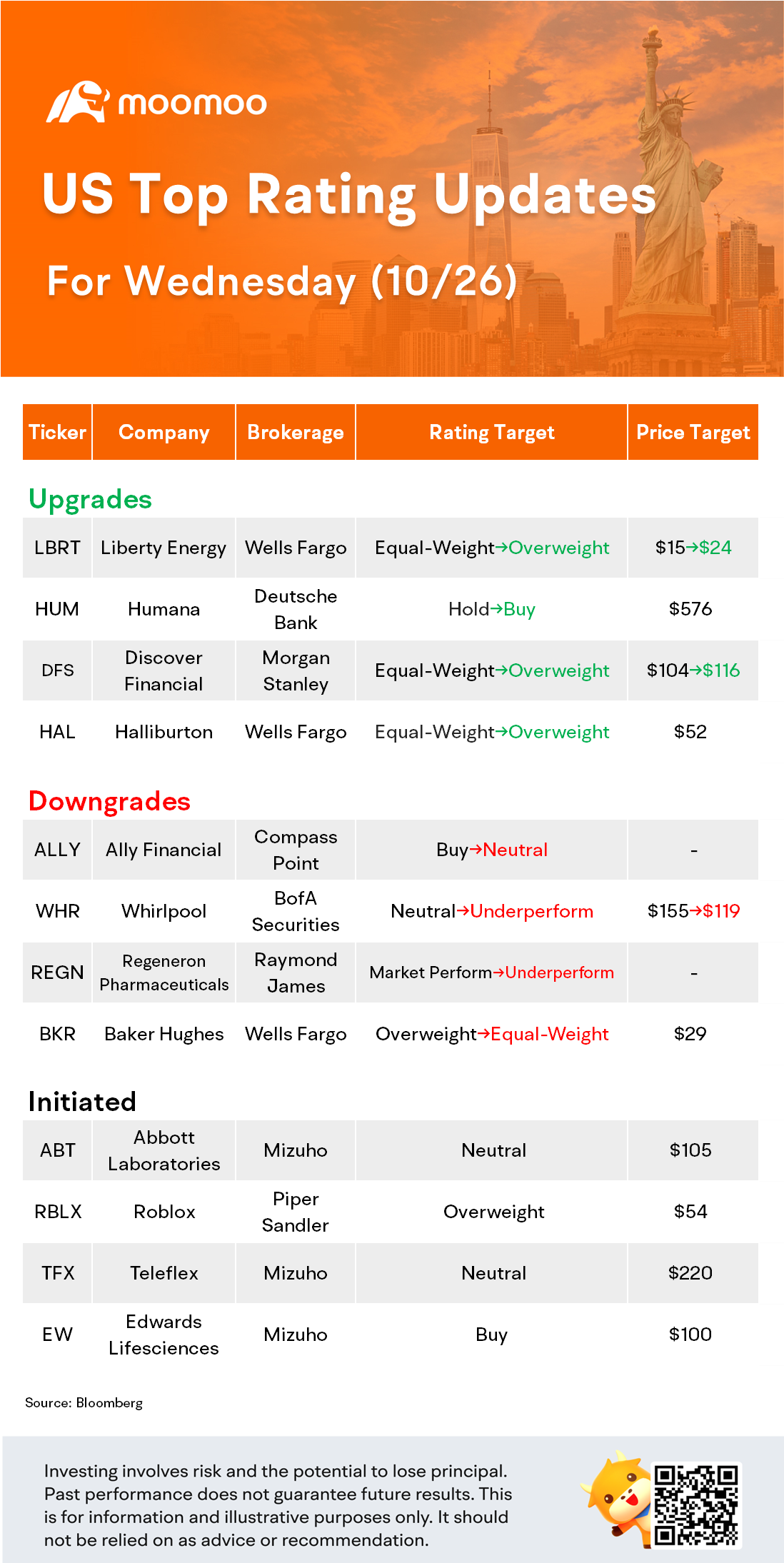 Abbott Initiated With a Neutral at Mizuho
Mizuho analyst Anthony Petrone initiated coverage of
$Abbott Laboratories
(
ABT.US
)
$
with a Neutral rating and $105 price target. The analyst says the Neutral rating balances the benefits of the company's "solid" positioning in several of the fastest growing medical technology markets and "fortress" balance sheet against COVID testing and infant formula recall/relaunch headwinds.
Roblox Initiated With an Overweight at Piper Sandler
Piper Sandler analyst Thomas Champion initiated coverage of
$Roblox
(
RBLX.US
)
$
with an Overweight rating and $54 price target. Roblox is a "unique asset at the intersection of gaming, social, and the Metaverse," Champion tells investors in a research note. The analyst sees a large global user opportunity for the company and monetization upside versus peers.
Deutsche Upgrades Humana on Leading Medicare Advantage Position
Deutsche Bank analyst George Hill upgraded
$Humana
(
HUM.US
)
$
to Buy from Hold with a price target of $576, up from $514. The analyst says six regional independent Medicare Advantage brokers confirmed to him the solidifying of Humana's leading position in Medicare Advantage, and the rising challenges facing many of its competitors.
Source: Seeking Alpha, The Fly
Disclaimer: The content should not be relied on as advice or recommendation.
Moomoo is an app offered by Moomoo Technologies Inc. that provides information about investments. Moomoo Technologies is not an investment adviser or a broker-dealer and it provides neither investment or financial advice nor securities trading services. All contents such as comments and links posted or shared by users of the community are opinions of the respective authors only and do not reflect the opinions, views, or positions of Moomoo Technologies, its affiliates, or any employees of Moomoo Technologies or its affiliates. You are advised to consult a qualified financial or tax advisor for your personal financial planning and tax situations. Moomoo makes no representation or warranty as to its adequacy, completeness, accuracy or timeliness for any particular purpose of the above content.
6