SG Morning Highlights: UOB sets sights on being No. 1 in cross-border trade needs in Asean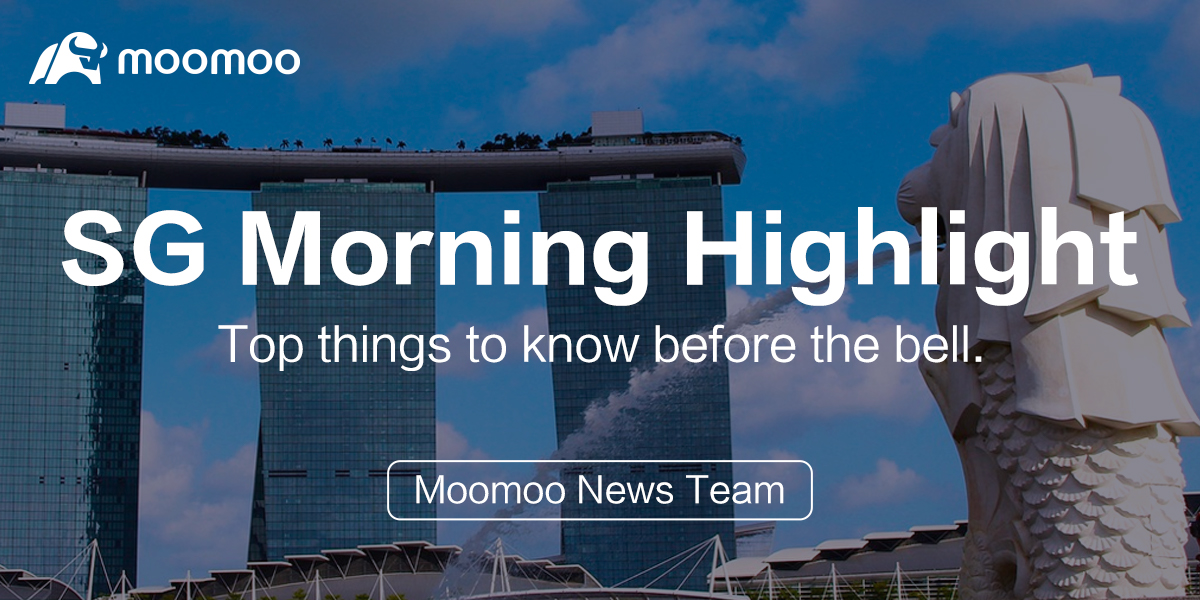 Good morning mooers! Here are things you need to know about today's Singapore:
●Singapore shares opened higher on Monday; STI up 0.05%
●Logistics S-Reits to ride on e-commerce growth
●Stocks & REITs to watch: Shanghai Turbo, UOB
●Latest share buy back transactions
Advancers / Decliners is 94 to 57, with 66.76 million securities worth S$85.43 million changing hands.
Do Kwon, the founder of the collapsed Luna and TerraUSD tokens, said he's not "on the run" hours after Singapore police stated he was no longer in the country.
Kwon, along with 5 others, is facing arrest in South Korea. As recently as Sep 14, the prosecutor's office in Seoul said he and the others, who are accused of violations of capital markets law, were all in Singapore. After local police issued a statement Saturday, Kwon tweeted that he doesn't have anything to hide and is in "full cooperation" with government agencies.
"For any government agency that has shown interest to communicate, we are in full cooperation and we don't have anything to hide," Kwon said, without providing specifics on his whereabouts. "We are in the process of defending ourselves in multiple jurisdictions – we have held ourselves to an extremely high bar of integrity, and look forward to clarifying the truth over the next few months."
When the green bond market was still in its infancy years ago, its advocates would often tout the potential for green bond issuers to raise capital at lower yields compared to conventional bonds.
The implied promise was that issuers could access cheaper cost of funding, with investors willing to pay a premium if they were assured that the proceeds would be used for projects that have environmental or social impact.
This idea of a green premium, which has been termed "greenium" by the market, was also supported by the thinking that there would be more investors aligned with environmental, social and governance (ESG) concerns, which can provide the price tension to bring down an issuer's interest expense.
SGX RegCo gets tough on companies dragging feet on board renewal, executive pay disclosure
A fund manager once cheekily suggested to me that the unwillingness of many companies to disclose the exact remuneration of their chief executives, for fear this might make it easier for competitors to poach them, ought to be a major concern for investors.
After all, it is the most successful companies that pay top dollar for talent. "I wouldn't want to be invested in a company that underpays its employees," the fund manager said.
Competition for top executive talent is a real challenge, of course. And, the best senior executives aren't usually short of employment options.
With accelerated digital transformation, shifts in consumer trends and a greater focus on supply-chain resilience, the global logistics industry remains central to the rapid growth of e-commerce. According to Cushman & Wakefield, global industrial/logistics Reits recorded the highest 10-year annualised total returns of any asset class, at 16.4 per cent last year, buoyed by the unprecedented growth in e-commerce.
Reits with logistics properties are typically labelled as industrial Reits. There are 11 listed S-Reits and Property Trusts with exposure to logistics properties. These trusts have assets located globally in major cities including Singapore, China, Japan, India, Australia, the UK and the US.
The 11 trusts, which underperformed the broader iEdge S-Reit Index in the year-to-date, saw stronger rebounds in the 3Q-to-date. They averaged 3Q-to-date total returns of 4 per cent, compared to the iEdge S-Reit Index's 1 per cent total returns. On a longer term basis, the 11 trusts generated average 10-year total returns of 90 per cent, outpacing the iEdge S-Reit Index's 69 per cent total returns.

$Shanghai Turbo
(
AWM.SG
)
$
: Shanghai Turbo Enterprises stated it should be able to meet current liabilities through "careful" cash management and strengthening its cash flow position in a bid to allay concerns from the Singapore Exchange (SGX) over its liquidity.
The company, in its statement in response to SGX queries last Friday (Sep 16), noted that its current deficit as at Jun 30, 2022 was "only" about 5.5 million yuan ( S$1.1 million). Hence, it would, by careful cash management and successful rollover of its short-term borrowing that are due in the first quarter of FY 2023, possibly meet its current obligations.
The mainboard-listed maker of precision vane products for steam turbine power generators also intends to strengthen its cash flow position over the next 12 months by increasing revenue and accelerating customer collections.
$UOB
(
U11.SG
)
$
: Frederick Chin, head of group wholesale and global markets at
United Overseas Bank (UOB)
is not afraid of competition from upstart digital financial platforms.
The 61-year-old banker told The Business Times that UOB has been approached by many platform operators about potential partnerships.
"They don't have clients. They can't commercialise because people don't trust money with them. That's why they keep approaching the bank (to ask): 'Why don't you partner with me?'" Chin said.

Latest Share Buy Back Transactions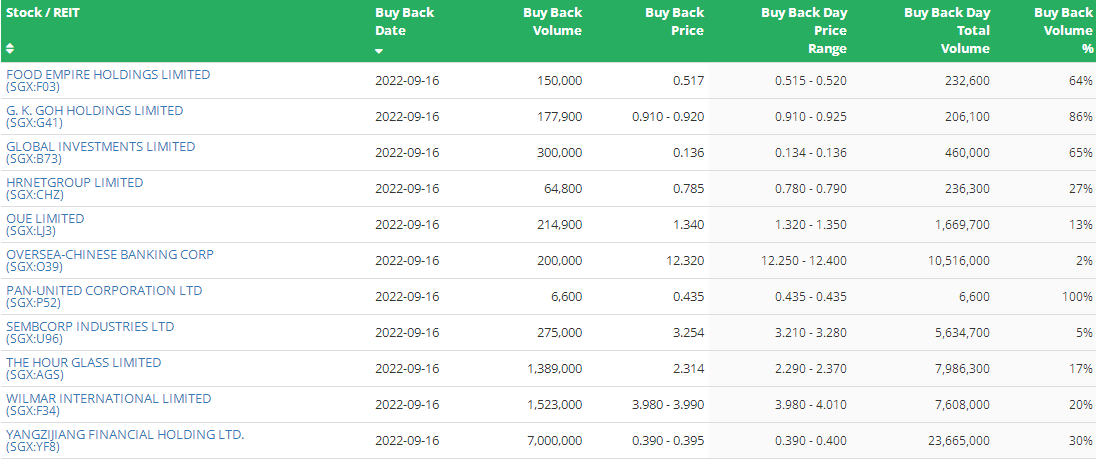 SG Investors
Moomoo is an app offered by Moomoo Technologies Inc. that provides information about investments. Moomoo Technologies is not an investment adviser or a broker-dealer and it provides neither investment or financial advice nor securities trading services. All contents such as comments and links posted or shared by users of the community are opinions of the respective authors only and do not reflect the opinions, views, or positions of Moomoo Technologies, its affiliates, or any employees of Moomoo Technologies or its affiliates. You are advised to consult a qualified financial or tax advisor for your personal financial planning and tax situations. Moomoo makes no representation or warranty as to its adequacy, completeness, accuracy or timeliness for any particular purpose of the above content.

77