US Top Rating Updates on 8/9: NKE, PLTR, BBBY, TSN and more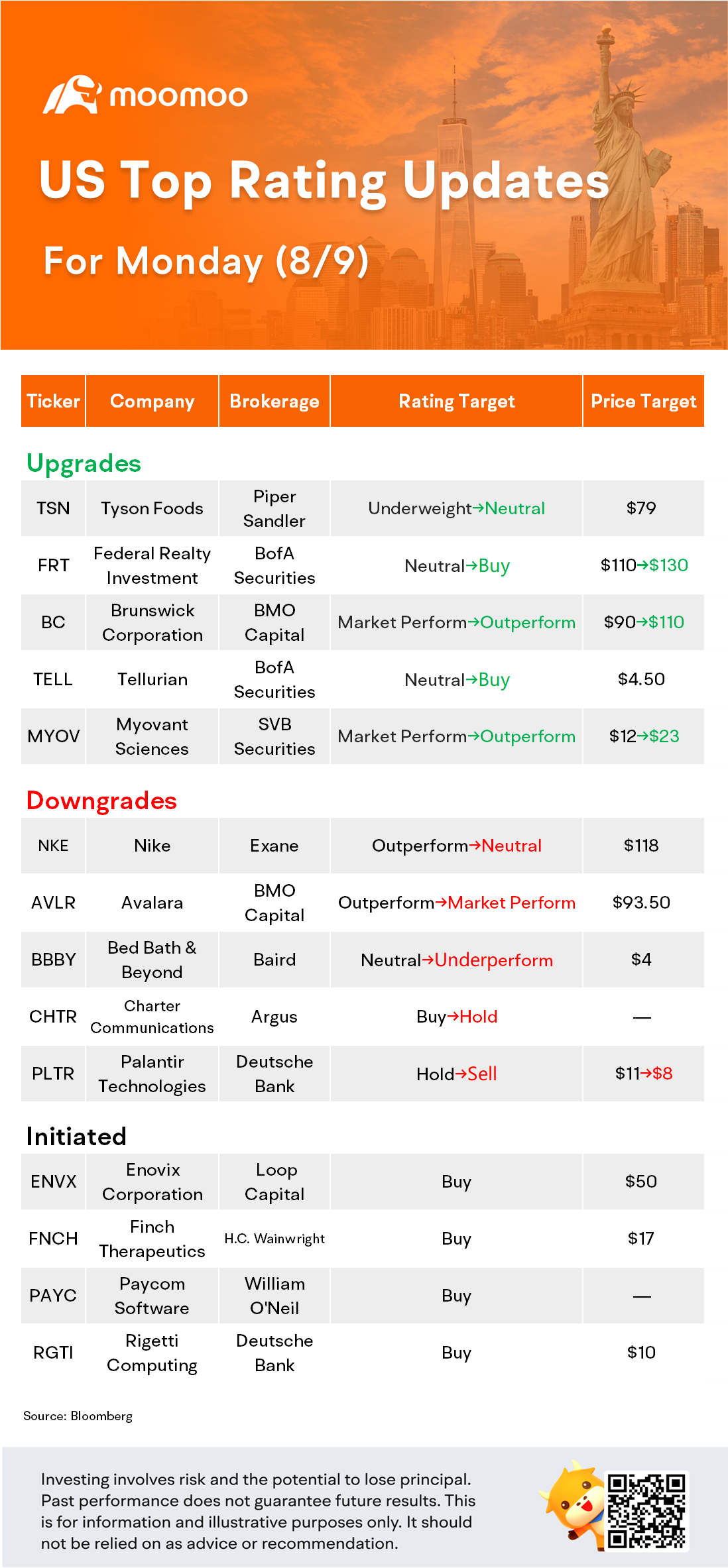 Bed Bath & Beyond Is Downgraded at Baird After 'Meme Stock Frenzy'
Baird moved to the sidelines on
$Bed Bath & Beyond Inc
(
BBBY.US
)
$
after a sizzling rally which the firm called the latest meme stock frenzy. The firm downgraded the retailer to Underperform from a prior rating position of Neutral. "This frenzied move (>100% of the public float traded on Monday) has been driven by non-fundamentally focused market participants." updated analyst Justin Kleber.
Palantir Downgraded to Sell From Hold at Deutsche Bank
Deutsche Bank analyst Brad Zelnick downgraded
$Palantir Technologies
(
PLTR.US
)
$
to Sell from Hold with a price target of $8, down from $11. The company's Q2 report leaves "little to hang our hat on," Zelnick tells investors in a research note.
Piper Upgrades Tyson Foods to Neutral With Risks Priced In
Piper Sandler analyst Michael Lavery last night upgraded
$Tyson Foods
(
TSN.US
)
$
to Neutral from Underweight with an unchanged price target of $79. The company still faces risks from consumers downtrading, but these now appear more fully reflected in the stock's current valuation, Lavery tells investors in a research note.
Source: Seeking Alpha, The Fly
Disclaimer: The content should not be relied on as advice or recommendation.
Moomoo is an app offered by Moomoo Techonologies Inc. that provides information about investments. Moomoo Technologies is not an investment adviser or a broker-dealer and it provides neither investment or financial advice nor securities trading services. All contents such as comments and links posted or shared by users of the community are opinions of the respective authors only and do not reflect the opinions, views, or positions of Moomoo Technologies, its affiliates, or any employees of Moomoo Technologies or its affiliates. You are advised to consult a qualified financial or tax advisor for your personal financial planning and tax situations.
12