Monthly Journal: Traders' Insights Wanted!
Views 100K
Contents 1865
Monthly Buzz: The stock market had a great July. Will August be better?
Welcome back to
Monthly Buzz
. Did you read the breaking news about the stocks in which you invest? Is there any company on the list that you didn't follow? Check out the buzzing stocks you may have missed out on!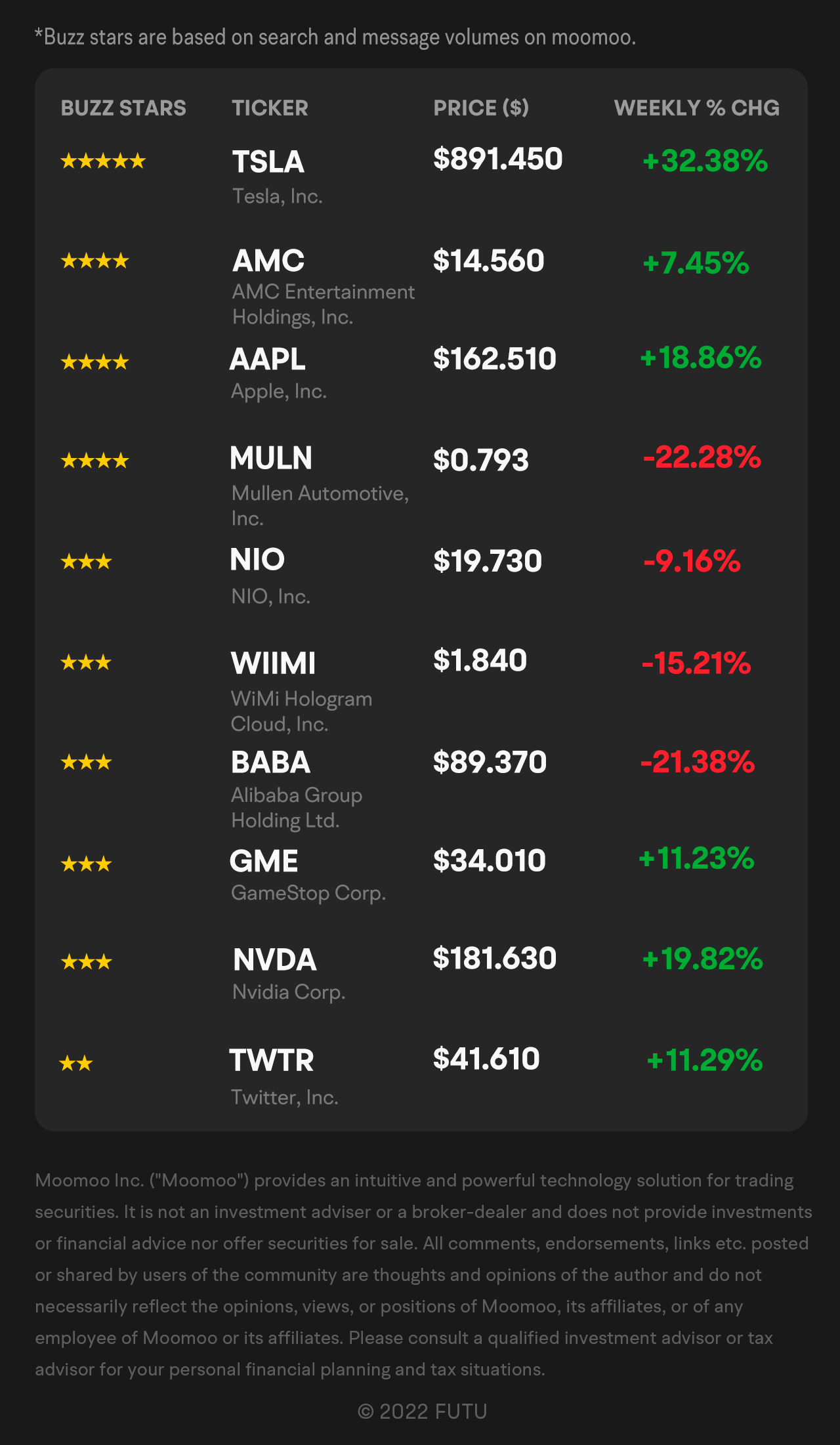 Data as of July 01 – July 31, 2022
1. TSLA – Buzzing Stars:





July 07
: Tesla stock rallied
5.53%
as it was preparing to open up Superchargers to non-Tesla EVs in the US later this year.
July 11
: Elon Musk's lawsuit with Twitter dragged Tesla down by
6.55%
.
July 21
: Tesla surged
9.78%
after it beat analysts' consensus earnings forecast for this quarter.
2. AMC – Buzzing Stars:




July 07
: AMC shares shot up by
15%
amid strength in 'Reddit stocks' for the session and retail investor mentions on social media.
July 18
: AMC jumped
7.61%
due to its strong box office performance recently and social media discussion that AMC is a potential short squeeze candidate.
July 20:
AMC gained
7%
after it announced the repurchase of $72.5 million of its second lien debt at a 31% discount.
3. AAPL – Buzzing Stars:




July 14
: Apple rose
2%
as it reportedly expected iPhone 14 to sell better than iPhone 13.
July 19
: Apple climbed
2%
after Bernstein raised Q3 estimates, citing strong supply and "healthy" Chinese demand.
July 29
: Apple gained
3.28%
after the company reported better-than-expected Q3 EPS and sales results.
4. MULN – Buzzing Stars:




July 05
: Mullen dipped
8%
despite eliminating $17.5 million in debt.
July 08
: Mullen stock popped by
9.35%
after Tesla announced that it was preparing to open up its Supercharger network to non-Tesla EVs.
July 26
: Mullen Automotive shares were trading
14.36%
lower amid weakness in EV stocks.
5. NIO – Buzzing Stars:



July 07
: NIO recovered
8%
, a record-high rise in a month, after it launched the 1000th power station.
July 11
: NIO sank over
8%
as China re-imposed COVID restrictions.
July 19
: NIO shares dipped
3.77%
despite its German expansion plans.
6. WIMI – Buzzing Stars:



July 7:
WiMi Hologram Academy published a technical article describing a collision detection algorithm based on virtual reality technology. Its shares grew by
2.78%
.
July 18:
WiMi Hologram Cloud was up by
2.3%
after it promised to launch more new products.
7. BABA – Buzzing Stars:



July 11
: Shares of Alibaba were trading
9%
lower amid recurrent COVID cases, which have caused Macau to shut casinos.
July 14
: Alibaba slid
4.89%
after executives quit Ali sport's board.
July 27:
Alibaba rose
1.32%
as it seeks a dual primary listing in Hong Kong.
8. GME – Buzzing Stars:



July 07
: GameStop soared
15%
following its four-for-one stock split plans.
July 08
: GameStop was
4.87%
down after it announced a CFO departure.
July 20
: GameStop grew
4.65%
as it outpaced Coinbase Global in NFT marketplace volume.
9. NVDA – Buzzing Stars:



July 11
: The stock of Nvidia shrunk
4%
after a Piper Sandler analyst cut his price target for the semiconductor company.
July 19
: Nvidia gained
5.53%
after the husband of Rep. Nancy Pelosi bought 2,000 shares of Nvidia stock.
July 20
: Nvidia shares were trading
4.8%
higher, backed by the overall strength of semi stocks.
10. TWTR – Buzzing Stars:


July 08
: Twitter declined
5%
as layoffs hit its recruitment team.
July 11
: Twitter plunged
11%
after Elon Musk canceled the deal to buy.
July 13
: Twitter sued Elon Muck for ending the $44 billion deal and called him "a model of hypocrisy," sending the shares up
7.9%
.
That's all for Monthly Buzz. Thanks for reading.

Time to share your insights!
We'd like to invite you to comment below and share your ideas about:

Where do you plan to cut spending because of inflation?

Feel free to leave your thoughts in the comments. We look forward to a collision of ideas!
Disclaimer
: This presentation is for informational and educational use only and is not a recommendation or endorsement of any particular investment or investment strategy. Investment information provided in this content is general in nature, strictly for illustrative purposes, and may not be appropriate for all investors. It is provided without respect to individual investors' financial sophistication, financial situation, investment objectives, investing time horizon, or risk tolerance. You should consider the appropriateness of this information having regard to your relevant personal circumstances before making any investment decisions. Past investment performance does not indicate or guarantee future success. Returns will vary, and all investments carry risks, including loss of principal.
Tap here to view more >>
Disclaimer: Moomoo Technologies Inc. is providing this content for information and educational use only.
Read more
1
1
3
42