October CPI rose 7.7% vs. 8% estimates
Views 2M
Contents 333
What makes AJINY monopolize the High-end chip packaging material ABF?
If you like this article, please give us a like and subscribe to 'wise shark' to get the latest information from the research report.

$AJINOMOTO CO INC ADR-EACH CNV INTO 1 ORD NPV
(
AJINY.US
)
$
uses the by-products of MSG production to make ABF, a highly insulating resin-based synthetic material. ABF has been widely used in all aspects of the semiconductor industry, and Ajinomoto has expanded from a food company to a computer component supplier, with 99% of the key ABF materials coming from Ajinomoto.
1. Market demand stays stable, new magnetic materials drive ABF business growth
J.P. Morgan believes that ABF business earnings growth is driven by data server materials (FY 2021 volume weighting:55%, FY 2025 guidance:65%) and management does not seem to be worried about demand. On the contrary, J.P. Morgan believes it is supply related. In addition, management has high expectations for AFTINNOVA magnetic materials as a new driver of revenue growth. Although this material is mainly used in PC applications, it can also be used in products with electrical inductance. Management believes it will certainly contribute to future earnings.
Mizuho learned at Ajinomoto's first top management meeting that global supply chain disruptions have had a significant negative impact on the market and that the company will introduce new magnetic materials to ease supply and demand tensions. Mizuho agrees with CEO Fujie's expectation of accelerating demand for Ajinomoto's newly developed magnetic material, which received an internal ASV award in 2020 for its contribution to energy efficiency and emissions reduction and has already been commercialized.
Mizuho believes that the launch of the new magnetic material AFTINNOVA has eased short-term concerns about ABF and is a short-term positive for the stock price.
2. Package upgrade drives ABF performance improvement, and CAGR is expected to grow at a high rate
In the 22Q1 quarterly report, AJINY said it expects CAGR growth of about 18% in ABF shipments from FY2020 to FY2025, an upward revision from Ajinomoto's FY2020-2024 CAGR forecast of 14% disclosed during chemicals business briefing and virtual plant tour.
CEO Fujie noted that demand for data center and networking applications are driving ABF growth, and as IC packaging becomes larger and more complex, demand is shifting to Ajinomoto's high-performance, high-value-added ABFs (while demand for ABFs is increasing).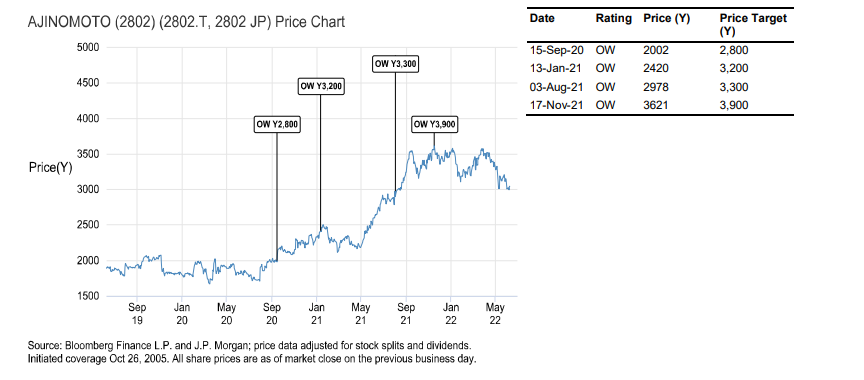 3. Core competitiveness widely meets market demand
The stock market has been concerned that weakening end-user demand for data center servers in the short term may be harm Ajinomoto. In response, CEO Fujie said that there is no change in the stable supply structure of ABF and that the contribution of magnetic materials has helped strengthen the overall sales momentum of electronic materials. Ajinomoto said its newly developed magnetic material AFTINNOVA has the following characteristics: 1. low high-frequency loss; 2. better embedding and flatter surface; and 3. High-quality plating adhesion.
Mizuho believes that the company has seen an increase in inquiries for its magnetic materials related to personal computer applications. It also sees demand for a wide range of applications, including data center servers, as an electronic material that can contribute to sustainability by reducing CO2 emissions and lowering energy consumption.
$AJINOMOTO CO INC ADR-EACH CNV INTO 1 ORD NPV
(
AJINY.US
)
$
Moomoo is an app offered by Moomoo Technologies Inc. that provides information about investments. Moomoo Technologies is not an investment adviser or a broker-dealer and it provides neither investment or financial advice nor securities trading services. All contents such as comments and links posted or shared by users of the community are opinions of the respective authors only and do not reflect the opinions, views, or positions of Moomoo Technologies, its affiliates, or any employees of Moomoo Technologies or its affiliates. You are advised to consult a qualified financial or tax advisor for your personal financial planning and tax situations. Moomoo makes no representation or warranty as to its adequacy, completeness, accuracy or timeliness for any particular purpose of the above content.
3