SG Morning Highlights: Singapore retail sales returning to pre-pandemic levels, but headwinds persist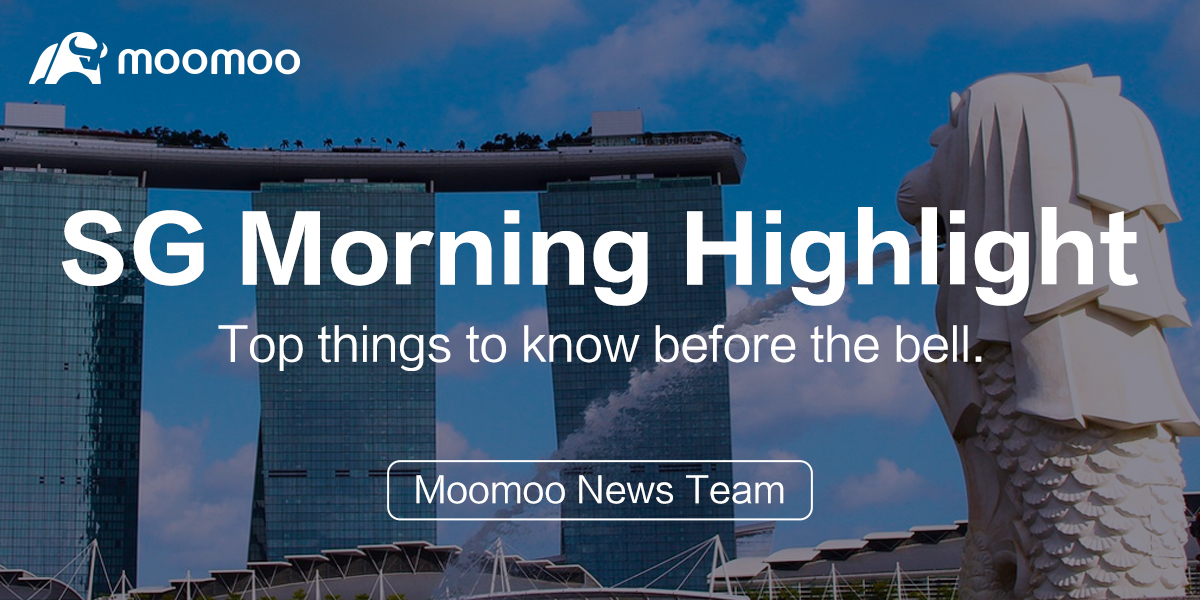 Good morning mooers! Here are things you need to know about today's Singapore:
●Singapore shares opened higher on Friday; STI up 0.25%
●Singapore retail sales returning to pre-pandemic levels, but headwinds persist
●Stocks & REITs to watch: Jardine C&C, Innotek, Pavillon
●Latest share buy back transactions
Advancers / Decliners is 57 to 37, with 35.35 million securities worth S$40.43 million changing hands.
Singapore retail sales returning to pre-pandemic levels, but headwinds persist
Singapore's retail sector is showing signs of picking up, although retailers face looming headwinds in the form of inflation and a potential recession, according to the National University of Singapore's Institute of Real Estate and Urban Studies (IREUS).
The easing of border curbs and the loosening of safe-distancing measures are fostering a recovery in the retail sector, with Singapore's retail sales index clocking 93.2 in Q1 2022, up sharply from 54.9 in Q2 2020 as the pandemic spread across the globe. The Q1 print is not far off from the 98.3 chalked up pre-pandemic in Q1 2019.
South-east Asian central banks are targeting to link their payment systems within the year that will let people buy goods and services throughout the region by scanning QR codes.
The linkages aren't complete yet. Malaysia, Indonesia and Thailand are connected, while Singapore is linked to Thailand and is seeking to add more countries.
By November, 5 of the region's biggest economies, including the Philippines, are set to sign a deal to integrate their network, Bank Indonesia governor Perry Warjiyo said in a panel on the sidelines of the Group of 20 finance ministers and central bank governors meeting in Bali.
Singapore and the Asian Development Bank (ADB) have agreed to promote greater investment and innovation in the Asia Pacific, including in areas such as liveable cities and fintech, under a Memorandum of Understanding (MOU) signed on Thursday (Jul 14).
Singapore's Deputy Prime Minister and Finance Minister Lawrence Wong and ADB President Masatsugu Asakawa signed the agreement on the sidelines of the G20 Finance Ministers and Central Bank Governors Meeting in Bali, Indonesia.
The agreement also recognises the importance of private sector finance and catalysing public sector resources for sustainable and inclusive development. Replacing an MOU signed in 2012, it seeks to build on those areas of collaboration: knowledge sharing and cooperation in governance and public policy, private sector development, and climate change.
The Ministry of Health (MOH) has confirmed the third local case of monkeypox on Thursday (Jul 14), bringing the total number of cases reported here to 6.
In an update on its website on Thursday night, the ministry said the patient is a 41-year-old male Singaporean.
The patient is not linked to any of the monkeypox cases announced by MOH earlier.
$Jardine C&C
(
C07.SG
)
$
: The company has made an unconditional voluntary take-over offer for the nearly 10 per cent stakes it does not already own in Malaysia-listed Cycle & Carriage Bintang at RM2.70 a share.
Currently, the Singapore-listed offeror holds about 89.994 per cent of Cycle & Carriage Bintang, a Mercedes-Benz dealer listed on Bursa that operates 11 outlets for retail vehicles and provides after-sales services in Malaysia.
The offer at RM2.70 a share would translate to RM27.2 million for the stakes Jardine Cycle & Carriage wants to acquire, said the investment holding company in a bourse filing on Thursday (Jul 14).
$InnoTek
(
M14.SG
)
$
: The company issued a profit guidance for its financial performance for the first half of FY2022 to June, as higher operating costs and customers' operations disrupted by Covid-19 prevention measures hit its bottom line.
The precision metal components firm stated it would likely report a net loss when it releases its financial results in mid-August, according to a bourse filing on Thursday (Jul 14).
InnoTek attributed the loss to soaring costs of labour and manufacturing, as well as higher cost of raw materials due to disruptions to the global supply chain. It also said its turnover was hit by a drop in demand from its major customers operating in China, as the country imposed movement restrictions to stamp out Covid-19.
$Pavillon
(
596.SG
)
$
: Mainboard-Listed Pavillon Holdings has been asked to hold an extraordinary general meeting (EGM) for the purpose of ousting the executive chairman and an independent director from the board.
Previously named Thai Village Holdings, the company said in a bourse filing on Thursday (Jul 14) that a letter from Seven Star Capital, signed off by Zheng Fengwen, is requisitioning the meeting to strip the executive chairman John Chen Seow Phun and independent director Ko Chuan Aun of their directorships.
The letter also calls for the company, which is in the business of restaurant operations, franchising and financial leasing, to appoint Zheng, the largest shareholder and former executive director of Pavillon, and major shareholder Teo Kiang Ang as director and executive chairman respectively at the EGM.
Latest Share Buy Back Transactions

SG Investors
Moomoo is an app offered by Moomoo Techonologies Inc. that provides information about investments. Moomoo Technologies is not an investment adviser or a broker-dealer and it provides neither investment or financial advice nor securities trading services. All contents such as comments and links posted or shared by users of the community are opinions of the respective authors only and do not reflect the opinions, views, or positions of Moomoo Technologies, its affiliates, or any employees of Moomoo Technologies or its affiliates. You are advised to consult a qualified financial or tax advisor for your personal financial planning and tax situations.
11