Tmall's Latest Platform Proves That Digital Collectibles Are Taking Over China
Alibaba's e-commerce empire, Tmall, has launched a new zone on its mobile app dedicated to digital collectibles.

This move, beyond all else, illustrates that China's NFT boom is officially underway.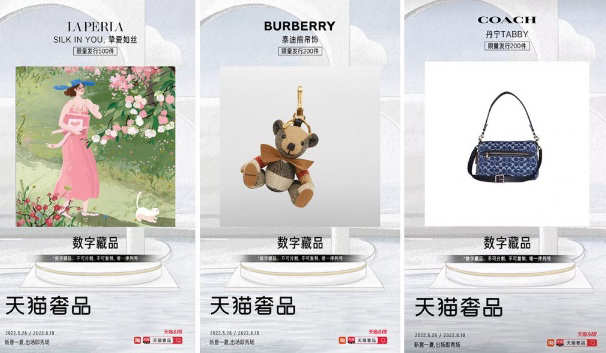 In the first round of drops, more than 50 virtual collections from a total of 40 brands, including Burberry, PUMA and Versace, debuted on the platform.Tmall is also banking on the blind box marketing strategy to amplify the launch. Consumers who make a purchase with a participating brand, will receive a digital blind box that contains a correlating virtual toy from the label.

Each toy holds a series of interactive elements that can be experienced with assistance from augmented reality devices.
Alibaba has signaled that more digital collectibles will be added to the platform in the future.
$Alibaba
(
BABA.US
)
$
$BABA-SW
(
09988.HK
)
$
$Burberry Group plc Sponsored ADR
(
BURBY.US
)
$
Moomoo is an app offered by Moomoo Techonologies Inc. that provides information about investments. Moomoo Technologies is not an investment adviser or a broker-dealer and it provides neither investment or financial advice nor securities trading services. All contents such as comments and links posted or shared by users of the community are opinions of the respective authors only and do not reflect the opinions, views, or positions of Moomoo Technologies, its affiliates, or any employees of Moomoo Technologies or its affiliates. You are advised to consult a qualified financial or tax advisor for your personal financial planning and tax situations.
1