Hong Kong's Top Stock-Trading Strategy Is Quietly Unwinding
Betting on high-dividend stocks led to a 14% loss this quarter
"
Market interest in high-dividend stocks is falling. Many investors are sacrificing their positions in these defensive stocks to get liquidity for other names
," said Shuo Huang, portfolio manager of the ChinaAMC Select China Leap Equity Fund, adding he favors low-valued internet and electric vehicle shares in the short term.
Investors in Hong Kong are rotating into growth from value
, unlike the rest of the world where rising interest rates are hurting demand for tech shares. The Hang Seng Tech Index is up 10% this month, trouncing the Nasdaq Composite's 7.5% loss through Tuesday, with Hong Kong's gauge boosted by a dialing back of China's crackdown on tech giants and easing of virus curbs that's boosted consumer discretionary plays.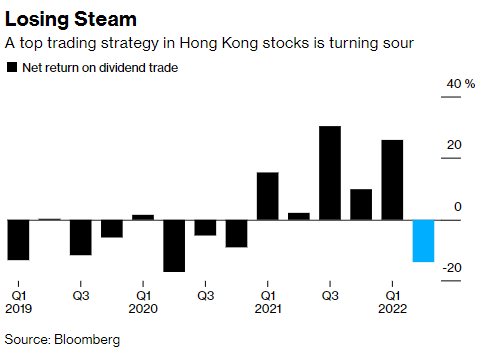 Moomoo is an app offered by Moomoo Techonologies Inc. that provides information about investments. Moomoo Technologies is not an investment adviser or a broker-dealer and it provides neither investment or financial advice nor securities trading services. All contents such as comments and links posted or shared by users of the community are opinions of the respective authors only and do not reflect the opinions, views, or positions of Moomoo Technologies, its affiliates, or any employees of Moomoo Technologies or its affiliates. You are advised to consult a qualified financial or tax advisor for your personal financial planning and tax situations.

17