The S&P 500 officially enters a bear market: Beat or Run?
Views 482K
Contents 327
Defying inflation, UBS bullish on NOMD, Europe's largest frozen food company
NOMD Foods is the largest frozen food company in Europe. NOMD's frozen portfolio is primarily composed of fish, fruit and vegetables, ready meals, and ice cream. NOMD Foods is a holding company that has acquired numerous leading brands since 2015. Notable brands include Birds Eye, Findus, and Iglo.UBS believes its Pricing is evident while share holds steady.
European Frozen Food category declines hold steady; PL gains share
(1) The latest Nielsen data for the period ending 5/22/22 indicates the European frozen food category declined by 3.8% on the latest 12-week basis, in line with last month. The weakness is led by volume declines, while category pricing moves higher.
This is not surprising in light of the inflationary data we have seen coming out of the region.
(2)
While NOMD's price continues to accelerate (6.0% this month vs 5.0% last month), competitors are beginning to follow.
Importantly, NOMD's share has remained largely flat since the company started increasing its price. However, we do note that Private Label has been a bit slower to take the price (albeit they are), and has gained roughly 50 bps of share over the latest 12-week period.
(3)
Typically European PL manufacturers operate with +HSD margins.
Given the inflationary environment, we believed they would need to take multiple rounds of the price too, otherwise, they would face significant profit pressure.

2. Frozen fish and vegetables continue to lag
(1)
Sales declined in frozen fish and frozen vegetables (NOMD's largest categories) for the latest 12-week period while frozen meals and frozen meats continued to grow +LSD.
Encouragingly, declines in frozen fish continue to moderate, but frozen vegetables have been more choppy.
(2) NOMD outpaced the category in frozen fish over the last 12 weeks and has gained 60 bps of share. However, we highlight that NOMD continues to take less price than both PL and the broader category. Comparatively, PL gained 40 bps of share in the category.
(3) NOMD and PL continue to take more price than the category in Frozen Vegetables (NOMD taking more price), but NOMD lost -10 bps of share and PL gained 20 bps of share.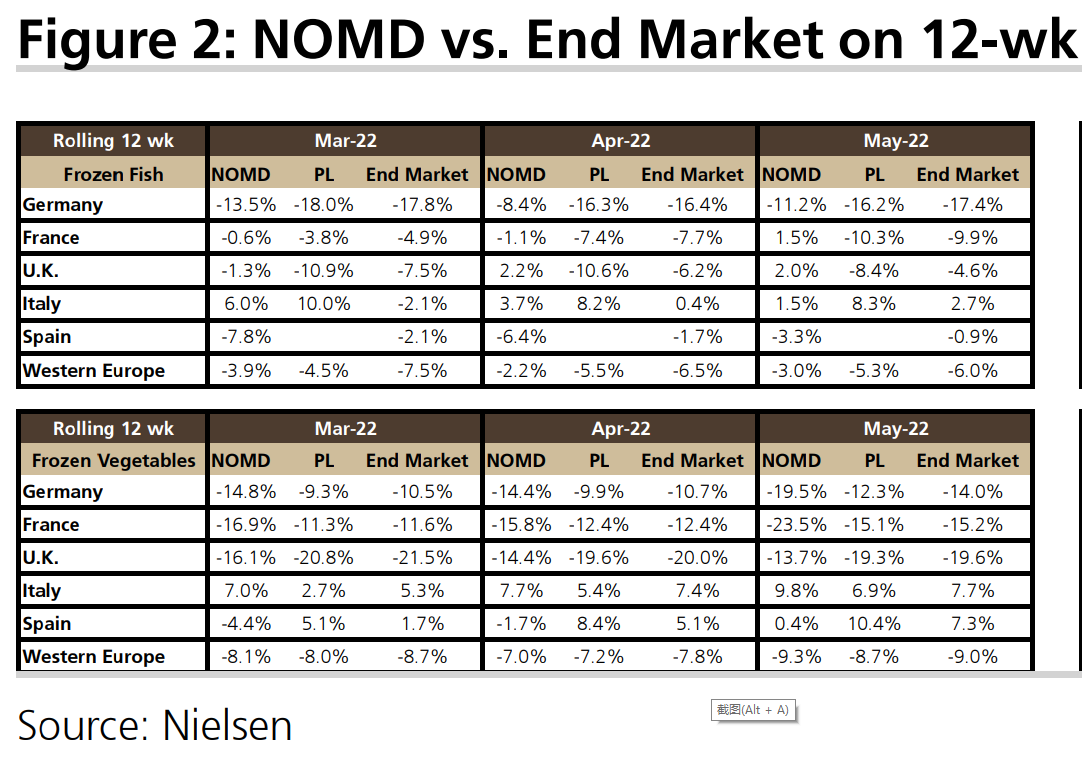 3. Valuation: $26 PT and Buy rating
$26 12-month price target is based on an equal-weighted EV/EBITDA and P/E valuation framework. Ascribe an 11x EV/EBITDA multiple and 13x P/E multiple to our Q5-Q8 estimates.

Moomoo is an app offered by Moomoo Technologies Inc. that provides information about investments. Moomoo Technologies is not an investment adviser or a broker-dealer and it provides neither investment or financial advice nor securities trading services. All contents such as comments and links posted or shared by users of the community are opinions of the respective authors only and do not reflect the opinions, views, or positions of Moomoo Technologies, its affiliates, or any employees of Moomoo Technologies or its affiliates. You are advised to consult a qualified financial or tax advisor for your personal financial planning and tax situations. Moomoo makes no representation or warranty as to its adequacy, completeness, accuracy or timeliness for any particular purpose of the above content.
1