2022 Half-Year Recap: Winning streak or zero-sum in your performance?
Views 108K
Contents 389
Write 2022 Half-Year Recap to Win Stock Cash Coupons
It's hard to believe that we're halfway through 2022. The war between
Ukraine and Russia
, a prospect of substantially
tighter US monetary policy
, and
the S&P 500 bouncing
have weighed on market sentiment. Big tech investing is being eyed with caution.
Now is a good time to do a half-year recap of your trading performance with all that's happened. Let's look at what you've got and recall the unforgettable trading moments.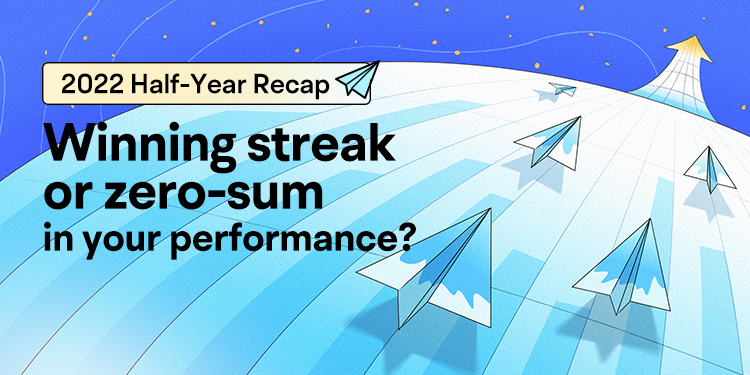 1. Where's your money? Did you have a big loss?
It's understandable to feel anxious and worried when things go south.

You may feel lonely when you lose and feel desperate when you want to reverse the situation, but it gets even worse. How did you survive?
After recovering from feelings of sadness and anxiety, you may want to summarise the reasons to do better next time.

You may ask yourself:
● How do you survive a fluctuating market?
● What contributed to the loss of your money?
● How do you recover from a loss?
2. Are you one of the lucky ones to win?
Regardless of the market's ups and downs, we've seen investors manage to lower the average cost to counter the impact of short-term volatility of their stocks. Are you one of them?

How do you feel when you make profits? What are the reasons behind your wins? Is it picking the right stocks? Or a perfect trading system? Or sheer luck?
Please share with us about:
● What is the secret to your xx% monthly return? Buy more?
● How to diversify your portfolio?
● How do you keep making profits?


Rewards:

1. USD 20 Stock Cash Coupon
We will select 6 mooers of the featured posts with market insights and over
100 words
, regarding quality, originality and user engagement.
2. 800 Points
Posts with a minimum of
80 words & P/L orders
will be rewarded with 800 points.
3. 80 Points
Posts with a minimum of
30 words
regarding quality will be rewarded with 80 points.
*The above rewards are mutually exclusive.
Event duration:
Jun 15 – Jul 5 11:59 PM SGT
Tips:
Posts with P/L orders are preferable! Don't know how to find your moomoo trading records? Just follow 3 simple steps.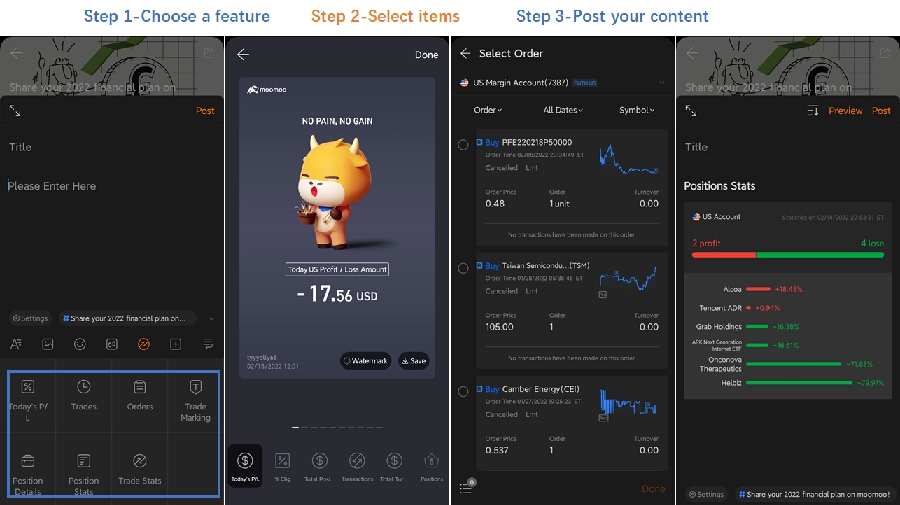 T&C
Disclaimer: This presentation is for informational and educational use only and is not a recommendation or endorsement of any particular investment or investment strategy. Investment information provided in this content is general in nature, strictly for illustrative purposes, and may not be appropriate for all investors. It is provided without respect to individual investors' financial sophistication, financial situation, investment objectives, investing time horizon, or risk tolerance. You should consider the appropriateness of this information having regard to your relevant personal circumstances before making any investment decisions. Past investment performance does not indicate or guarantee future success. Returns will vary, and all investments carry risks, including loss of principal.
Tap for more details
Disclaimer: Moomoo Technologies Inc. is providing this content for information and educational use only.
Read more
1
1
4
4
47