61% of people live paycheck-to-paycheck: How to grow money?
Views 16K
Contents 44
A magic way to navigate markets: investing with economic cycle
The stock market has had a roller coaster year as the Federal Reserve's aggressive rate hikes sparked recession fears.
All eyes will be on Friday's May CPI reading. Many see the report as critical to the path of Fed policy and whether the central bank will stick to its aggressive 50 basis point rate hike.
The recent rebound has somewhat eased investor pessimism.

Two big questions still plague investors: is now the time to buy? Where to put cash right now?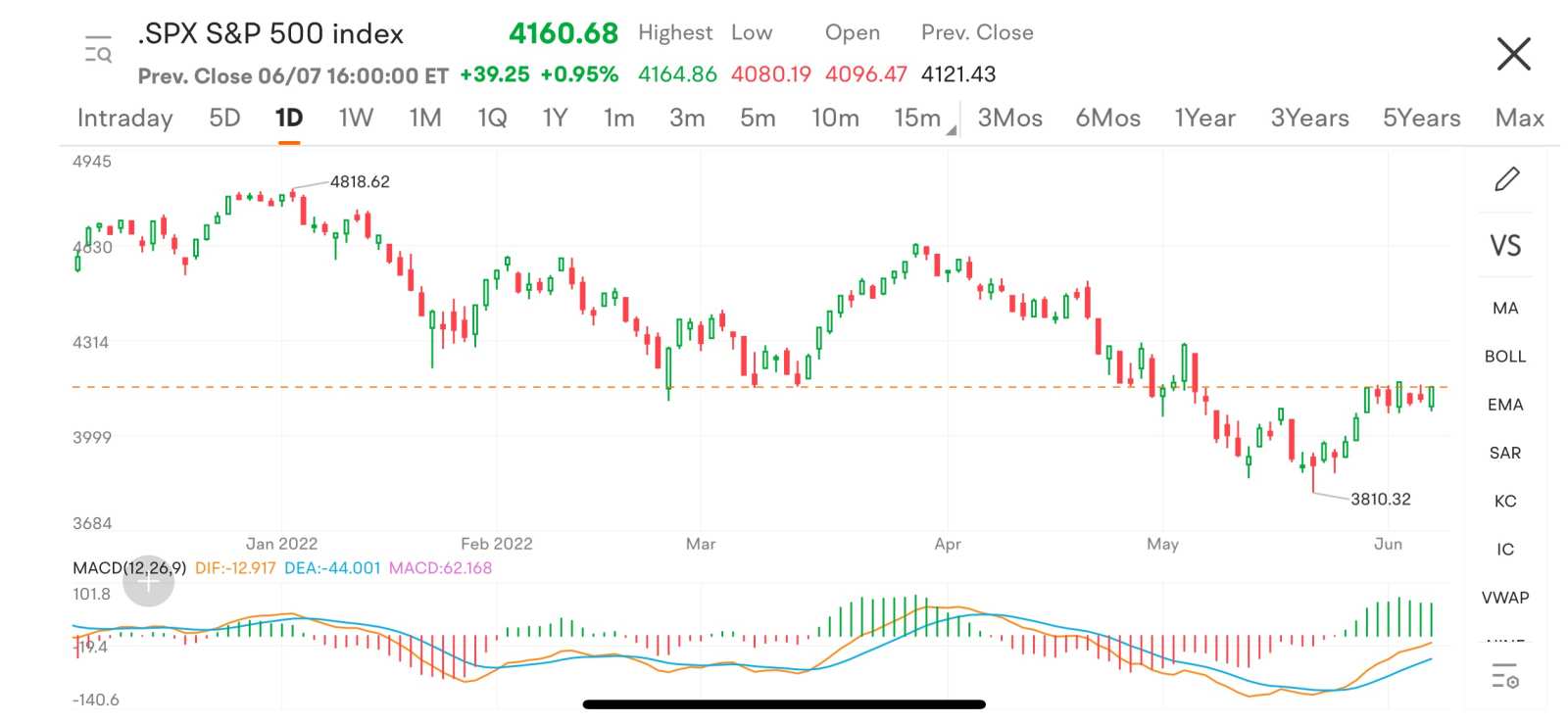 The market has slightly rebounded from the recent bottom.
The stock market is closely related to the macro economy and company operations. Our investment performance is directly affected by corporate earnings, interest rates, inflation and other factors.
We know that economy has its own cycles, just like the stock market will rise and fall periodically. Merrill Lynch's investment clock may be a good strategy to help you develop a better trading plan.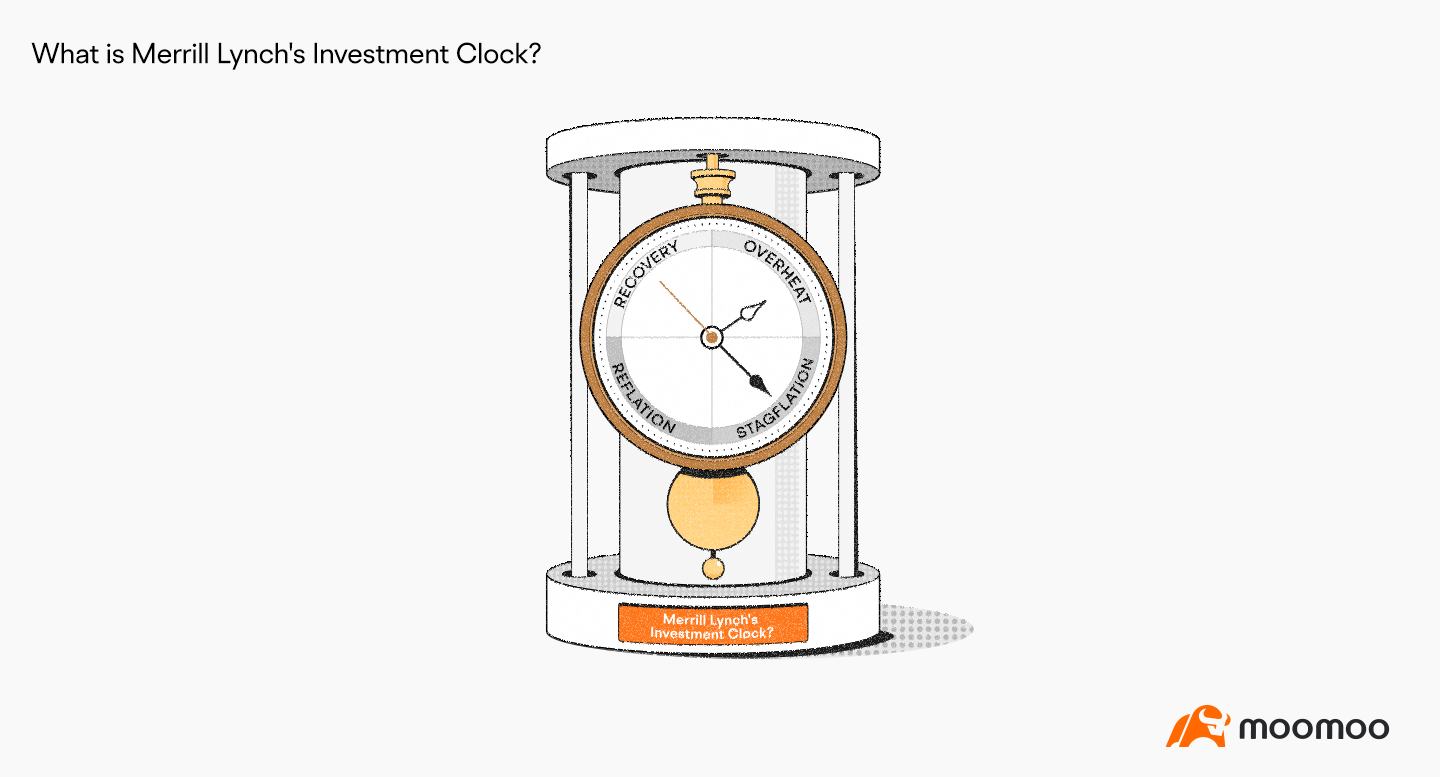 Understanding the historical performance of various types of assets at different stages of the economic cycle can help investors identify opportunities and/or risks and adjust portfolios.
What's Merrill Lynch's investment clock?
Merrill Lynch's investment clock

divides the economic cycle into four stages: reflation, recovery, overheat, and stagflation.
Each phase is comprised of the direction of growth and inflation relative to their trends. A classic boom-bust cycle would start from the bottom left and move clockwise as bonds, stocks, commodities, and cash outperforms in turn.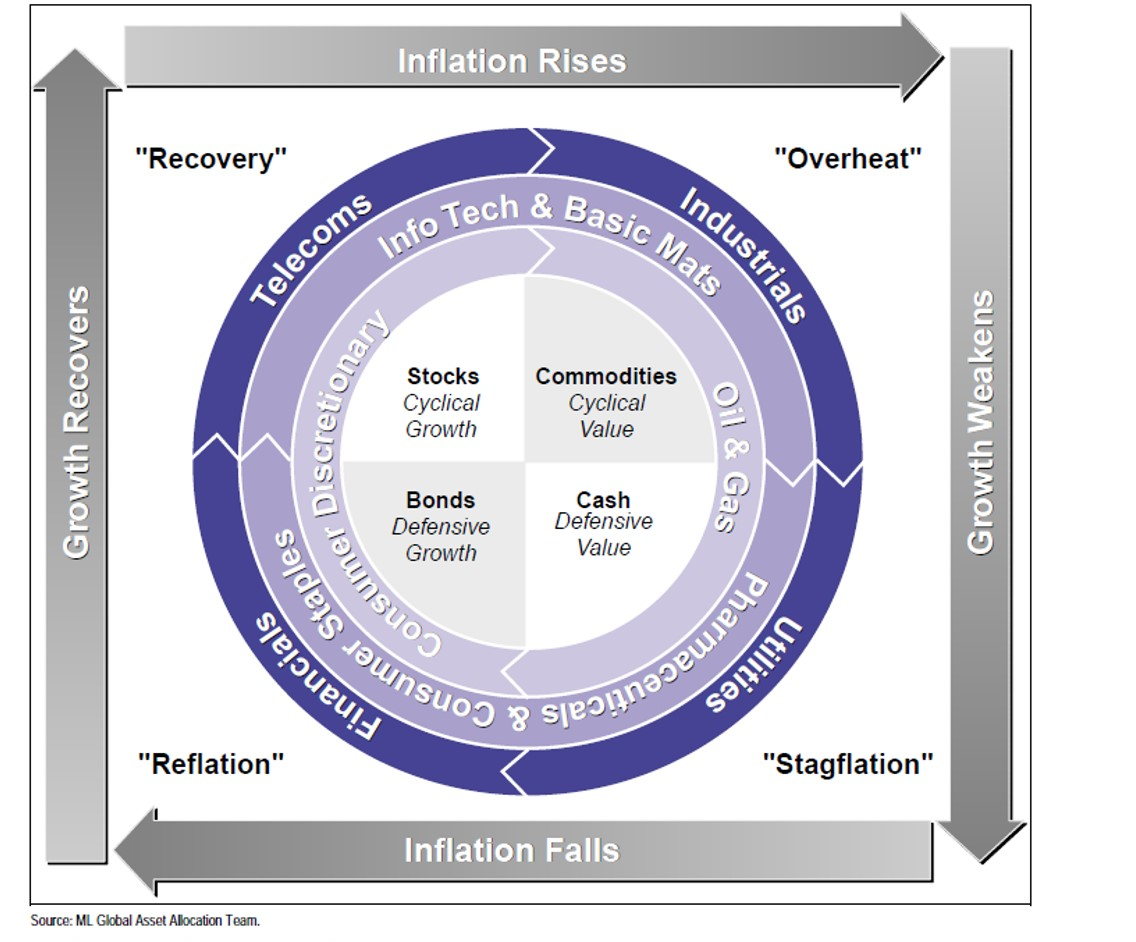 History provides guidance on how different types of assets perform at each stage. However, the actual market is always more complicated than the theory.
This is why continual learning and reflection on our own trading is a must for successful traders.
Read more for complete understanding of

Merrill Lynch's investment clock






Spoilers
More Interactive Master Badges
Moomoo Learn launched the

Learning Master Badge

in April.
Did you notice? Have you lit up your badge to like-minded friends? We've had some feedback from mooers who find badges like this quiet inspiring
Guess what, we have more Master Badges available for our Mooer Challenges. Please don't hesitate to update your app and try now.
- They are designed to be
more interactive
. You can take exams to test your knowledge, or take courses to improve your skills.
- Moomoo Learn will launch
rewarded sharing activities
and invite motivated learners to share their insights with us.

Also, we always welcome any feedback on Learning Badges. Go update your app and be one of the first stock/options/fund masters.
How to obtain?
1. Update your app to the

latest version
2. Click the

badge icon

in the upper right corner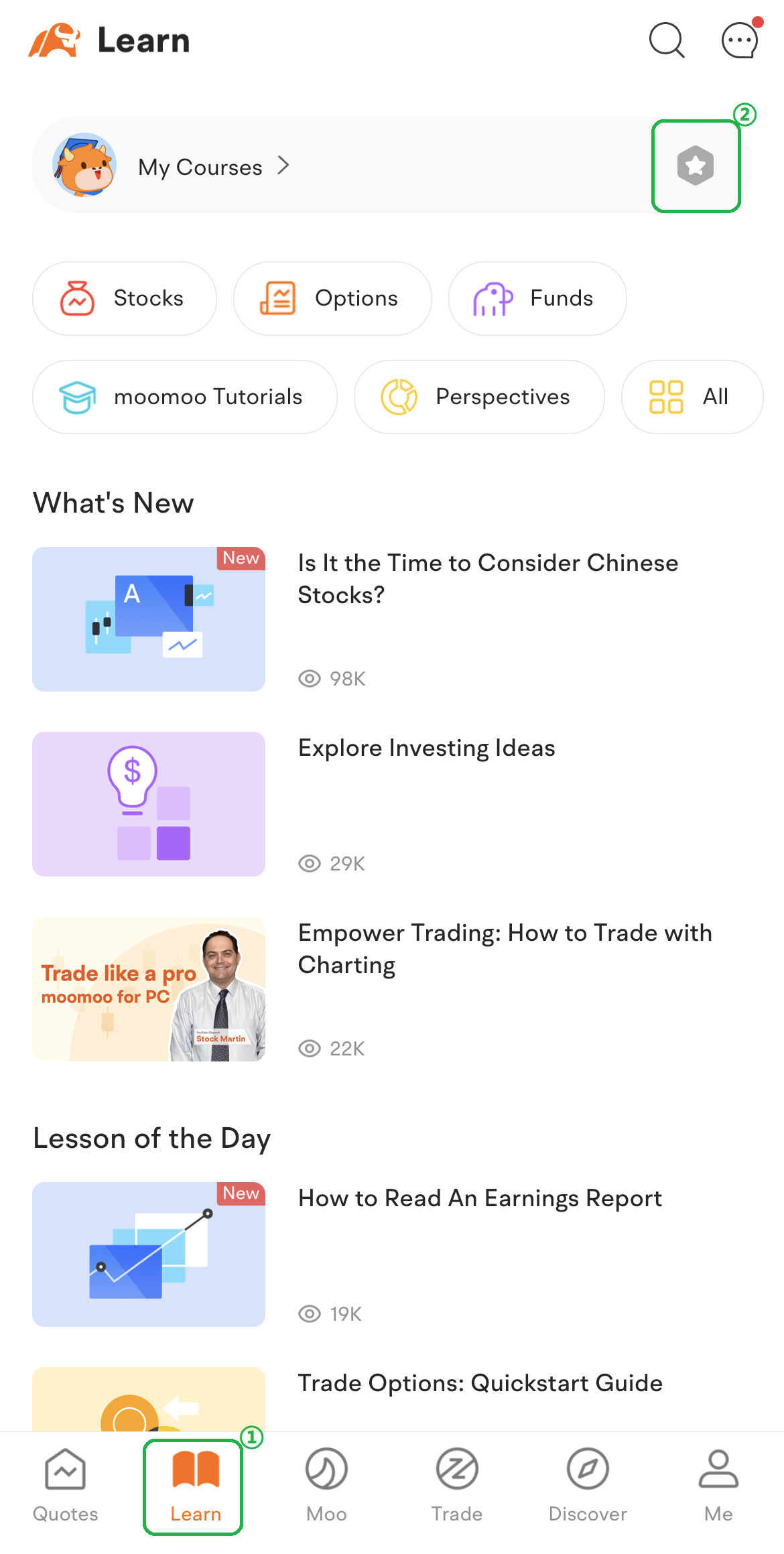 3. Scroll to the bottom"Learning Journey"

section. Four Badges await your action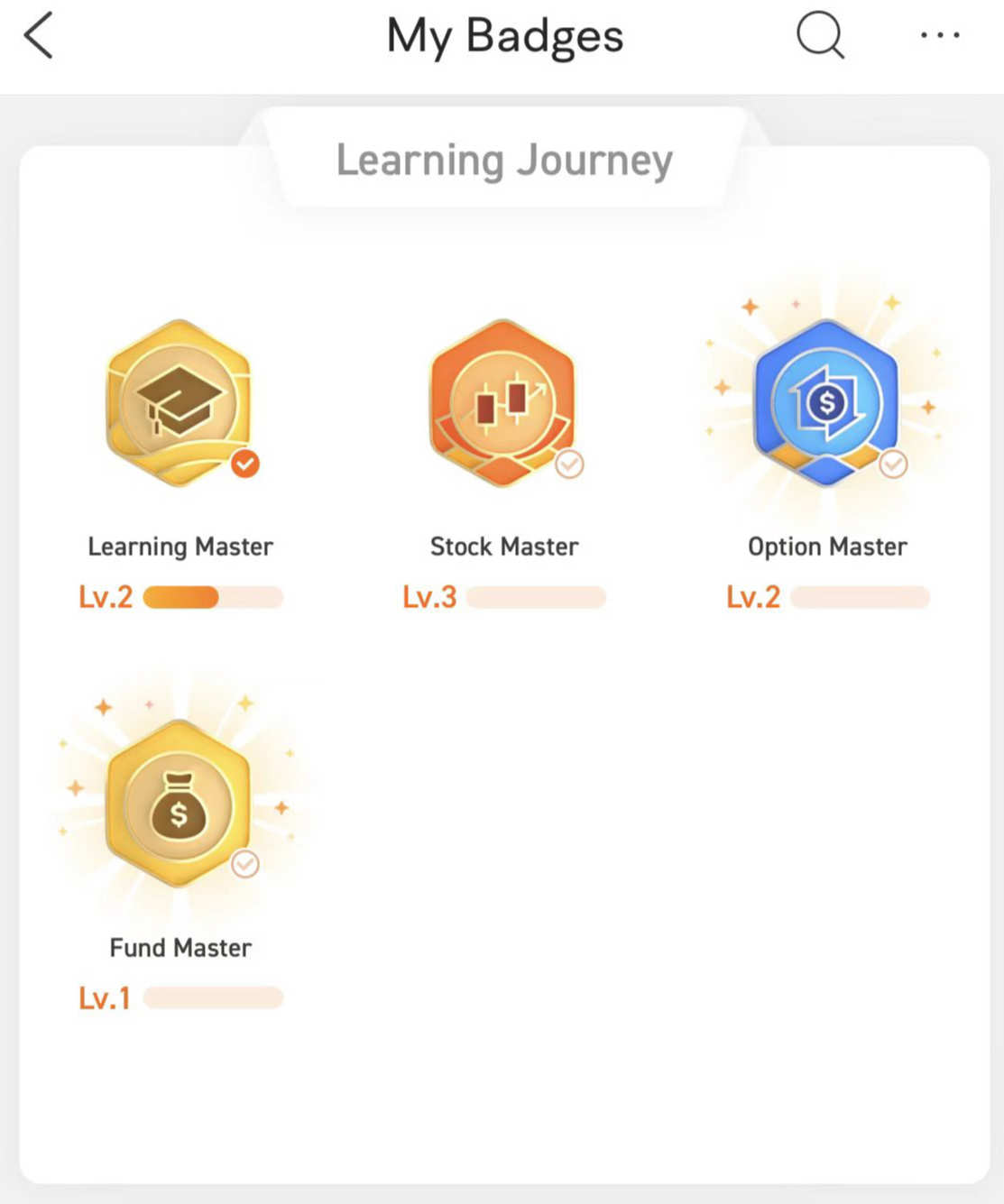 Moomoo is an app offered by Moomoo Technologies Inc. that provides information about investments. Moomoo Technologies is not an investment adviser or a broker-dealer and it provides neither investment or financial advice nor securities trading services. All contents such as comments and links posted or shared by users of the community are opinions of the respective authors only and do not reflect the opinions, views, or positions of Moomoo Technologies, its affiliates, or any employees of Moomoo Technologies or its affiliates. You are advised to consult a qualified financial or tax advisor for your personal financial planning and tax situations. Moomoo makes no representation or warranty as to its adequacy, completeness, accuracy or timeliness for any particular purpose of the above content.
103