GME Stock Surges on NFT Marketplace Anticipation.
$GameStop
(
GME.US
)
$
$AMC Entertainment
(
AMC.US
)
$
The surge in interest in non-fungible tokens (NFTs) appears to have waned amid a crypto crash. However, certain popular projects like the Bored Ape Yacht Club remain in the spotlight.
NFT marketplaces are the vehicle investors use to transact these digital tokens.
Having a low-cost option on the market, especially under the GameStop banner, is something many investors think will take off.
That said, it will be an uphill battle.
OpenSea, the major player among NFT marketplaces, owns the market. In fact, its platform still has more than 50% of the overall market.
For GameStop's NFT marketplace to be successful, users will need to be enticed to switch to a platform with less eyeballs. That might be a difficult sell.
For now, I think this is an intriguing potential catalyst to watch. However, today's rather volatile move higher is one that may not be sustainable. Investors may want to take caution when trading GME stock during these periods of volatility.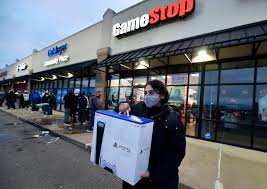 Disclaimer: Community is offered by Moomoo Technologies Inc. and is for educational purposes only.
Read more
1