These companies were removed from S&P 500 ESG Index, your thoughts?
Views 6451
Contents 7
Vote Now | Elon Musk calls ESG 'is a scam'. What do you think?
Elon Musk
isn't pleased after
$Tesla
(
TSLA.US
)
$
was dropped from an equity index that tracks
environmental, social and governance principles (ESG)
.
ESG is a scam. It has been weaponized by phony social justice warriors.
—— Mr.Musk said.
Musk lamented that
$Exxon Mobil
(
XOM.US
)
$
, one of the world's largest oil and gas companies, remained in the index.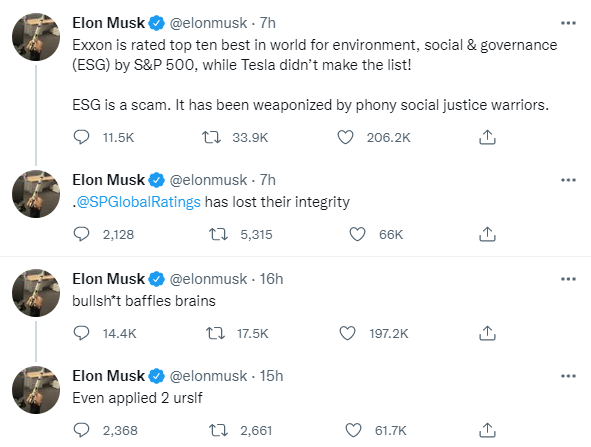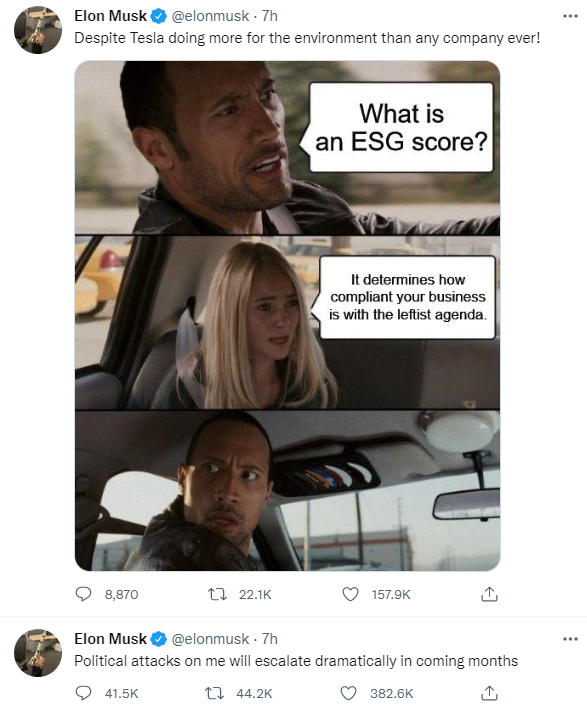 The S&P Dow Jones Indices recently removed Tesla and several other companies from its ESG index as part of its yearly rebalancing.
Tesla lagged its peers for a variety of reasons including its carbon strategy, working conditions and handling of a regulatory investigation, the index operator said.
In recent years, ESG investing has grown in popularity as investors try to put money into more socially conscious companies.
Disclaimer: Moomoo Technologies Inc. is providing this content for information and educational use only.
Read more
34
47K Views