AU Morning Wrap: ASX rises; miners, tech stocks rally
G'day, mooers! Check out the latest news on today's stock market!
• Wall St bounced on solid retail sales
• Australian shares opened higher on Wednesday; ASX 200 up 1.1 per cent
• Stocks to watch: Boral, BlueScope, Worley, Monash IVF, Integral Diagnostics
- moomoo News AU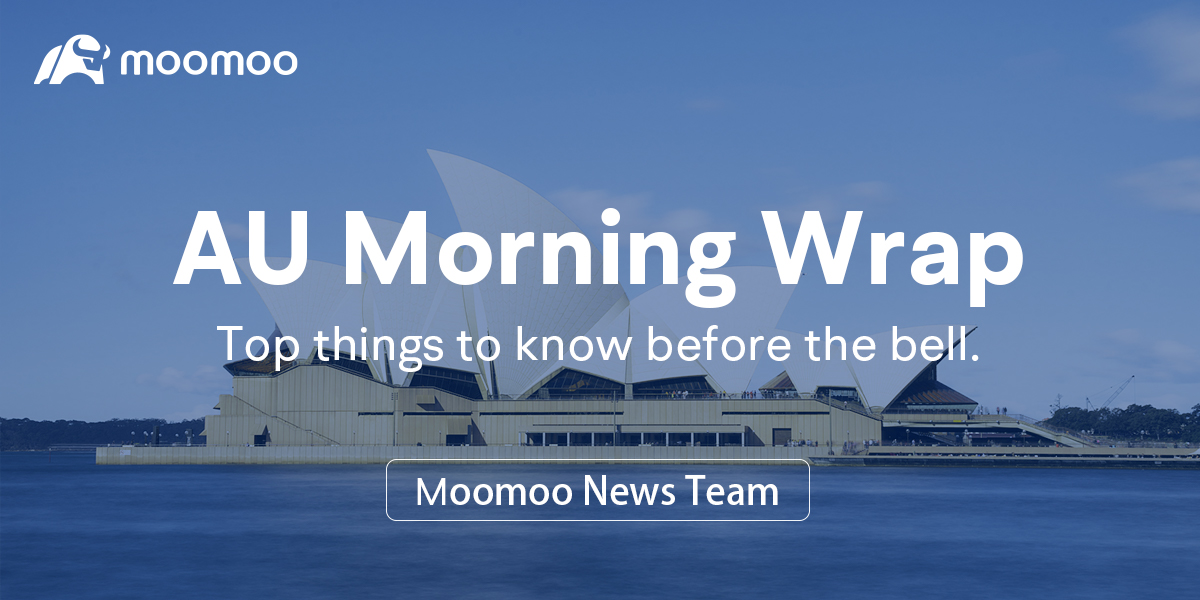 Wall Street Summary
Stocks most closely leveraged to the economy led after reports on retail sales and industrial production eased recession fears. Value investors were encouraged by news Warren Buffett's Berkshire Hathaway took advantage of recent weakness to build stakes in Citigroup and Paramount Global.
The

$S&P 500 index

(

.SPX.US

)

$

climbed 81 points or 2.02 per cent. The

$Dow Jones Industrial Average

(

.DJI.US

)

$

firmed 431 points or 1.37 per cent. The

$Nasdaq Composite Index

(

.IXIC.US

)

$

gained 322 points or 2.76 per cent.
AU Market Watch
Australia's S&P/ASX 200 looks poised to open strongly, potentially laying a platform for a fourth consecutive gain. ASX futures are up by 1.0% after U.S. indices rebounded among a jump by tech stocks. The ASX 200 has added 2.5% across three sessions after rising by 0.3% on Tuesday.
Australian shares opened higher this morning. The

$S&P/ASX 200

(

.XJO.AU

)

$

gained 1.09 per cent to 7190 as of 10:19 am.
Stocks to Watch
$Boral Ltd

(

BLD.AU

)

$

: Boral has warned that its earnings have continued to be adversely impacted by heavy rainfall, particularly in NSW and Queensland, and further increases in energy prices since its March trading update. Taking into account trading for late March through to mid-May, the company now expects a hit of around $45 million to its FY22 underlying earnings.
$BlueScope Steel Ltd

(

BSL.AU

)

$

: BlueScope Steel has increased its earnings guidance for the second half of the 2022 financial year on the back of strong steel prices and spreads in the US.
$Worley Ltd

(

WOR.AU

)

$

: Worley has been awarded a three-year engineering and procurement services contract by Shell to support five of its assets in the Gulf of Mexico.
$Monash IVF Group Ltd

(

MVF.AU

)

$

: Monash IVF Group has entered into a binding sale agreement for the acquisition of Perth- and Cairns-based fertility services provider Pivet Medical Centre.
$Integral Diagnostics Ltd

(

IDX.AU

)

$

: Integral Diagnostics has agreed to acquire New Zealand-based Horizon Radiology in a move which allows Integral to expand its presence in the Auckland market.
Commodities
• Iron ore prices eased slightly, holding above US$130 a tonne.
• Oil initially rallied as US officials signalled a potential switch from a Russian oil embargo to tariffs.
• Gold remains muted, hovering US$1,800.
Source: Dow Jones Newswires, AFR
Disclaimer: Moomoo Technologies Inc. is providing this content for information and educational use only.
Read more
5