This Week's Possible Plays 5/16 - 5/20
   

There are some good looking charts to play next week. Especially after then end of last week where we had a very green day on friday. Most of these are bullish plays and most of these plays are short term. Remember there are thousands of potential plays. There is money to be made all over the markets every day. Here are a few I will be watching for some short term momentum.  The US futures opened on the green side so these short term bullish plays are looking quite good at the moment. But be carefull with monday because with such very short term oversold readings we might see a tiny bit of red before the true relief rally comes in.And if we do get a true relief rally then tech and small caps should outperform compared to most value companies that have been killing it during this market downturn.
$Mission Produce
(
AVO.US
)
$
   

The first possible play is with Mission Produce. This company is in the food industry. Most other companies in this industry have been rallying with oil and other commodities. This one has not joined in the fun yet. It is possible that it is late to the party because food prices are highly elevated and this company should experience some extra profit from this you would think. But you never know in these markets. Either way the technicals look good. The share price has broken out on th daily candles and the indicators are about to go bullish. The very short term is slightly overbought so there could be a tiny red on the very short term before continuing up. If the broader market continues to tank next week then this long play may not be a good one. So watch out for that.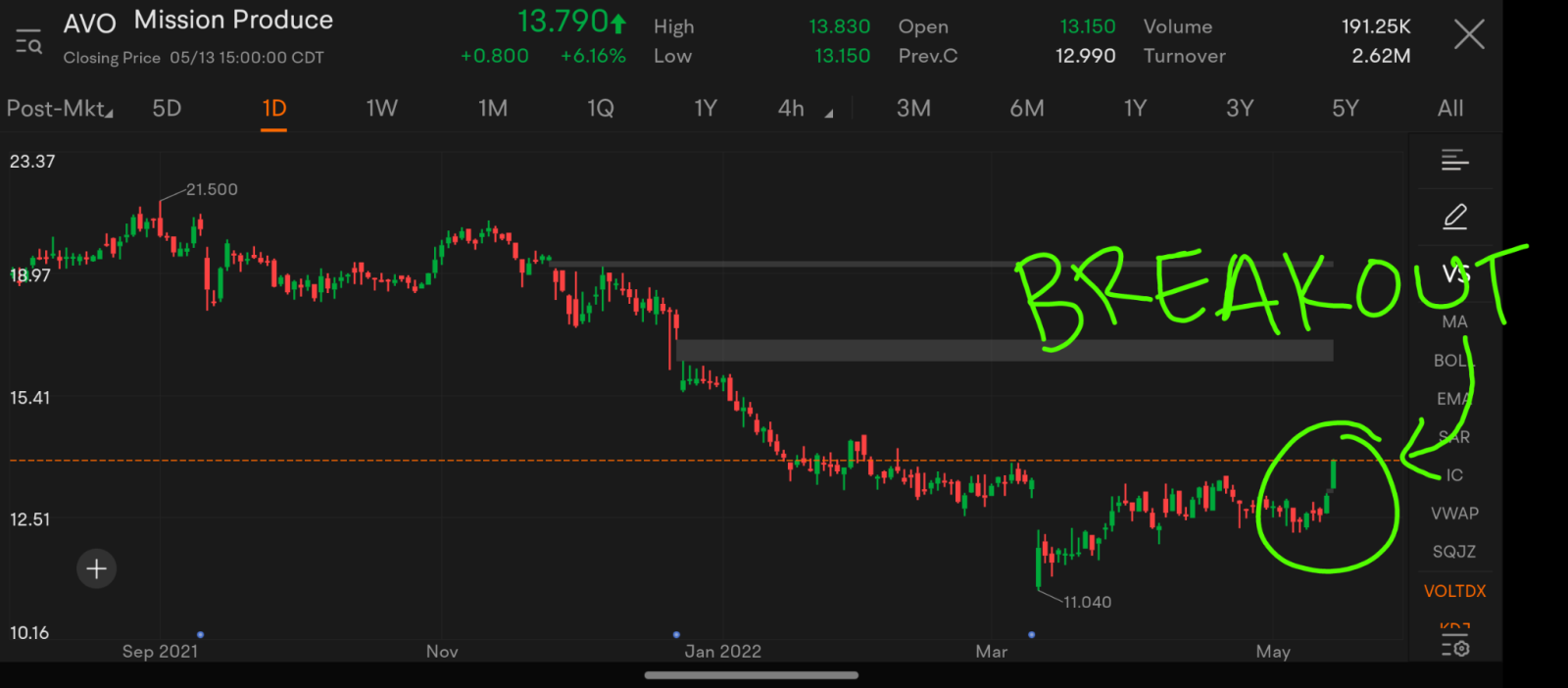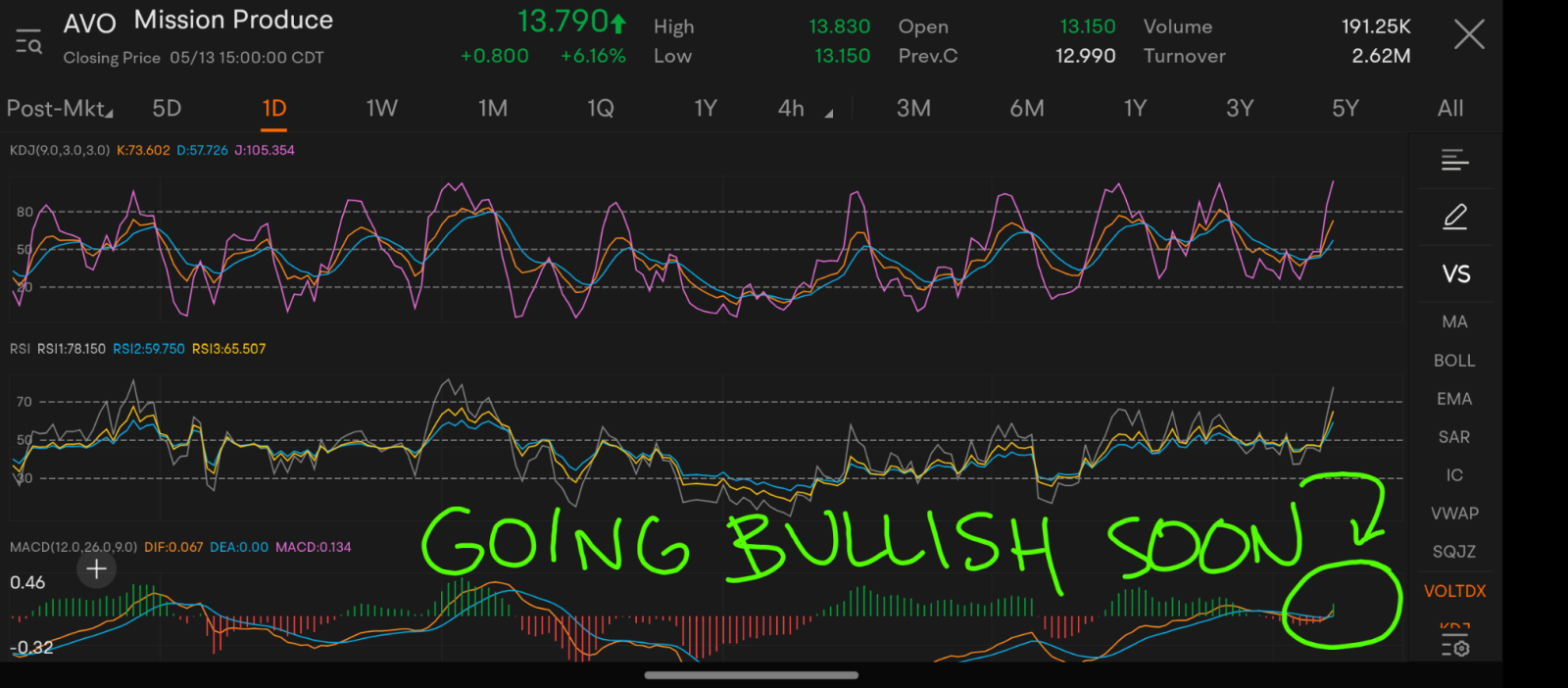 $Hostess Brands
(
TWNK.US
)
$
   

This one has a beautiful clear price channel to play off of. Buy near support and sell near resistance all the way up. Friday was a very green day so I wouldn't be surprised if there is a little profit taking at the beginning of the week next week. You can see the 4 hour candles that are overextended to the upside so there must be a little red to cool off the indicators before more upside.  This is another example of a company in the food industry that has been rallying while the market has been falling hard over the past few months.  But if price falls below that long term trending support then I would abort mission.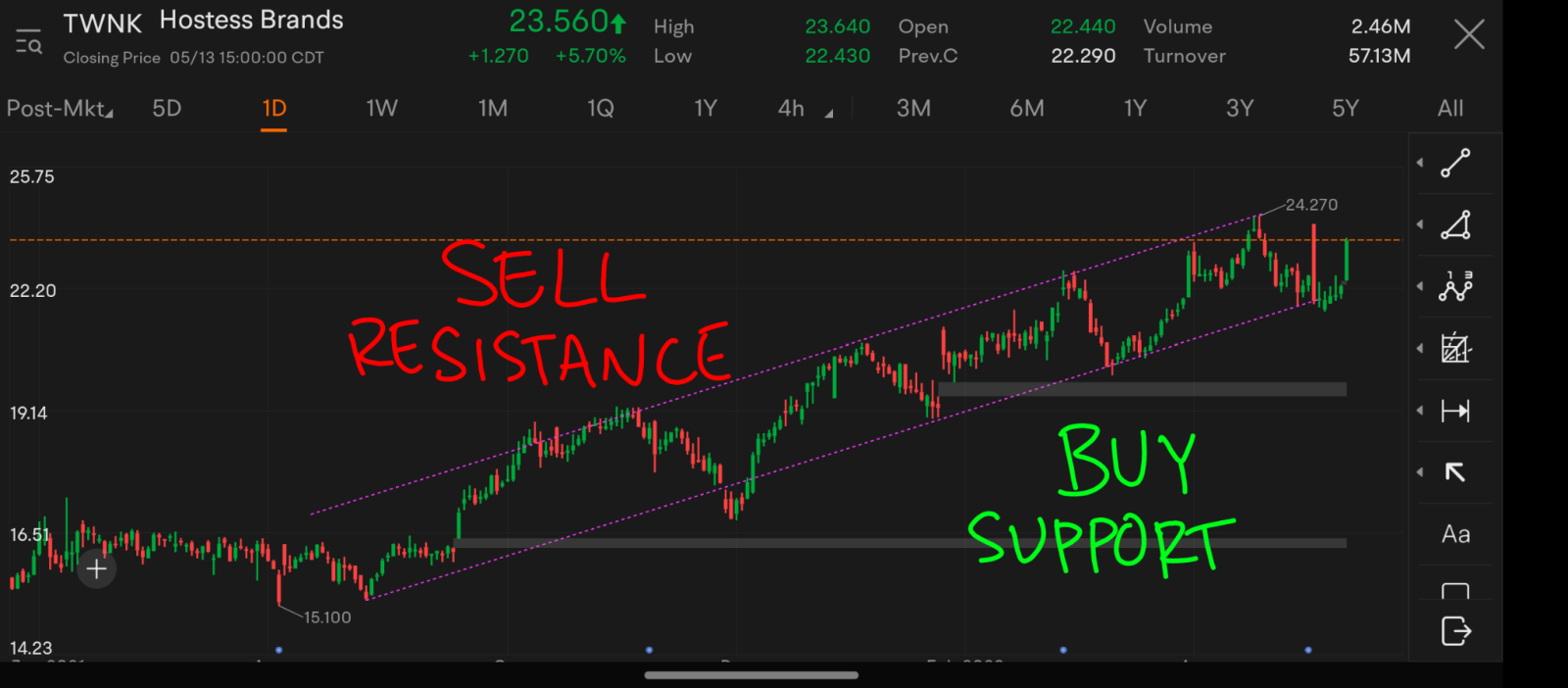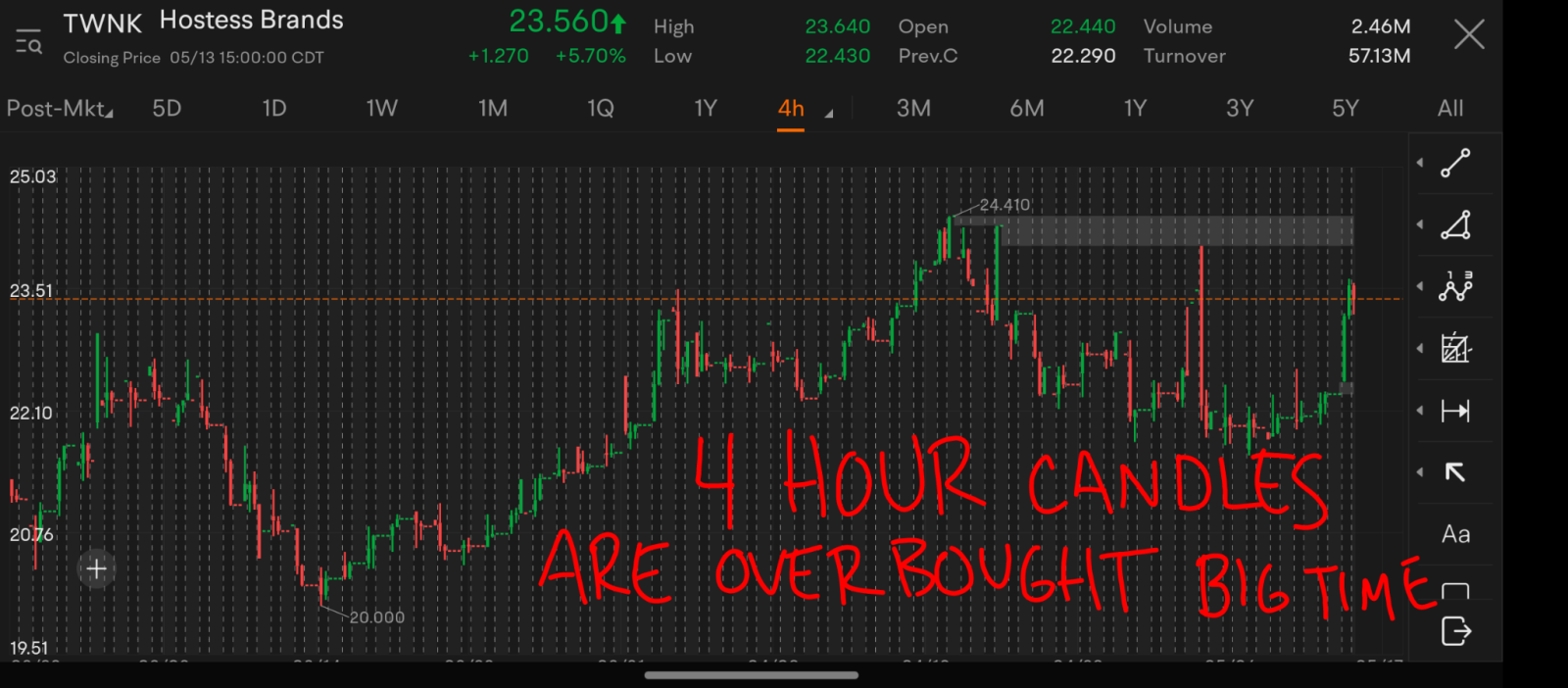 $Energizer Holdings
(
ENR.US
)
$
   

The price action on this one is looking very bullish. The share price has broken out of a short term ranging resistance. Then it came back down to retest that previous resistance bouncing off of it, making it a new support, and continuing upward with volume which is confirming the uptrend. The indicators look great also. This one is a great company and a good long term hold as well. I really like this one.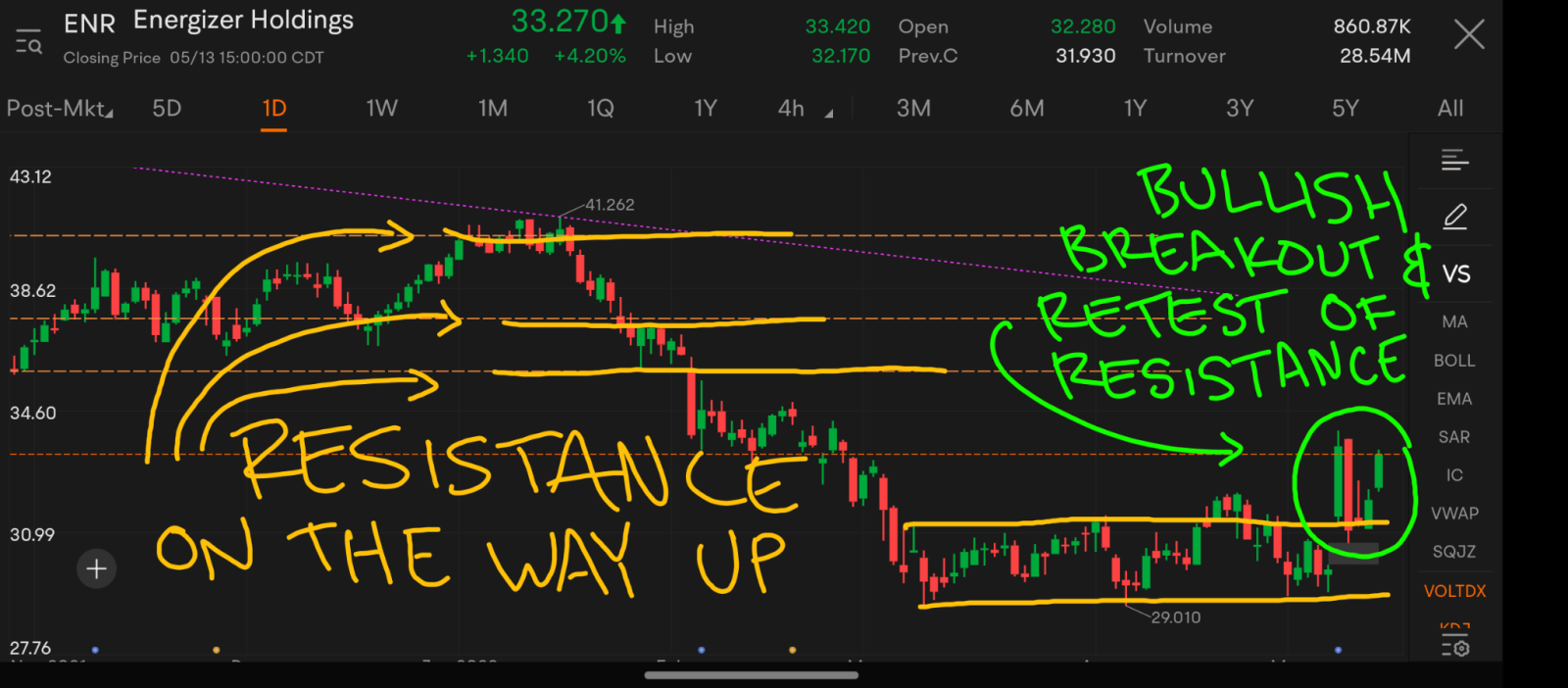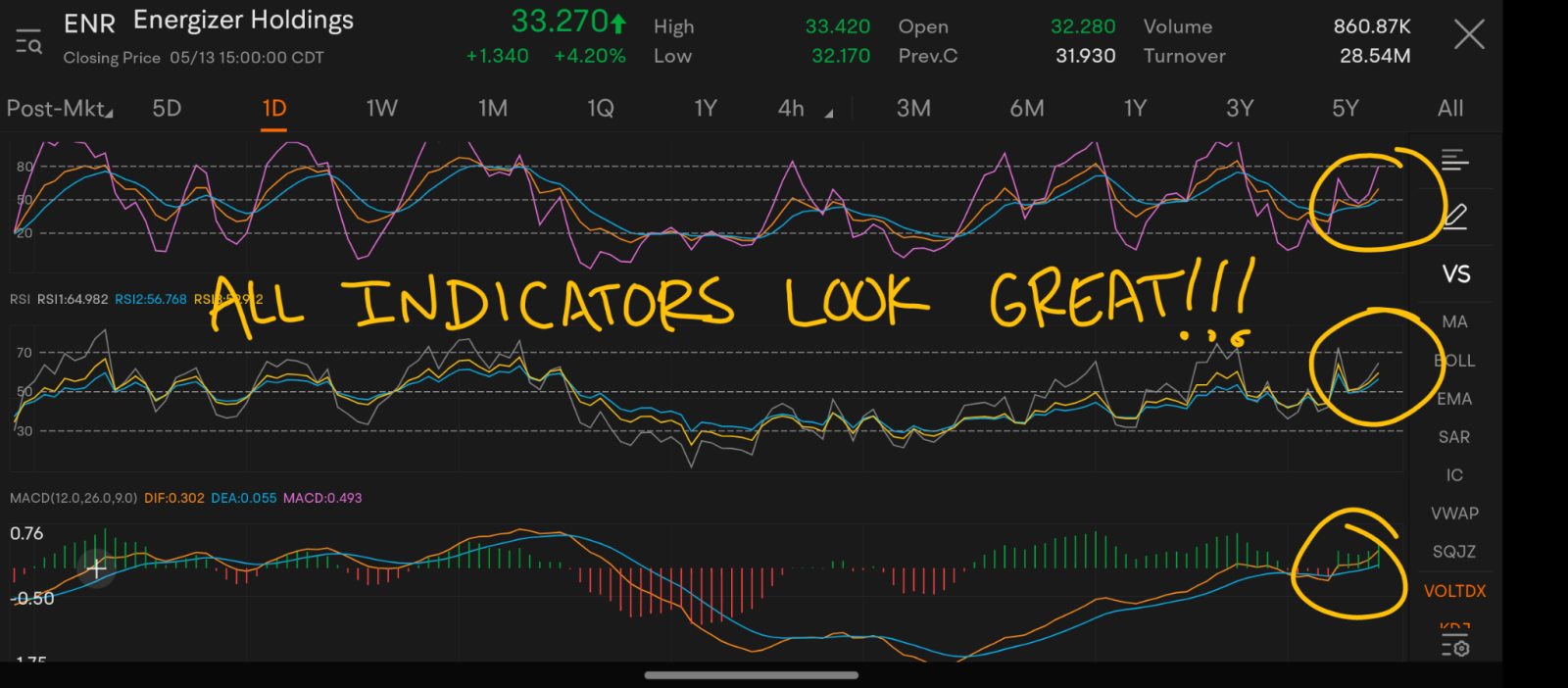 $Grocery Outlet
(
GO.US
)
$
   

This company had great earnings and a great earnings reaction. It is in the food industry as well. There was a lot of profit taking after the share price ripped upwards after earnings. This is causing the uptrend to weaken. There is a divergence in MACD and RSI so there may be some short term downside. Possible the price will return to trending support. Watch this one for a short even though i am bullish on this company so far. Keep an eye on the divergence and you may find a good time to enter a short term play to the downside.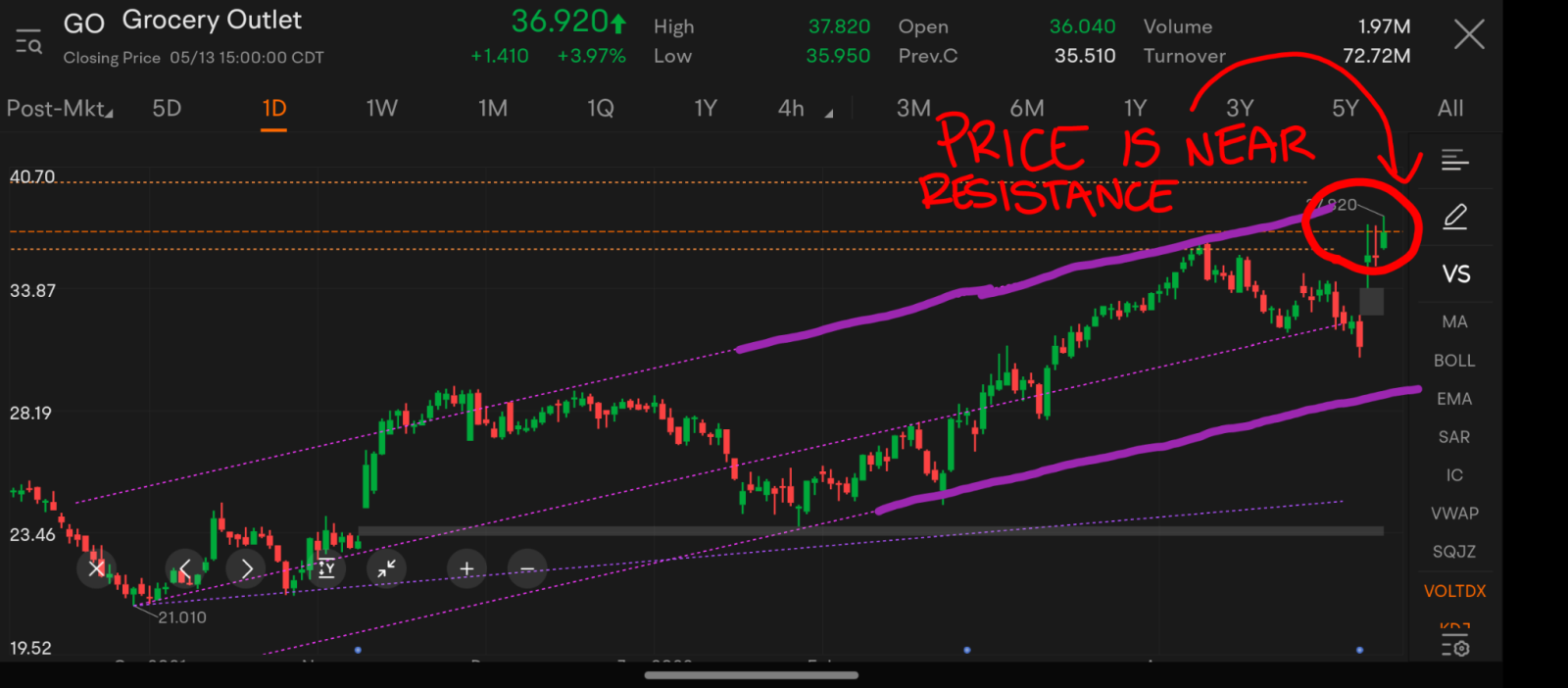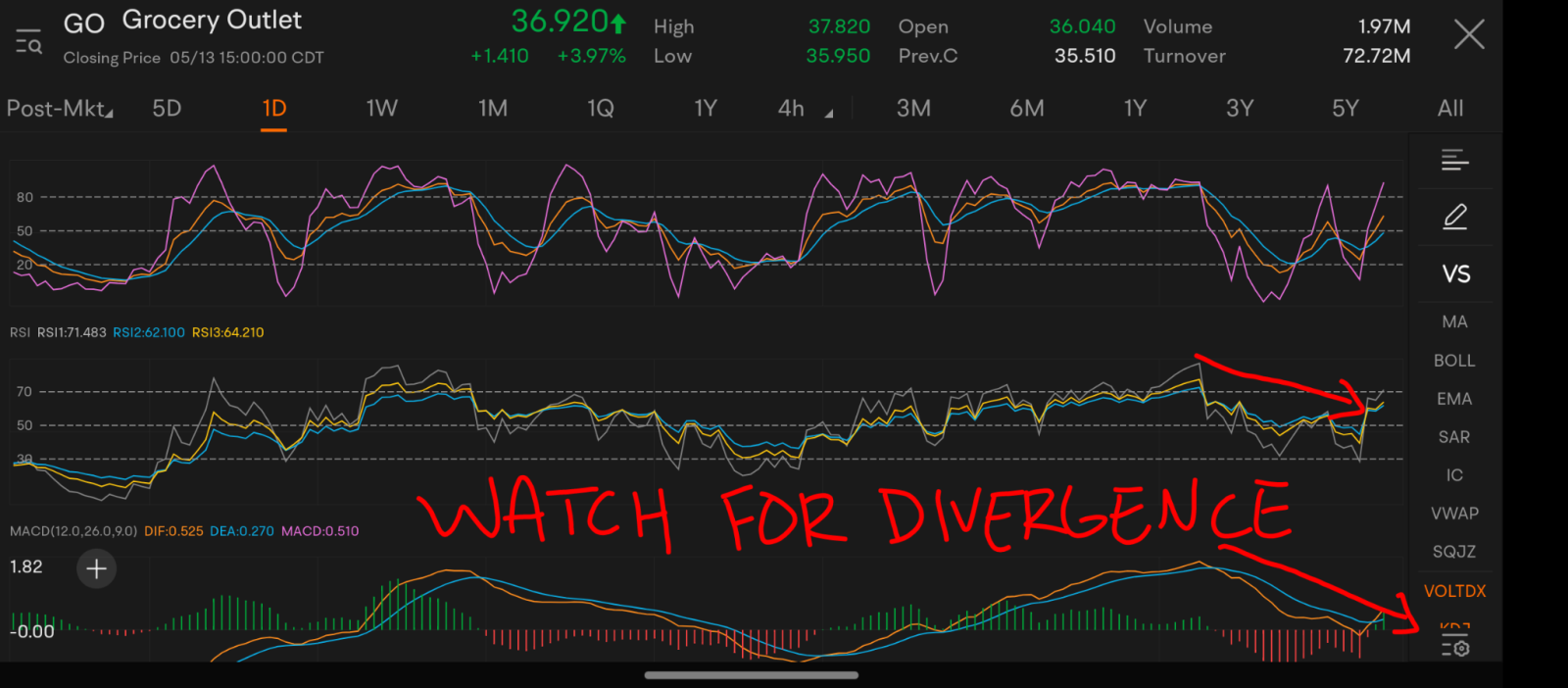 $CMS Energy
(
CMS.US
)
$
   

Price action on this one is very bullish also. The same price action as mentioned above with Grocery Outlets price moves.  Breakout of resistance and a retest of previous resistance.  Indicators are still in bullish territory so if crude stays at a high level then this one could get more upside.  But watch out for the death cross on MACD. That would mean we are headed down more than likely so scrap the long play in that case.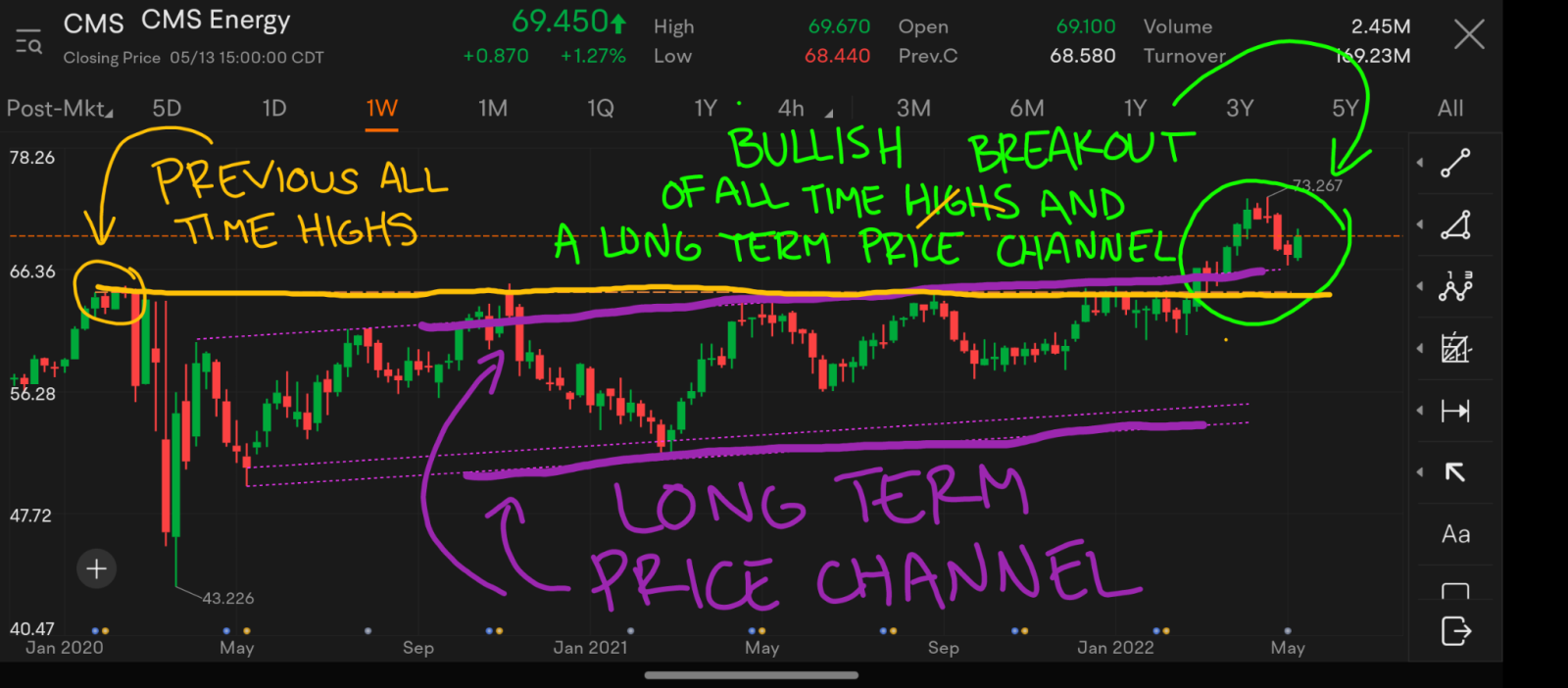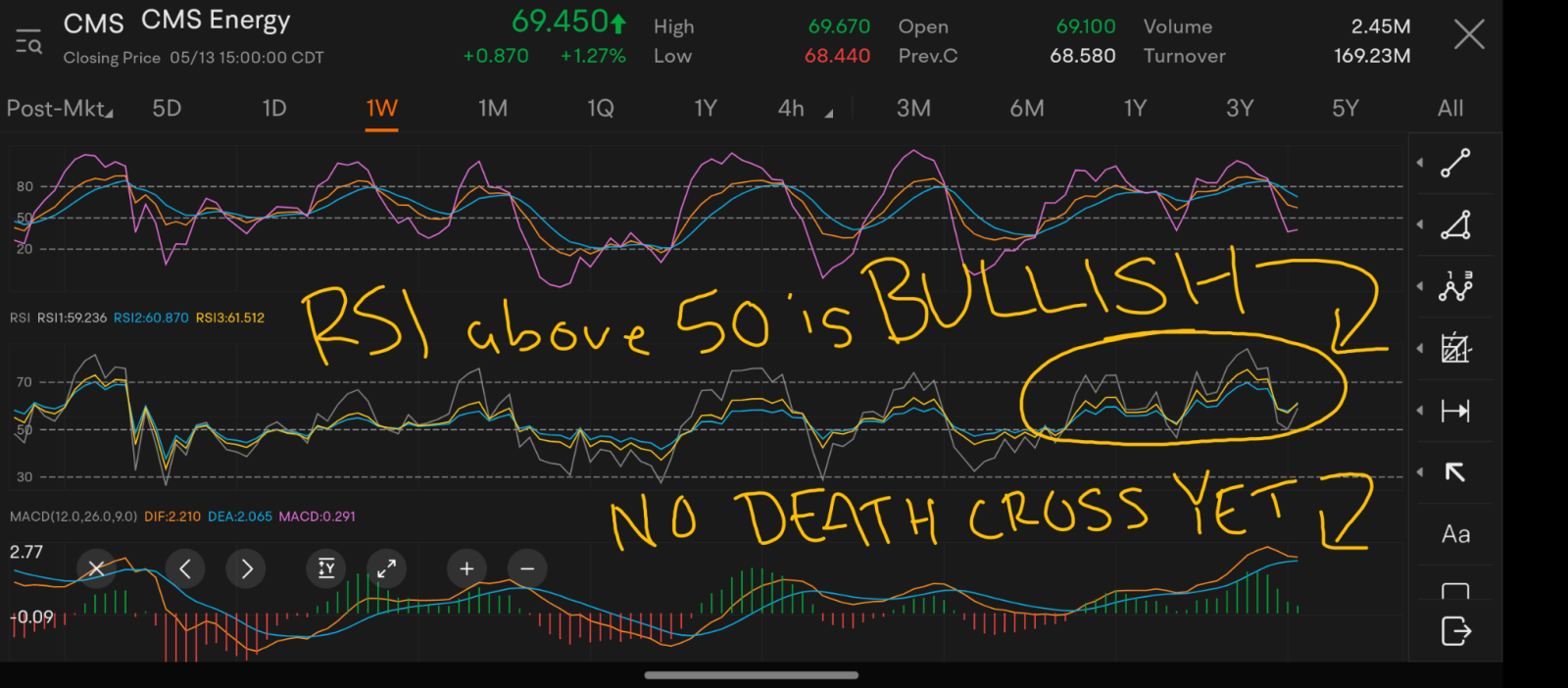 $Sysco Corp
(
SYY.US
)
$
   

This one could go either way. If it bounces off of support then you can go long. If it breaks down below support then you could go short for the very near term. This one has been on a massive rally for months and its trend is showing signs of weakness currently so dont fall asleep on this one if you go long.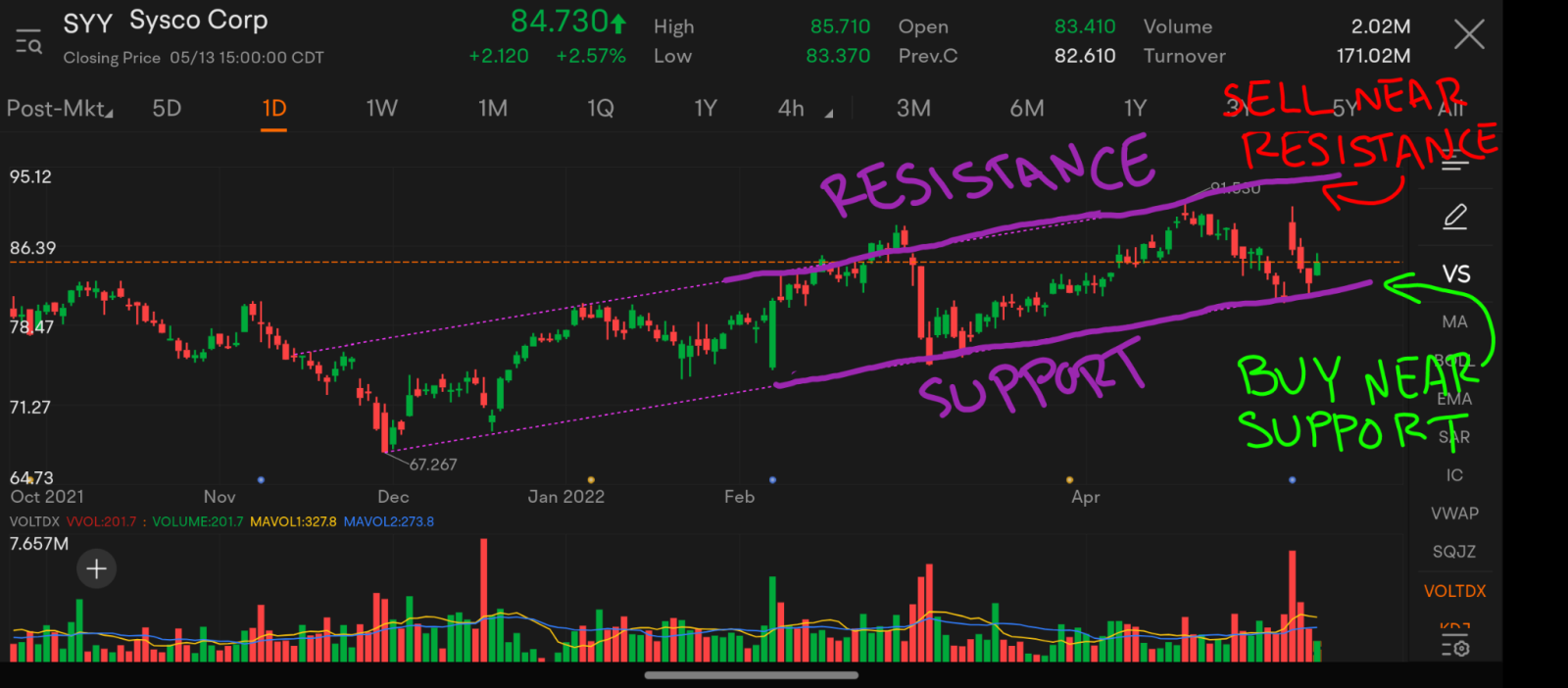 $McCormick & Co
(
MKC.US
)
$
   

Another easy price channel to trade on another company in the food industry.  Indicators are about one green candle from flipping to bullish. I might ride this one up to trending resistance. Then I might sell there.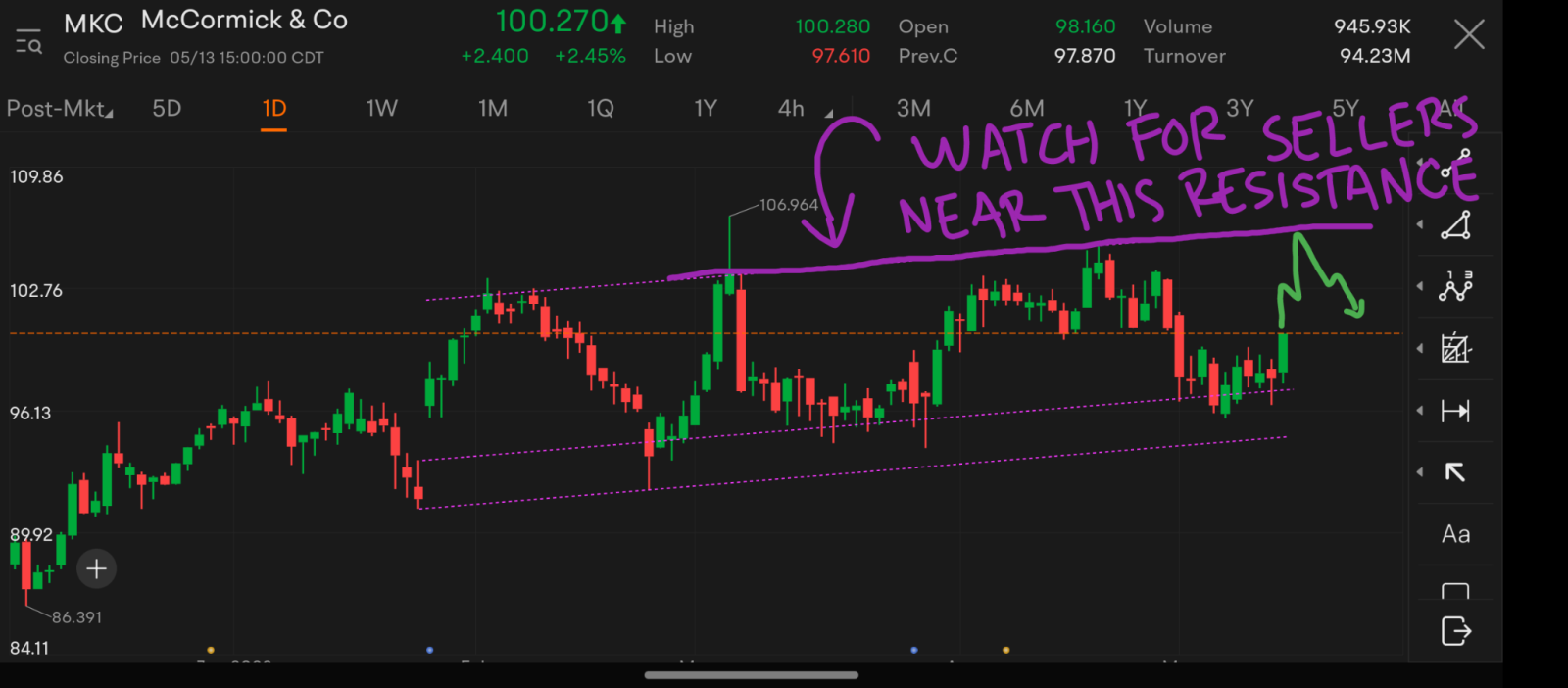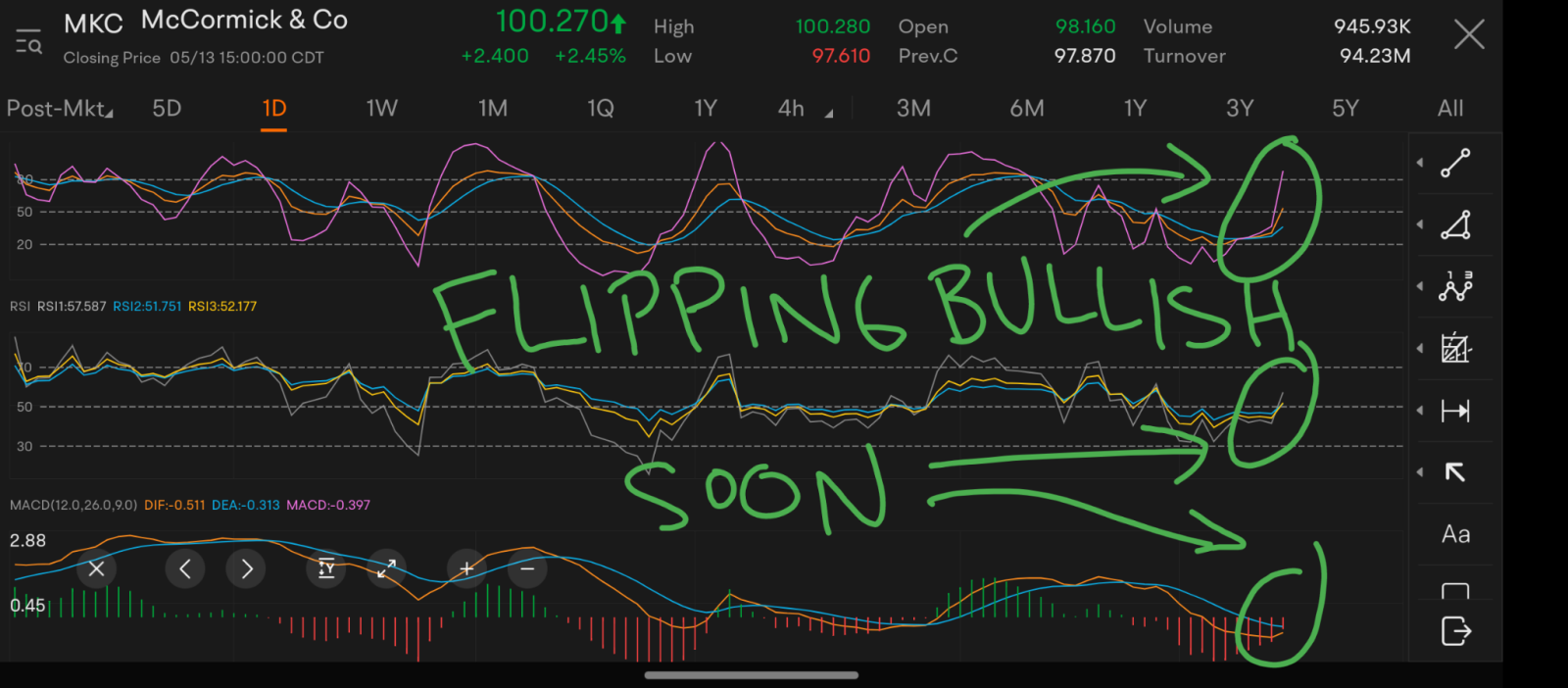 $Electronic Arts Inc
(
EA.US
)
$
   

This is a tech company and tech has been getting killed.  I'm only mentioning this one because the price has broken out to the upside of a down trending price channel.  These are big green candles with a lot of volume. So the momentum could continue for a short period. Keep an eye on this one. But remember that tech has been taking a beating in the past few months so be careful.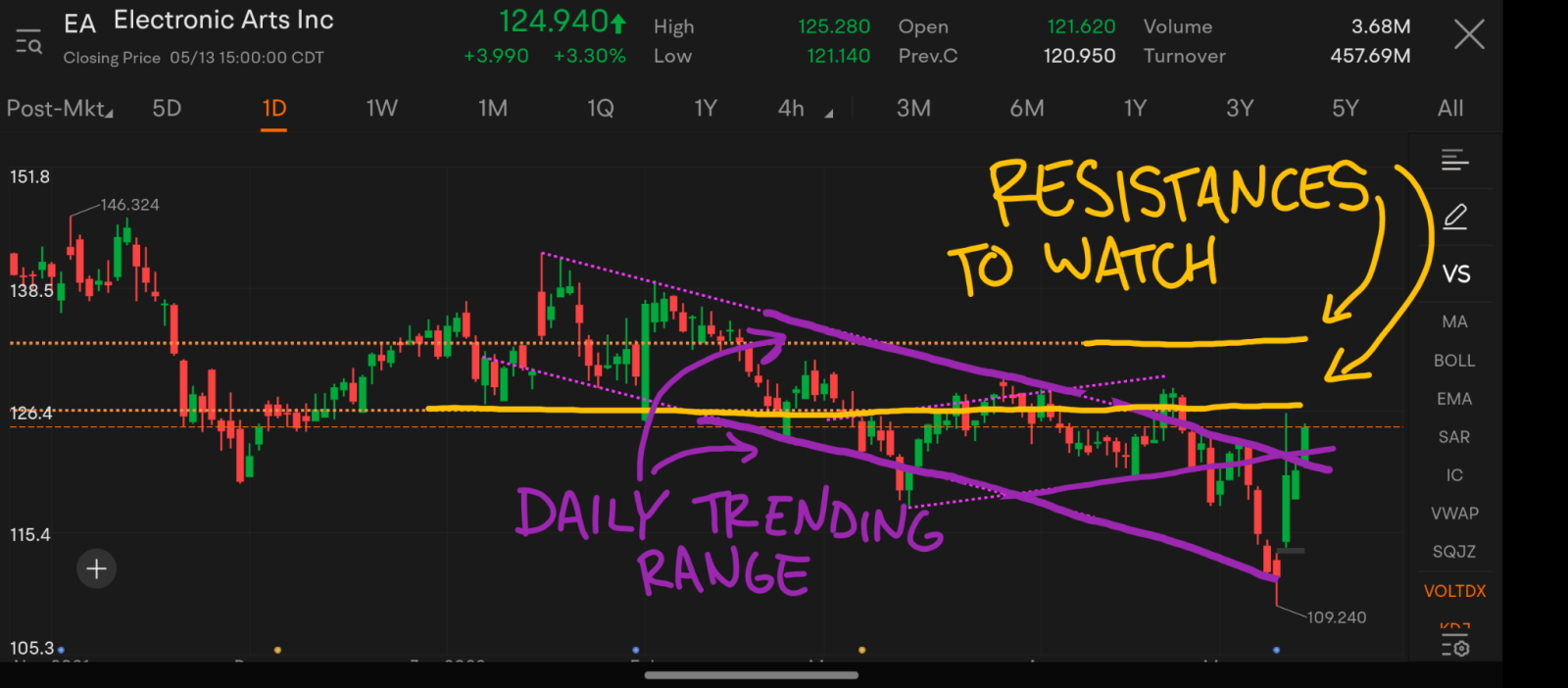 Moomoo is an app offered by Moomoo Techonologies Inc. that provides information about investments. Moomoo Technologies is not an investment adviser or a broker-dealer and it provides neither investment or financial advice nor securities trading services. All contents such as comments and links posted or shared by users of the community are opinions of the respective authors only and do not reflect the opinions, views, or positions of Moomoo Technologies, its affiliates, or any employees of Moomoo Technologies or its affiliates. You are advised to consult a qualified financial or tax advisor for your personal financial planning and tax situations.
8