NVIDIA Sets Conference Call For First-Quarter Financial.
$NVIDIA
(
NVDA.US
)
$
SANTA CLARA, Calif., May 04, 2022 (GLOBE NEWSWIRE) — NVIDIA will host a conference call on Wednesday, May 25, at 2 p.m. PT (5 p.m. ET) to discuss its financial results for the first quarter of fiscal year 2023, which ended April 30, 2022.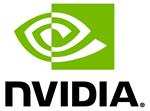 Disclaimer: Community is offered by Moomoo Technologies Inc. and is for educational purposes only.
Read more
6