Fed Day Saved the Markets
The Markets went into rally mode after the Chairman of the Federal Reserve Bank, Jerome Powell, announced a 50 basis point hike in interest rates. This sent the stock market flying.  The news is saying the reason is because he admitted that a 75 bps hike is not something he was thinking about for future hikes.  The Fed Funds Futures was calling for a .75 hike some time within the hiking cycle. So more downside was priced in until J Powell eased uncertainty in the markets.  He also mentioned that we should not pay too much attention to the calendar marking the timing for the decrease in asset purchases. This could imply that they might not slow asset purchases like he mentioned in the past. This could be bullish but we must wait for more info on this.
Interesting to note that this was a total market rally. Save havens and risk assets all were rallying together as you can see above. Gold, silver, and treasury bonds tipycally have an inverse correlation with the direction equity markets are traveling. But they rallied together. Oil was rallying as well off of Russian oil ban headlines overnight. The Dollar index does not have big moves often but it had a big drop after the rate hike.
One point I must make because I preach on technical analysis even though some think it isn't too important. If you purely traded off of technical analysis then you might have been long on
$SPDR S&P 500 ETF
(
SPY.US
)
$
a few days ago when we bounced near a long term support area coinciding with the downward trending channel we have been in for months now. You wouldn't even need to know the Fed was about to do anything. Is it a coincidence that the Fed rate hike date closely coincided with this support level? Check it out.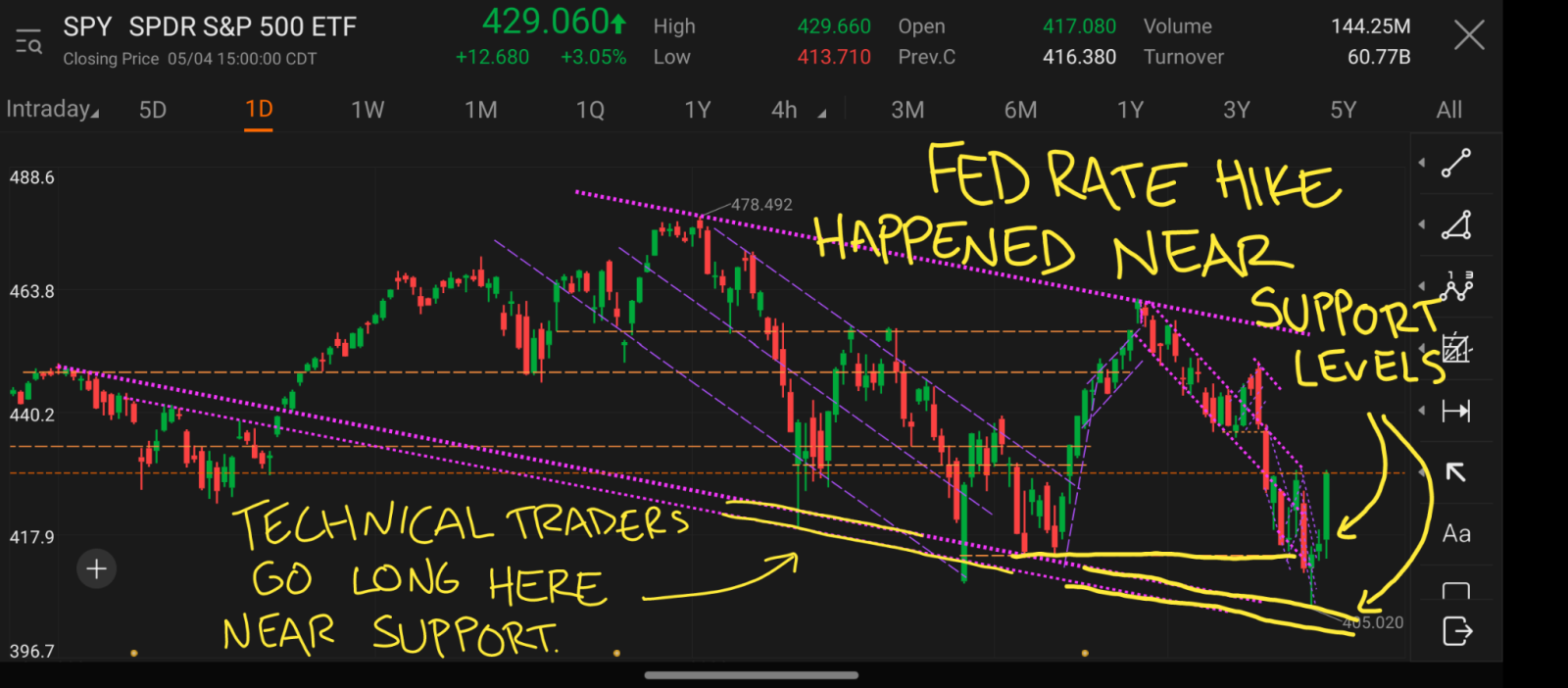 So where did all of most of the money go during this rally? Did money rotate out of certain sectors that have been performing well recently in this bear market?
$Invesco QQQ Trust
(
QQQ.US
)
$
Tech outperformed the other major US indicies.  Plenty of money flowed into treasury bonds which have been on ther worst sell off in multiple decades. It has been a worse sell off than even The Great Financial Crisis or the Pandemic.
$Powershares Exchange Traded Fd Tst Db Us Dollar Index Bullish Fund Etf
(
UUP.US
)
$
The US Dollar took a big leg down today. This is common when there is an equity rally. It has been on an amazing run lately almost reaching as high as it was during its safe haven status during the pandemic.
$SPDR Gold ETF
(
GLD.US
)
$
and
$iShares Silver Trust
(
SLV.US
)
$
rallied possibly because J. Powell mentioned that inflation will remain sustainably high for some time. We may need to wait and see what happens over night while other world markets digest this Fed rate hike before we can decide if today was truly bullish.  Hopefully a gap up at open right? If there are any Macro Economic Experts out there please enlighten me on any points i may be missing. I'm still trying to digest all of the price action for today and I'm no macro specialist by any means.
So is tech bullish again? Possibly for the short term at least. Lately Tech companies have been selling off shen earnings aren't up to par. Some tech companies released earnings after hours yesterday or in pre market today. If they had bad earnings then they also were severely punished with a sell off. These companies still rallied with the rest of the market today so tech was looking hopeful during regular market hours. But more earnings punishment came to those disappointing tech earnings reports after hours today.
$eBay
(
EBAY.US
)
$
$Fastly
(
FSLY.US
)
$
$Etsy Inc
(
ETSY.US
)
$
Interest rate will be high for the foreseeable future so far so tech might only be getting some short term bullishness. We will find out soon.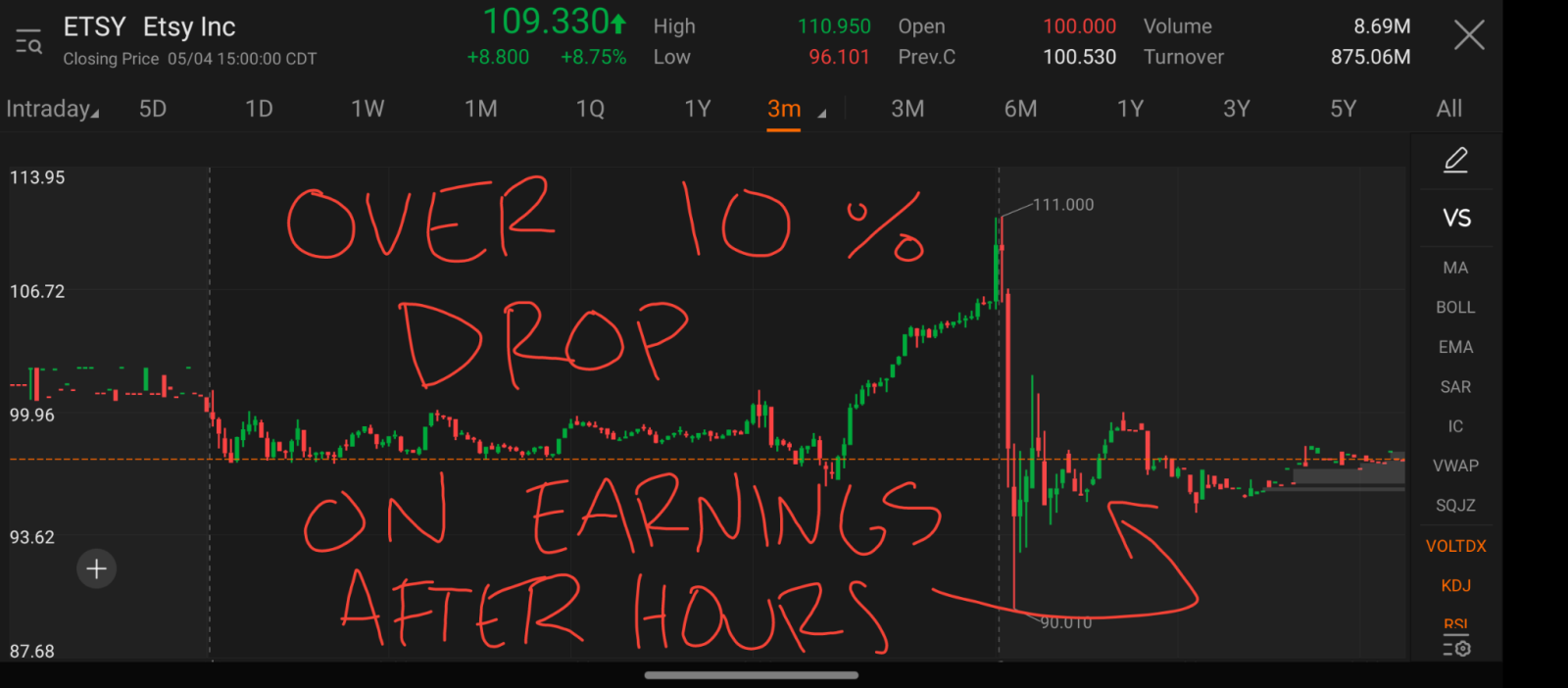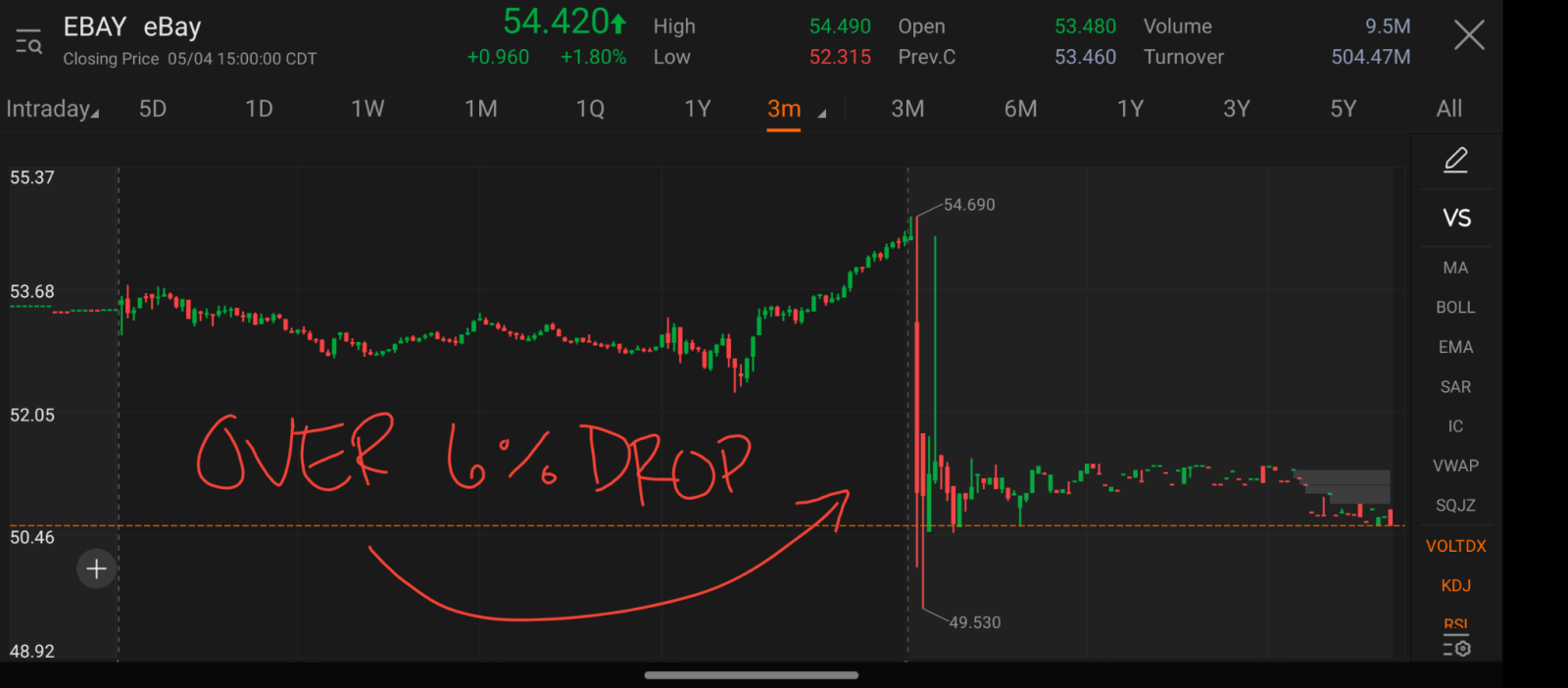 Disclaimer: Community is offered by Moomoo Technologies Inc. and is for educational purposes only.
Read more
8