Twitter finally accepted Musk's proposal. What does it mean for investors?
Elon Musk never disappoints his fans.
The headlines on Monday were that he had struck a deal with

$Twitter (Delisted)

(

TWTR.US

)

$

to take it private for $44 billion, or $54.20 per share. Following the Twitter announcement, Musk celebrated the deal on Twitter.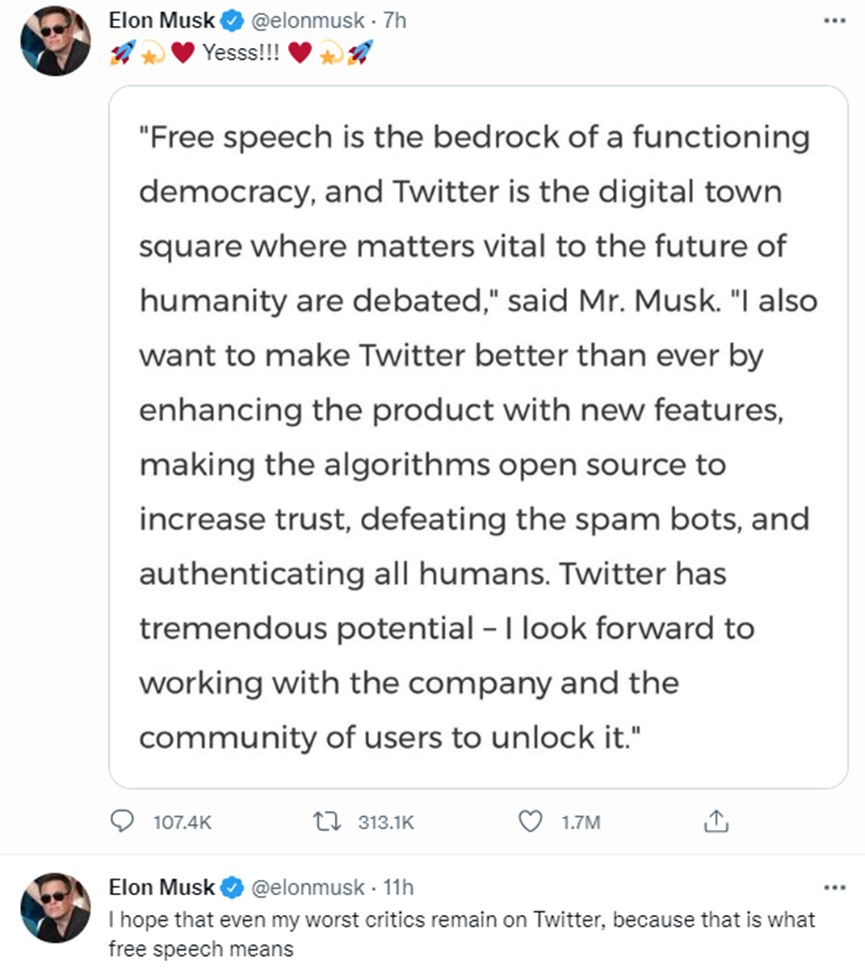 Twitter
Musk's dramatic bidding process and swift change of heart at Twitter has sparked discussion among viewers online.
A weekend later, the hostile takeover suddenly turned into a so far friendly deal.
Twitter
Why a hostile takeover suddenly to a friendly deal
Some argue that a hostile takeover is not good for either side.

A hostile takeover

occurs when a company is acquired without the consent of its board of directors.
Last week, Twitter initiated the

Poison Pill

plan, one of the common tactics used to combat hostile takeovers.

While they're effective at preventing hostile takeovers, poison pills can be disadvantageous for individual investors. They flood the market with new shares, diluting the ownership of all shareholders and thus requiring investors to spend more money to maintain their current stake in the company.
Besides, when a takeover becomes friendly, the financing for Musk would be more easy because it will attract private equity firms who typically shy away from hostile transactions.
Another reason could be the dysfunctional Twitter board, as its founder Jack Dorsey put it on Twitter last week, which has also been repeatedly criticized publicly by Musk.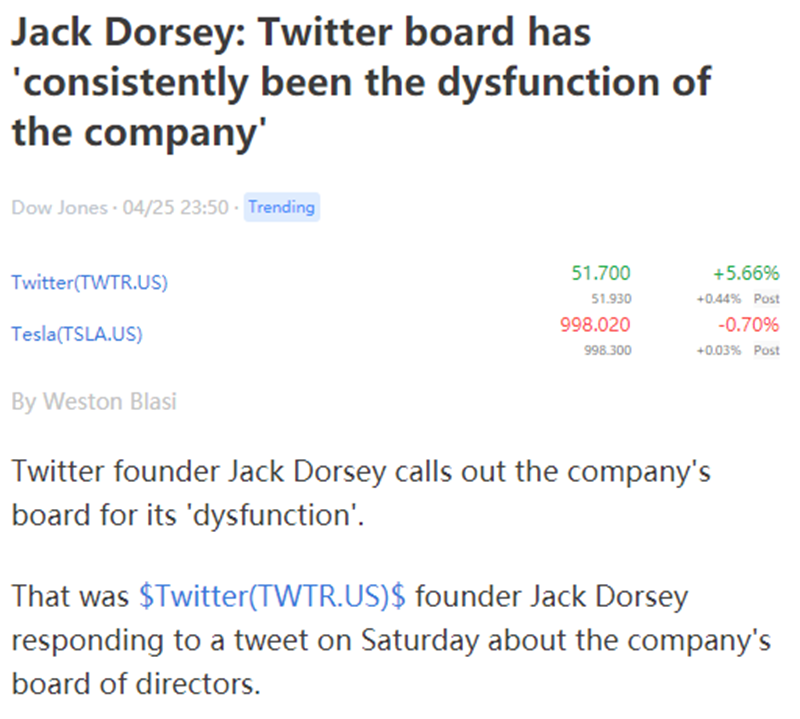 moomoo
What does it mean for investors if Twitter goes private?
Privatization means

delisting the company

from a stock exchange, either voluntarily or involuntarily. Reasons for voluntary delisting may be mergers, takeovers, or companies want to go private. Twitter is the case.
When the deal is successfully completed, you will no longer buy shares of Twitter in a public market. However, you're still free to trade Twitter stock before the finalization.
If you're a Twitter shareholder, you'll get a 'tender offer'. Namely, the bidder bypasses the company's board of directors and offers to purchase shares directly from shareholders, usually at a premium above the current market value.
For example, let's say you purchased 50 shares on April 1, 2022 for $39 for a total price of $1,950. Musk is paying $54.20 per share, which means you'll get $2,710 for the 50 shares you own.*
Musk's deal with Twitter requires a shareholder vote. No date has been announced for the vote, which is expected to take up to six months to complete, according to Bloomberg.

If successful, the acquisition would mark one of the largest acquisitions for a tech company and could shape the direction of social media.
Twitter is scheduled to report its latest earnings before the market opens on Thursday and investors may know more about this takeover and considerations of Twitter's executives.
*: Past performance is no guarantee of future results. This is for reference only and not indicative of any investment.
You might also like our latest course:
Musk and Twitter Have a Deal
What you'll get: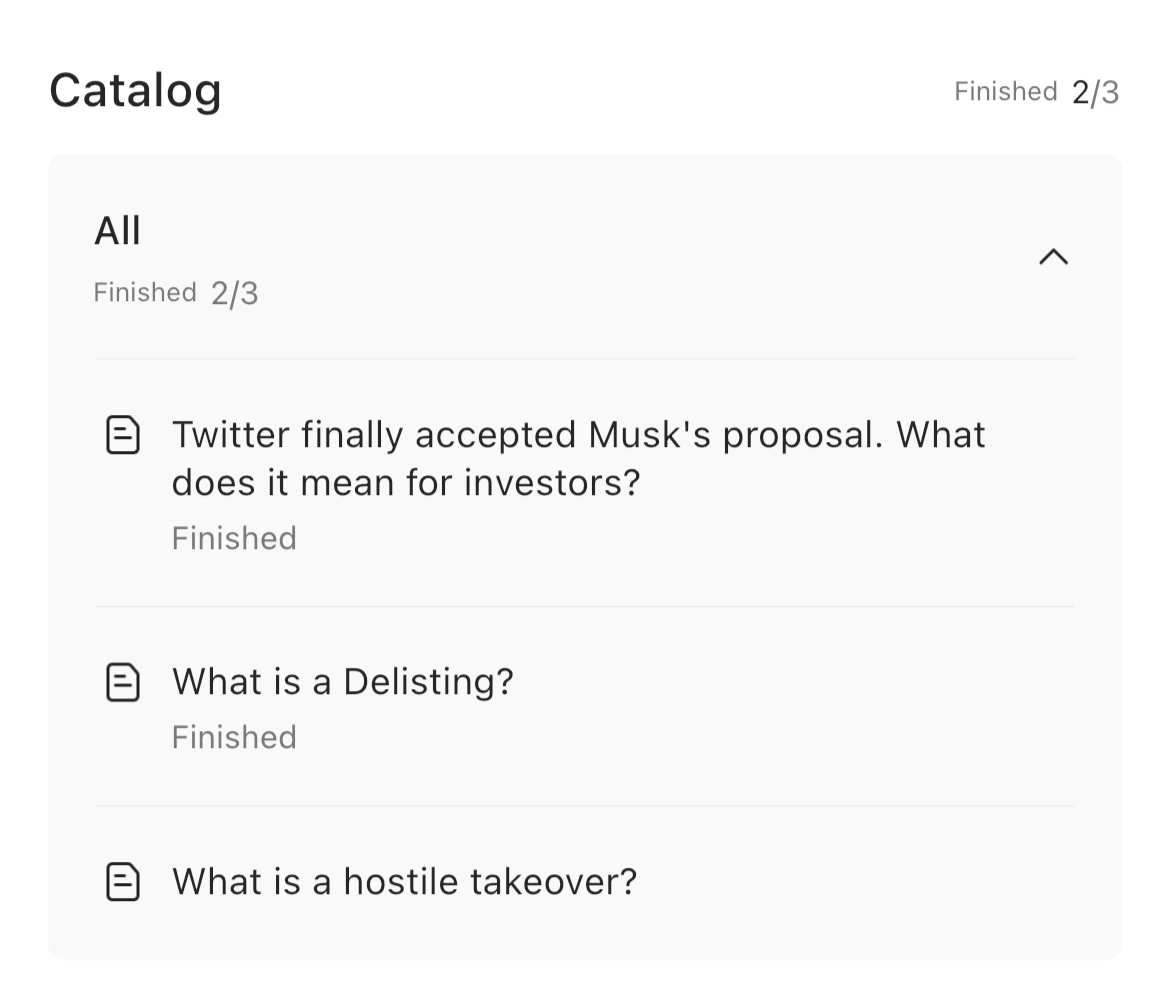 Disclaimer: Moomoo Technologies Inc. is providing this content for information and educational use only.
Read more
2
1
3
7
70