Weekly Buzz
Views 145K
Contents 280
Weekly Buzz: Missed the recent rallies? Don't Worry
Spoiler:
At the end of this post, there is a chance for you to win points!
Happy Monday,

mooers! Welcome back to

Weekly Buzz, where we review the news, performance, and community sentiment of the selected buzzing stocks on moomoo platform based on search and message volumes of last week! (Nano caps are excluded.)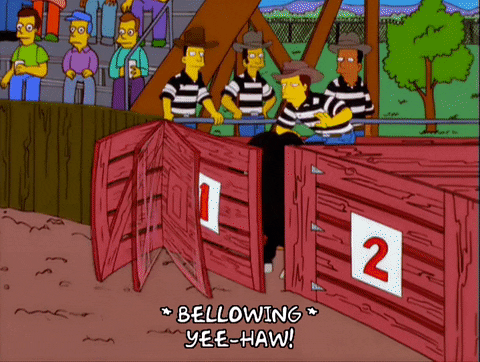 Part Ⅰ: Make Your Choices
Part Ⅱ Buzzing Stocks List & Mooers Comments
Three major indices moved

upward, Russell 2000 Index increased

5.37%

last week. Here is the weekly buzzing stock list of last week: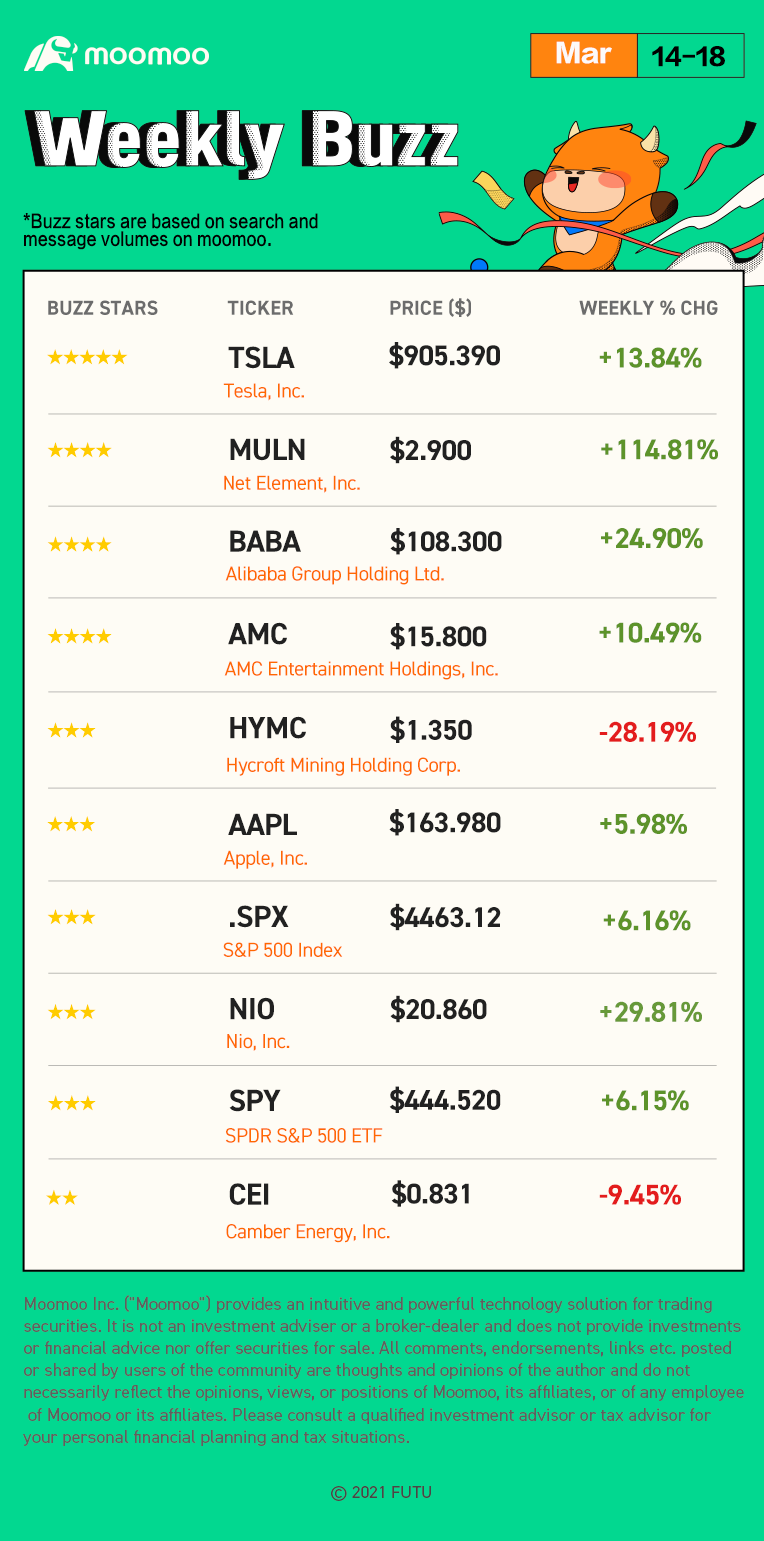 1. TSLA - Buzzing Stars:

According to Bloomberg, Tesla Inc. has reportedly postponed a deal to issue over $1 billion in electric vehicle asset-backed security due to unstable market conditions. TSLA's stock increased

13.84%

to $905.390 for the week.
● Mooers comment
@TeslaSmurf

:
$Tesla
(
TSLA.US
)
$
TWO possible scenarios:
- keep climbing and finally RE-enter the positive channel (925/930)
- bounce back on Monday or Tuesday for a limited consolidation, then spike up again
Read more>>
2. MULN- Buzzing Stars:




Mullen announced the development of next-generation solid-state polymer batterie, a significant advance over the current lineup of lithium-ion batteries. Besides, Mullen's popularity on social media has led to a spike in trading volume. The shares of MULN soared by

114.81%

and closed at $2.900.
● Mooers comment
@Carla Lee

:
NASDAQ:

$Mullen Automotive

(

MULN.US

)

$

continued its momentum from earlier in the week as the startup EV maker has now gained more than 144% since Monday. It was yet another bullish day on Thursday as all three major indices extended their rally and closed higher for the third consecutive day.
Read more>>
3. BABA - Buzzing Stars:




Shares of BABA gains on Wednesday after news that the government would support the stock market, boost economic growth, and clear up a punishing regulatory environment. Last Friday, its stock price closed at $108.300, with a weekly growth of

24.90%.
● Mooers comment
@Powerhouse

:

Depends on appetite, clique but it is
To me, it is still very unstable. Of course, buying stocks is risky in it and this is the way to make quick money. Hence, are you a speculator, gambler or long-term investor? Really depends on your investment model.
Read more>>
4. AMC - Buzzing Stars:




AMC said it agreed to buy a large stake in Hycroft Mining Holding Corp (HYMC) for $27.9 million last Tuesday, capitalizing on its popularity with retail investors to provide a financial lifeline to the troubled gold and silver mine operator. The share of AMC closed at $14.300, with a weekly increase of

10.49%.
● Mooers comment
@Carry only

:

Please continue to support AMC.
$AMC Entertainment

(

AMC.US

)

$

we must continue to purchase tickets and buy goodies at AMC Theaters. It's a win win. We get to spend time with friends and family. We help AMC generate more income. I will do so post MOASS as well.
Read more>>
5. HYMC - Buzzing Stars:



AMC Entertainment announced to acquired a 22% stake in HYMC last Tuesday, caused Hycroft to soar 96% to $2.72. After that, the stock pared much of that increase. The shares of HYMC declined

28.19%

last week and finally closed at $1.350.
● Mooers comment
@102486702
$Hycroft Mining
(
HYMC.US
)
$
oh no I think it's a pump and dump, just look at the price and transactions. someone is trying to offload their shares slowly while maintaining the price, that's why the price band is so tight. Once that person finishes offloading -> dump
Read more>>
6. AAPL - Buzzing Stars:



Apple has faced significant resistance from US and international regulators in its App Store. Most app developers have consistently expressed their opposition to the huge commissions charged by the App Store. Nevertheless, its share price closed at $163.980, with a weekly rise of

5.98%.
● Mooers comment
@Rockyturki

:
$Apple

(

AAPL.US

)

$

could simply hold on to its chips and use them to lure prospective customers. After all, it's done that with the iPhone for years. Apple also previously licensed its Mac OS operating to third parties in the '90s
Read more>>
7. .SPX - Buzzing Stars:



The S&P 500 rose for the fourth straight day, adding 1.2% to a streak that included back-to-back days with gains of 2%. The index had its best week since November 2020. The price of the S&P 500 Index closed at $4463.12, with a weekly growth of

6.16%.
● Mooers comment
@Your Average Trader

:

Fundimentals?
I simply do not believe this rally on 7 rate hikes and declining margins and revenues due to higher commodity prices will continue. That being said considering how risk tolreant the market has been I will still hedge with some longs in case markets decide that despite recession and stagflation risk $S&P 500 index(.SPX.US)$ should have an avergae PE of 19+.
Read more>>
8. NIO - Buzzing Stars:



NIO has been on a wild ride the past two weeks. The rebound was mainly relief from delisting concerns related to U.S.-listed Chinese companies. Nio's business is also at a pivot point for growth. Its stock went up

29.81%

to $20.860 over the past week.
Upcoming Events:

NIO Inc. Fourth Quarter and Full Year 2021 Earnings Conference Call on

Mar 24, 2022 9:00 PM EDT
● Mooers comment
@Carolinr Miller

:
Chinese electric vehicle (EV) maker

$NIO Inc

(

NIO.US

)

$

Report has been suffering from strong market volatility that has especially affected Chinese stocks. Thanks to regulatory pressures from Beijing and Washington and a generally chaotic geopolitical scenario
Read more>>
9. SPY - Buzzing Stars:



Investors regained confidence in Powell's press conference, which boosted stock indices to close collectively higher. SPY has continued to move higher since last Tuesday. The SPDR S&P 500 ETF price raised

6.15%

to $444.520 for the week.
● Mooers comment
@linsamuel

:

It looks like there's going to be a shoulder bottom, so be careful not to chase high.
$SPDR S&P 500 ETF

(

SPY.US

)

$

$S&P 500 Index

(

.SPX.US

)

$

According to the recommendation of LW, you should pay attention to the limit of 4550, it is best to wait for the station to return, but don't rush into the big return line.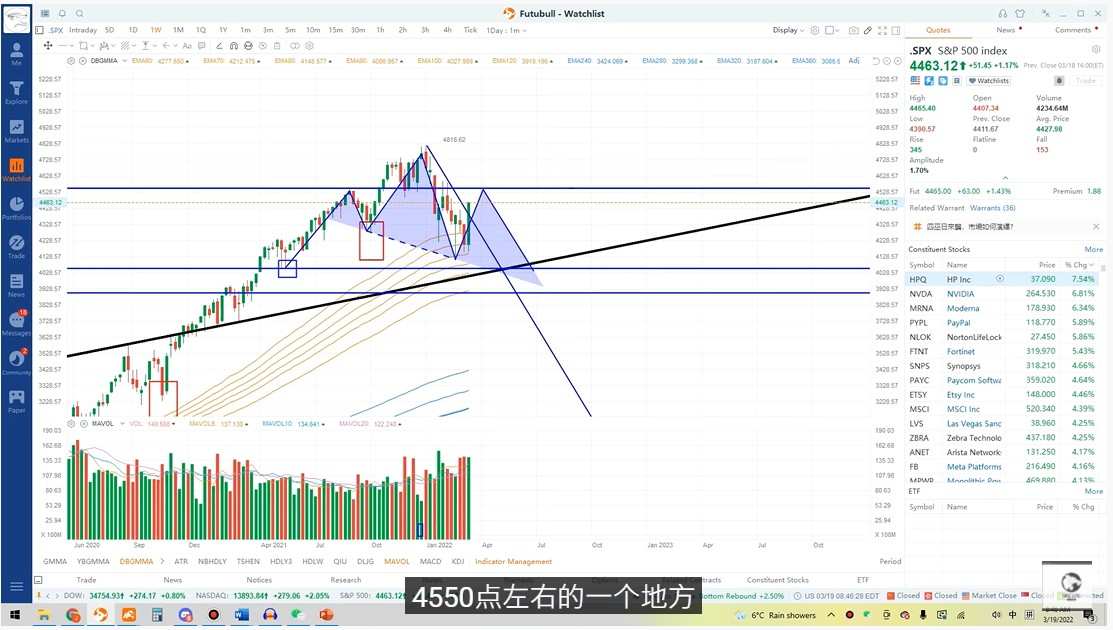 10. CEI - Buzzing Stars:


Although CEI's share price has moved higher since last Thursday as a broad rally in oil stocks, the price of CEI closed at $0.831 with a weekly decline of

9.45%.
● Mooers comment
@Peak Mountain

:
$Camber Energy

(

CEI.US

)

$

20% Intuitional Investors! 103k Watchers. One of the highest volume traded stock on wall street. Oil Prices going sky high! Easy Money! The question is why aren't you buying more?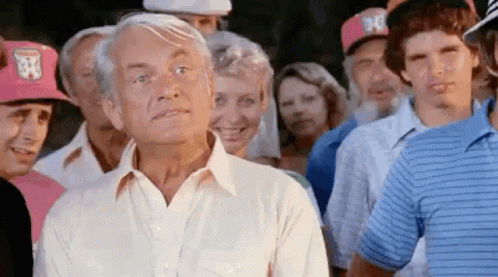 Thanks for your reading!

Awarding Moment

Before moving on to part three, congrats to the following mooers whose comments were selected as the top comments last week!

@HopeAlways
@Syuee
@Expendabiggles
@e.rade@sbcglobal.net Rade
@Milk The Cow
@Dino 64
@HuatEver
@HuatLady
@Shortie
@KT88
@Daniel Ushakov
@Army Veteran
@Southern Eagle
@Double Rainbow
@VCSuccess
Notice: Reward will be sent to you this week. Please feel free to contact us if there is any problem.
Part Ⅲ: Weekly Topic
Time to be rewarded for your great insights and knowledge!
This week, we'd like to invite you to comment below and share your idea on:
"How to find dropping stocks before they rally?"
We will select

15 TOP COMMENTS

by next Monday.
Winners will get

200 points

by next week, with which you can exchange gifts at Reward Club.
*Comments within this week will be counted.
Top Comment Technique:
Fundamental / Technical / Capital Analyses
Personal Trading Experience
Any bright insights or knowledge

Previous of Weekly Buzz

Weekly Buzz: Why did the gas price soar?
Weekly Buzz: What can we "Grab" on the "Sea"?
Weekly Buzz: Hope for world peace, save the market dip
Disclaimer: Moomoo Technologies Inc. is providing this content for information and educational use only.
Read more
1
2
1
5
47