Russia-Ukraine Crisis: A Double-Edged Sword
Views 119K
Contents 364
Hedging tactics for your portfolio amid Russia-Ukraine tensions
It's a nerve-wracking new year for investors. Omicron still here, Fed's rate hikes ahead, war now.
The most disturbing news this week has to be the Russia and Ukraine crises, and investors' brokerage accounts. The Russia-Ukraine conflict has been a source of major market stress of late, sending major stock indexes down.
Over the past two years, we've seen too many historical moments where we've been taught to be rational when markets get out of hand.
How to hedge a position in a crisis? It's a must-learn lesson for all investors.
- Manage your positions. Stick to great companies.
From a historical perspective, it probably won't have much of a long-term impact on the market.
Here's a list of major geopolitical or historical events since WWII.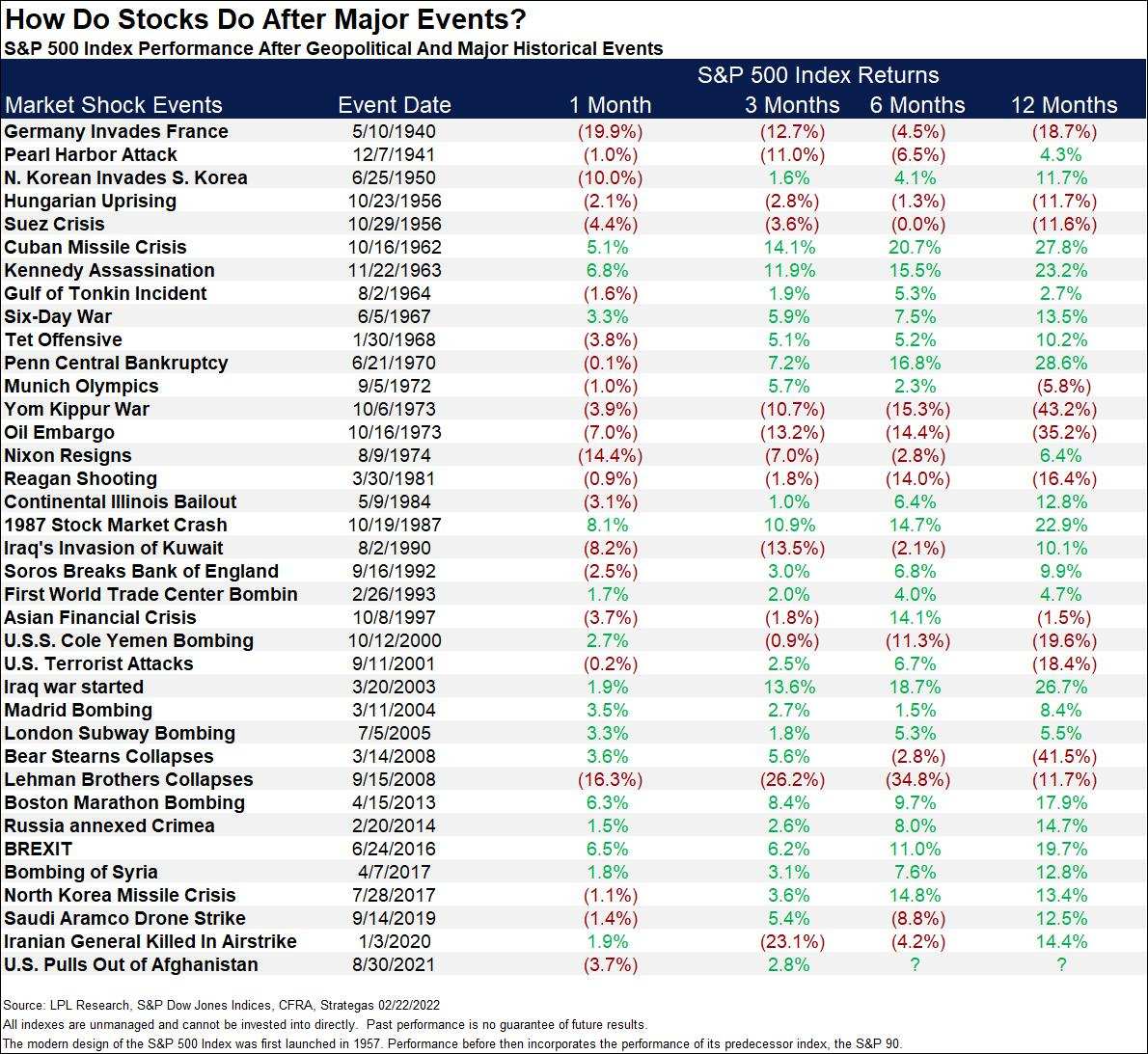 Source: LPL Research
In the long run, if there is no recession, the stock market as a whole tends to do well.

For some investors with cash at hand, the crisis time could be a time for long term placement of stocks.
- Diversify your portfolio with safe-haven assets.
Safe-haven assets such as commodities, gold and the Japanese yen usually will benefit relatively amid a big crisis.
In hedging strategies, traders try to balance potential losses on existing positions by introducing those safe-haven assets into their portfolios.
How can retail investors apply similar strategies to protect their portfolios?
In the case of gold, ETFs that track the spot price of gold are an easy way for retail investors.

Search for "gold" on moomoo and you'll see gold-related companies, stock collections, and ETFs.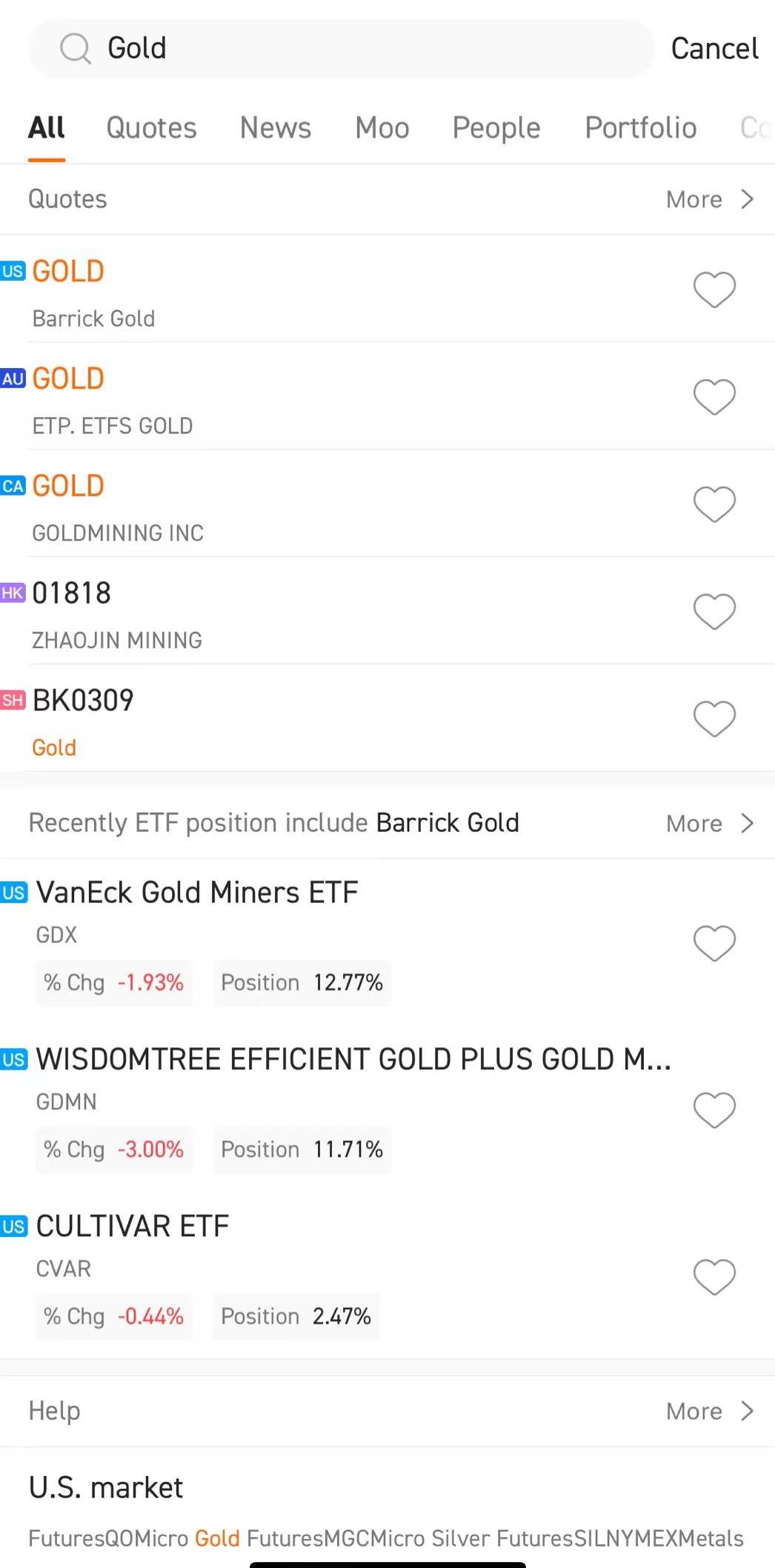 Gold-related ETFs are just one type of safe-haven assets, including but not limited to ETFs tracking strong currencies, silver, and military stocks, among others.
- Be fearful when others are greedy.
Market volatility is a key metric to watch for active investors. The

$CBOE Volatility S&P 500 Index

(

.VIX.US

)

$

or Volatility Index is a standardized measure of market volatility and a manifestation of investor fear.
Trading ETFs that track the VIX is also a common way to hedge against future market movements.
How to follow those ETFs on moomoo?

Type "VIX ETFs" in the search bar and you'll see a collection of VIX ETFs (

$VIX ETF

(

BK2711.US

)

$

, exclusive on moomoo).
- Hedge with options.
Last but not least, for seasoned investors, trading options can act as a hedging tool to offset or reduce their exposure and limit themselves from fluctuations in price.
Professionals believe that the only way to safely enter the market for long-term investments is to hedge.

Put options can be used as an insurance policy to protect stocks or mutual fund holdings.
However, options trading can be very risky without a full understanding of its risks.
In a word, understanding how all these hedging tools work, including their unique features and risks, is key before adding them to your portfolio.
Options Basics: Why and How to Use Options

Let the hope of peace, always remain. We can invest in and for a better world.
For more investment knowledge and trends, welcome to

Courses

in the Community.
$VanEck Gold Miners Equity ETF
(
GDX.US
)
$
$S&P 500 Index
(
.SPX.US
)
$
$Nasdaq Composite Index
(
.IXIC.US
)
$

Disclaimer: Moomoo Technologies Inc. is providing this content for information and educational use only.
Read more
2
1
2
101
8